Slavery and Freedom on the Middle Ground
WARNING
You are viewing an older version of the Yalebooks website. Please visit out new website with more updated information and a better user experience: https://www.yalebooks.com
Maryland During the Nineteenth Century
Barbara Jeanne Fields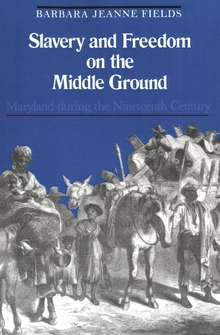 View Inside
Format:

Paper


Price:

$29.00
Also Available in:
Cloth
During the tumultuous Civil War era, the border state of Maryland occupied a middle position both geographically and socially.  Situated between the slave-labor states of the lower South and the free-labor states of the North, Maryland—with a black population almost evenly divided between slave and free—has long received credit for moderation and mediation in an era of extremes.
Barbara Fields argues that this position in between concealed as intense and immoderate a drama as enacted in the Deep South.  According to Fields, "The middle ground imparted an extra measure of bitterness to enslavement, set close boundaries on the liberty of the ostensibly free, and played havoc with bonds of love, friendship, and family among slaves and between them and free black people."  Moreover, the work of destroying slavery and constructing a society of free labor proved to be as difficult in Maryland as in the former Confederacy—even more difficult, in some respects.
Probing the relationships among Maryland's slaves and free blacks, its slaveholders, and its non-slaveholders, Fields shows how centrist moderation turned into centrist immoderation under the stress of the Civil War and how social channels formed by slavery established the course of struggle over the shape of free society.  In so doing, she offers historical reflections on the underlying character both of slave society and of the society that replaced it. 
In this prizewinning history, Fields shows how Maryland's centrist moderation turned into centrist immoderation under the stress of the Civil War and argues that Reconstruction proved to be at least as difficult in Maryland as in the Confederacy.
"A marvelous book, written with compassion and humor and a rare talent for irony. It establishes Barbara Jeanne Fields as a major historian of the American South, for she has provided new boundaries for understanding the relationship between race and class and she has contributed greatly to our overall understanding of the political economy of slavery."—Nan Elizabeth Woodruff,
Journal of Social History

"[A] perceptive and provocative book…. Students of slavery and of the South cannot afford to overlook it."—Daniel C. Littlefield,
American Historical Review

"Writing in a clear, spirited style, Fields probes the relationships between slaves and free blacks, between slaveholders and nonslaveholders, and between Maryland's conflicting sections."—
Choice

"A stunning achievement…. The book is must reading for those with a special interest in the nineteenth-century South; those with a general interest in the development of capitalist relations of production will also not want to miss it."—Joseph P. Reidy,
Science and Society
Winner of the American Historical Association's 1986 John H. Dunning Prize
Barbara Jeanne Fields is professor of history at Columbia University.
"Should serve as a model for those who are ready to undertake the important task of re-studying the Border States during their historic transition.  Ms.  Fields, writing with spirit, integrates social and economic history with exceptional skill and displays a refreshing talent for analyzing the politics that alone can establish the primary significance of the story.  Her grasp of the dialectics of race and class cannot be overpraised."—Eugene D.  Genovese
"Fields combines meticulous scholarship and sophisticated analysis to produce both an important history of a little studies border state and a significant contribution to the history of slavery and the problem of the transition from slavery to freedom in the South following the Civil War and emancipation.  She deftly uses Maryland's unique experience as a slave state to provide refreshingly new insights into the nature of the slave system and the struggles of southerners, black and white, as they faced new problems while building a free labor system.  The result is a stunning contribution to our understanding of the different and often conflicting ways nineteenth century Americans perceived freedom and sought to give it meaning.  Although Fields shows how antebellum experiences helped to shape these perceptions, she convincingly argues that emancipation altered both perceptions and class relations, producing a sharp discontinuity in Maryland's history.  Future historians of the South will ignore this insightful book at their peril." —Harold D. Woodman
"In the seemingly unremarkable soil of Maryland, Barbara Fields has found interpretative gold. . . . Fields's book is a case study in the fate of moderation in the nation's bloodiest conflict....[Her] linking of social history with an analysis of economic and political developments makes her work an exemplary effort in the creation of a new synthesis in American history."—Jon Wiener, Nation
"Historians of nineteenth century America will welcome this well written book on the black experience in an important border state. . . . 'Slavery and Freedom on the Middle Ground' is thoroughly documented and skillfully presented, rendering this volume an important contribution to the understanding of a complex state which found itself under siege by both North and South in a great war for control of the government and, ultimately, the conscience of a nation." — William Jerry MacLean, Journal of the Early Republic
"Deeply researched, vigorously written and convincingly argued, Slavery and Freedom on the Middle Ground illuminates the powerful social conflicts which began in Maryland long before Fort Sumter and extended beyond the Reconstruction era. . . . Barbara Fields' account of the struggles for black emancipation in this border state fuses social with economic history in a particularly clarifying and convincing manner.  No serious student of slavery or Reconstruction can afford to overlook it. . . . Her book is a significant contribution to the histories of slavery, emancipation and race relations."—James Brewer Stewart, The Historian
Winner of a 1985 Special Citation from the Association of Black Women Historians
Winner of the 1986 John H. Dunning Prize given by the American Historical Association
ISBN:
9780300040326
Publication Date:
September 10, 1987
272 pages, 6 1/8 x 9 1/4