Octavia, Daughter of God
WARNING
You are viewing an older version of the Yalebooks website. Please visit out new website with more updated information and a better user experience: https://www.yalebooks.com
The Story of a Female Messiah and Her Followers
Jane Shaw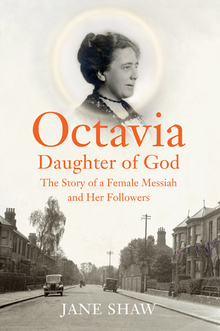 View Inside
Format:

Cloth


Price:

$74.00
Also Available in:
e-book
The little-known story of the charismatic, utopian leader Octavia and her devoted followers in the interwar years

In 1919, in the wake of the upheaval of World War I, a remarkable group of English women came up with their own solution to the world's grief: a new religion. At the heart of the Panacea Society was a charismatic and autocratic leader, a vicar's widow named Mabel Bartlrop. Her followers called her Octavia, and they believed that she was the daughter of God, sent to build the New Jerusalem in Bedford.
When the last living members of the Panacea Society revealed to historian Jane Shaw their immense and painstakingly preserved archives, she began to reconstruct the story of a close-knit utopian community that grew to include seventy residents, thousands of followers, and an international healing ministry reaching 130,000 people. Shaw offers a detailed portrait of Octavia and describes the faith of her devoted followers who believed they would never die. Vividly told, by turns funny and tragic, Octavia, Daughter of God is about a moment at the advent of modernity, when a generation of newly empowered women tried to re-make Christianity in their own image, offering a fascinating window into the anxieties and hopes of the interwar years.
Jane Shaw is Dean of Grace Cathedral, San Francisco, and former Dean of Divinity, New College, Oxford. She is the author of Miracles in Enlightenment England, published by Yale University Press. She lives in San Francisco.
"[This] astonishing book… reveals the cosmic events that took place behind the front doors of a quiet street in Bedford…. Shaw recounts the Panaceans' history with humor, sympathy, and understanding."—John Carey, Sunday Times
"The Panaceans have been extraordinarily fortunate in their biographer. Jane Shaw is an insightful, shrewd and humorous writer. She is never sarcastic or judgmental, and I ended the book admiring the indomitable Octavia who, for all her dottiness, was no charlatan but a genuinely religious figure."—Jane Ridley, Literary Review
"With superb empathy, she uses the history of this eccentric group as a keyhole through which to observe [interwar] society, its problems with politics and anxieties over the role of women.  The triumph of Shaw's book is that it demonstrates not how peculiar Barltrop's sect was, but how achingly typical and predictable it was."—Stuart Kelly, The Scotsman
"Shaw has been blessed with unfettered access to the society's archives.... That is every historian's dream, but my envy of Shaw is eclipsed by my admiration for how well she handles such a weight of material and for her sense of responsibility to the surviving members."—Peter Stanford, The Observer
"Mabel Barltrop created one of the most bizarre and irresistibly comic religions ever . . . [Shaw] argues convincingly that the Panacea Society holds important lessons for the sociology of religion."—Adam Kirsch, Barnes and Noble Review
"Shaw writes with understanding and humor, and although there is sometimes some archness in what is a truly funny story of eccentrics, she is never condescending. . . . Shaw's history of [this] movement is funny and instructive."—Rob Hardy, the Dispatch (Columbus, Mississippi)

"[A] careful, selectively sympathetic portrait . . .  impressive . . . Without shying from the parodic potential embedded in their eccentricity, Shaw does serious justice to the Panaceans, and especially to the charismatic woman who anchored and inspired them."—Lindsay Reckson, Los Angeles Review of Books
"Impressive empathy . . . a comprehensive yet nuanced book."—Margrethe Løøv, Nova Religio
Winner of the 2012 San Francisco Book Festival for the History category, sponsored by JM Northern Media LLC
ISBN:
9780300176155
Publication Date:
October 4, 2011
432 pages, 6 1/8 x 9 1/4
58 b/w in two 8-page inserts

---
Sales Restrictions: For sale in North America only