Alexander the Great
WARNING
You are viewing an older version of the Yalebooks website. Please visit out new website with more updated information and a better user experience: https://www.yalebooks.com
Richard Stoneman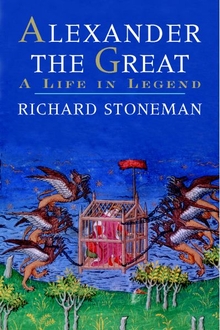 View Inside
Format:

Paper


Price:

$25.00
Also Available in:
Hardcover
Paper
In his brief life, Alexander the Great gained fame as the military genius who conquered the known world. After death, his legend only increased.
 
Alexander the Great (356-323 B.C.) precipitated immense historical change in the Mediterranean and Near Eastern worlds. But the resonance his legend achieved over the next two millennia stretched even farther—across foreign cultures, religious traditions, and distant nations.
 
This engaging and handsomely illustrated book for the first time gathers together hundreds of the colorful Alexander legends that have been told and retold around the globe. Richard Stoneman, a foremost expert on the Alexander myths, introduces us first to the historical Alexander and then to the Alexander of legend, an unparalleled mythic icon who came to represent the heroic ideal in cultures from Egypt to Iceland, from Britain to Malaya.
 
Alexander came to embody the concerns of Hellenistic man; he fueled Roman ideas on tyranny and kingship; he was a talisman for fourth-century pagans and a hero of chivalry in the early Middle Ages. He appears in Jewish, Christian, and Islamic writings, frequently as a prophet of God. Whether battling winged foxes or meeting with the Amazons, descending to the underworld or inventing the world's first diving bell, Alexander inspired as a hero, even a god. Stoneman traces Alexander's influence in ancient literature and folklore and in later literatures of east and west. His book provides the definitive account of the legends of Alexander the Great—a powerful leader in life and an even more powerful figure in the history of literature and ideas.
Richard Stoneman is Honorary Fellow of the University of Exeter and widely acknowledged as the foremost expert globally on the myths of Alexander.
"This is a magisterial book, of quite extraordinary breadth and depth. Stoneman is supremely well qualified to write the definitive work on the Nachleben of Alexander in tradition, legend, and myth."—John Cherry, Brown University
"Alexander the Great enjoyed one of the most spectacularly glorious of human lives. His afterlife, as Richard Stoneman's masterly new survey amply documents, was every bit as spectacular and glory-bringing. Look on his fame, ye mighty, and despair! Or rather, read this literally marvelous book by one of the world's leading authorities on the multifarious Alexander-legend. Hero or villain: there is an Alexander here for every conceivable taste."—Paul Cartledge, Cambridge University
"The legend of Alexander the Great extends from Iceland to China, and is reincarnated in Jewish and Christian versions, in Islam and the religions of India. Richard Stoneman traces the many re-tellings, both in literature and in art, situating each in its historical context. His book is a pleasure to read: full of remarkable episodes and insights, immensely learned, clearly and elegantly narrated. If you want to know how the story of Alexander evolved over two millennia and penetrated most of the world's cultures, this is the book to read."—David Konstan, Brown University
"In this impressive volume the many varicoloured threads of the legend of Sultan Iskander are skilfully woven into a fascinating fabric. Stoneman has successfully faced an awesome challenge in marshalling a huge body of diverse and complex material into an ordered whole, subtly highlighting the factors which have given Alexander's legend such an enduring and widespread appeal and the ways in which it has been adapted to very different cultures."—Stephanie West, Oxford University
"Richard Stoneman retells in a fascinating way the life of Alexander the Great not from the historical records but from the fictional texts of the Alexander Romance and other legendary sources. The result is an extremely rich and well-documented survey of the various traditions which, at the same time, is also a most enjoyable reading. This highly recommendable book is a masterpiece and will be the new point of reference for all future studies in this field."—Heinz Hofmann, University of Tuebingen
"A well-written and beautifully illustrated book. [Stoneman] shows how various cultures—Egyptian, Persian, British, and Greek—adopted, modified and exaggerated historical sources to create their own versions of Alexander to suit their concepts of the heroic ideal. This is an unusual and thought-provoking book that should appeal to both Alexander buffs and well-informed general readers."—Booklist
"The volume is highly informative in its goal of tracing the evolution of thought about Alexander through the centuries."—Dawn L. Gilley, Bryn Mawr Classical Review
"The first full-scale study in over 50 years of the Alexander Romance and its legacy in English. . . . Particularly interesting is the author's discussion of the rich medieval Persian Alexander literature—both Zoroastrian and Islamic—and its influence. This fascinating book belongs in every university and college library."—Choice
"Anyone who undertakes the task of evaluating a body of materials as composite as the Alexander Romance must possess—in addition to a thorough knowledge of the history and historiography of Alexander—a working knowledge of several languages and the history of scholarship on a very complex problem. These are skills that Richard Stoneman possesses in abundance."—Eugene Borza, Classical Outlook
"In this fascinating book, Stoneman explores the various legendary aspects of the general. Stoneman suggests that Alexander embodies the aspirations of Everyman."—The Independent
"Richard Stoneman gave 20 well-spent years to the writing of this masterly book. In it he separates the truths about Alexander from the many myths that have surrounded him."—Sunday Telegraph
"Stoneman, here solidifying his reputation as the foremost authority on the legend of Alexander, presents us with nothing less than a legendary parallel life of Alexander. . . .A boon for anyone studying Alexander myth or historiography.  Much has been written over the last decades on Alexander-as-legend. . . but nowhere have the many strands of the legendary Alexander been woven together so fully. . . .It would be a great shame if any course on Alexander were to be taught without reference to at least some of its insights."—Sulochana R. Asirvatham, Journal of Historical Biography
Selected by Choice magazine as an Outstanding Academic Title of 2008.
Short-listed for the 2009 Runciman Award, administered by the Anglo-Hellenic League and sponsored by the National Bank of Greece.
ISBN:
9780300164015
Publication Date:
March 30, 2010
336 pages, 6 1/8 x 9 1/4
30 b/w + 16 color illus.