Hubert Humphrey
WARNING
You are viewing an older version of the Yalebooks website. Please visit out new website with more updated information and a better user experience: https://www.yalebooks.com
The Conscience of the Country
Arnold A. Offner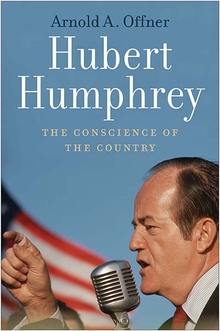 View Inside
Format:

Hardcover


Price:

$35.00
"A painstaking and . . . admiring portrait" (Edward Kosner, Wall Street Journal) of Hubert Humphrey, one of the great liberal politicians of the twentieth century

"An outstanding account of the life and accomplishments of a man who was my friend and my hero. This book captures Hubert Humphrey's passion and unwavering commitment to our nation's highest ideals."—President Jimmy Carter

Hubert Humphrey (1911–1978) was one of the great liberal leaders of postwar American politics, yet because he never made it to the Oval Office he has been largely overlooked by biographers. His career encompassed three well‑known high points: the civil rights speech at the 1948 Democratic Convention that risked his political future; his shepherding of the 1964 Civil Rights Act through the Senate; and his near‑victory in the 1968 presidential election, one of the angriest and most divisive in the country's history.
 
Historian Arnold A. Offner has explored vast troves of archival records to recapture Humphrey's life, giving us previously unknown details of the vice president's fractious relationship with Lyndon Johnson, showing how Johnson colluded with Richard Nixon to deny Humphrey the presidency, and describing the most neglected aspect of Humphrey's career: his major legislative achievements after returning to the Senate in 1970. This definitive biography rediscovers one of America's great political figures.
Arnold A. Offner is Cornelia F. Hugel Professor of History Emeritus at Lafayette College. His previous books include Another Such Victory: President Truman and the Cold War, 1945–1953, and American Appeasement: United States Foreign Policy and Germany, 1933–1938.
"An outstanding account of the life and accomplishments of a man who was my friend and my hero. This book captures Hubert Humphrey's passion and unwavering commitment to our nation's highest ideals."—President Jimmy Carter
"Immensely readable . . . As someone who loves reading political history, I find it rich in story, impressive in fact. Read it from front to back and you've taken a graphic course in post-WW II American politics. Thanks to Offner, we now have fresh evidence that political greatness is not reserved exclusively for those who come out on top."—Chris Matthews, author of Bobby Kennedy—A Raging Spirit
"He devoted his life to public service; he was the first major politician of either party to champion the civil rights movement; he was an enormously effective lawmaker who understood compromise; he brought joy and integrity to American democracy. Why isn't Hubert Humphrey better remembered? With this excellent, thorough, readable biography by Arnold Offner, maybe he will be."—Evan Thomas, author of Robert Kennedy: His Life, Ike's Bluff: President Eisenhower's Secret Battle to Save the World, and Being Nixon: A Man Divided
"Arnold Offner's riveting account of the life and leadership of Hubert Humphrey shows us the man and legislator who fought to make the United States a more liberal and humane society and leader of a free and peaceful world order. We miss this 'conscience of the country' more than ever now."—Walter F. Mondale
"Well written and exhaustively researched, this is the definitive biography of Hubert Humphrey."—Irwin F. Gellman, author of The President and The Apprentice: Eisenhower and Nixon, 1952–1961
"A groundbreaking study of an American political giant. Every page crackles with excellent writing, eye-opening research and shrewd analysis."—Douglas Brinkley, author of Rightful Heritage: Franklin D. Roosevelt and the Land of America
"Hubert Humphrey was one of the twentieth century's political giants. In this gracefully written, insightful biography, Arnold Offner has captured the essence of the man and his times."—Randall B. Woods, author of LBJ:Architect of American Ambition
"A new (and best-yet) Humphrey biography [that] . . . provides a well-researched and readable rendering of a life that bore much good fruit for this country."—Lori Sturdevant, Minneapolis Star-Tribune
"A painstaking and . . . admiring portrait of a more complex and compelling political figure than the caricature his detractors draw....Humphrey missed the ultimate prize in American politics, but, aside from Vietnam, he was on the right side of history on most issues."—Edward Kosner, Wall Street Journal
"Offner's assessment is balanced, affording detailed insight into Humphrey's lifetime of public service. Recommended for all levels; excellent undergraduate outside reading."—J. H. O'Donnell III, Choice
"A thorough and sharply balanced account of Humphrey's life."—Gene Seymour, Bookforum
"An insightful and revelatory biography. . . . This complete history of the political career of Hubert Humphrey and his key roles in American policy, domestically and internationally, sheds new light on the man, the era, and a more socially conscious time."—Colin Harrington, Berkshire Eagle
"Arnold Offner writes the biography of the man whose fingerprints are all over the liberal legislative landmarks of the era. . . . The reader is left admiring Hubert H. Humphrey for what he believed in, for what he accomplished, and also for what he endured, whether self-inflicted or not."—Kenneth Durr, American Historical Review
"Absorbing. . . . Through prodigious research, Offner shows us a serious man who sought a serious goal: the betterment of his fellow Americans, whether through persuasion or legislation."—Joseph McAuley, America
ISBN:
9780300222395
Publication Date:
August 21, 2018
512 pages, 6 1/8 x 9 1/4
35 b/w illus.