Back to the Future in the Caves of Kaua'i
WARNING
You are viewing an older version of the Yalebooks website. Please visit out new website with more updated information and a better user experience: https://www.yalebooks.com
A Scientist's Adventures in the Dark
David A. Burney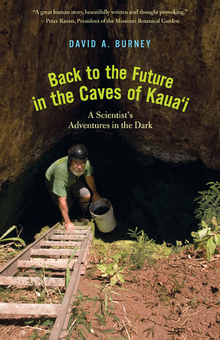 View Inside
Format:

Paper


Price:

$22.00
Also Available in:
Cloth
The intriguing tale of one of the world's richest fossil sites and its profound implications for the environmental future of the planet

For two decades, paleoecologist David Burney and his wife, Lida Pigott Burney, have led an excavation of Makauwahi Cave on the island of Kaua'i, uncovering the fascinating variety of plants and animals that have inhabited Hawaii throughout its history. From the unique perspective of paleoecology—the study of ancient environments—Burney has focused his investigations on the dramatic ecological changes that began after the arrival of humans one thousand years ago, detailing not only the environmental degradation they introduced but also asking how and why this destruction occurred and, most significantly, what might happen in the future.
Using Kaua'i as an ecological prototype and drawing on the author's adventures in Madagascar, Mauritius, and other exciting locales, Burney examines highly pertinent theories about current threats to endangered species, restoration of ecosystems, and how people can work together to repair environmental damage elsewhere on the planet. Intriguing illustrations, including a reconstruction of the ancient ecological landscape of Kaua'i by the artist Julian Hume, offer an engaging window into the ecological marvels of another time. A fascinating adventure story of one man's life in paleoecology, Back to the Future in the Caves of Kaua'i reveals the excitement—and occasional frustrations—of a career spent exploring what the past can tell us about the future.
David A. Burney is the director of conservation at the National Tropical Botanical Garden in Kalaheo, Hawaii. He was awarded a Guggenheim Fellowship in 2006 to write this book on his work at Makauwahi Cave on Kaua'i. He currently lives in Kalaheo, Hawaii.
"Offers up the science of paleoecology with unaffected ease and provides the reader with concise but astute historical background."—Mark Merlin, University of Hawaii at Manoa
"Imagine you were a forensic ecologist, and engaged in a dangerous assignment to discover who perpetrated a terrible massacre in Hawai'i, and why nearly identical massacres also happened in Australia, North America, and New Zealand. You succeeded, but could not stop the serial killer. If this proposition intrigues you, read this book!"
—Michael Soulé, professor emeritus, University of California, Santa Cruz, and President, Wildland Network
"A fascinating and deeply personal account that takes us from catastrophe in Hawai'i, the extinction capital of the United States, to hope and restoration. David Burney's extensive information about the past indicates future pathways for habitat restoration. Paleoecology really comes to life here."—Sir Ghillean Prance, FRS
"David Burney is the great time traveler of our age. Nobody else can lead us into such a rich prehistoric past and bring us back to the present with so many urgent tasks to do. This book is a masterpiece."—Tim Flannery, author of The Weather Makers: How Man Is Changing the Climate and What It Means for Life on Earth and The Eternal Frontier: An Ecological History of North America and Its Peoples
"The poorly known history of Kaua'i, oldest of the Hawaiian islands, viewed through the lens offered by the rich fossil deposits in a shoreline cave, where volunteers who helped in the excavation also worked to restore the original vegetation.  A unique way of viewing the past and building for the future and a great human story, beautifully written and thought provoking."—Peter Raven, President of the Missouri Botanical Garden
"This book offers an interesting narrative of one man's professional and person journey to uncover something of Hawaii's distant past and find a way to help secure its ecological future." — D.A. Brass, Choice
ISBN:
9780300172096
Publication Date:
April 26, 2011
216 pages, 6 1/8 x 9 1/4
39 b/w + 8 color illus.