Amazing Rare Things
WARNING
You are viewing an older version of the Yalebooks website. Please visit out new website with more updated information and a better user experience: https://www.yalebooks.com
The Art of Natural History in the Age of Discovery
David Attenborough, Susan Owens, Martin Clayton, and Rea Alexandratos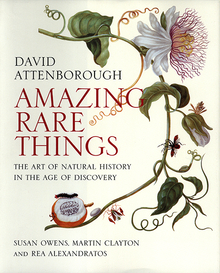 View Inside
Format:

Paper


Price:

$25.00
Also Available in:
Cloth
A gorgeously illustrated volume devoted to the natural history drawings and watercolors of Leonardo da Vinci and other outstanding artists of the Age of Discovery

From the fifteenth century onwards, as European explorers sailed forth on grand voyages of discovery, their encounters with exotic plants and animals fanned intense scientific interest. Scholars began to examine nature with fresh eyes, and pioneering artists transformed the way nature was seen and understood. In Amazing Rare Things, renowned naturalist and documentary-maker David Attenborough joins with expert colleagues to explore how artists portrayed the natural world during this era of burgeoning scientific interest. The book focuses on an exquisite selection of natural history drawings and watercolors by Leonardo da Vinci, Alexander Marshal, Maria Sibylla Merian, and Mark Catesby, and from the collection of Cassiano dal Pozzo—works all held in the Royal Library at Windsor Castle. Attenborough and his coauthors offer lucid commentary on topics ranging from the 30,000-year history of human drawings of the natural world, to Leonardo's fascination with natural processes, to Catesby's groundbreaking studies that introduced Europeans to the plants and animals of North America. With 160 full color illustrations, this beautiful book will appeal to readers with interests that extend from art and science to history and nature.
David Attenborough, a pioneer of the nature documentary, has written and presented nine major television series on virtually every aspect of life on Earth. Susan Owens was formerly Assistant Curator of Paintings and Drawings for Royal Collection Trust and is now an independent art historian. Martin Clayton is Head of Prints and Drawings for Royal Collection Trust and Rea Alexandratos is Dal Pozzo Project Co-ordinator for Royal Collection Trust.
"A true feast for anyone interested in natural history, this marvelous book makes the underappreciated artworks of a passionate, talented group widely accessible."—Publishers Weekly (starred review)
"Scientists often wonder who first illustrated biodiversity, and I imagine that artists often wonder about the chronology and development of accurate depictions of natural history. Amazing Rare Things is a welcome and long overdue integration of art and science."—Margaret D. Lowman, author of It's a Jungle Up There and Life in the Treetops
"Animals were the first things that human beings drew. Not plants. Not landscapes. Not even themselves. But animals. Why? . . . There is a common denominator that links all these artists—the profound joy that all feel who observe the natural world with [a] sustained and devoted intensity."—From the Introduction by David Attenborough
"Amazing Rare Things is a book to savor in your favorite chair. You'll imagine yourself with naturalist and artist Maria Sibylla Merian as she tramps into the wilderness of Surinam. The sumptuous drawings and watercolors reproduced in this volume bear witness to the endeavors of Merian, Leonardo da Vinci and other artists who recorded the plants, animals and insects they observed with intensity. The accompanying prose bristles with detail. . . . The coupling of words and images is primal, yet transcendent."—Susan P. Williams, Washington Post Book World
"This volume . . . shows how artists shaped, and were shaped by, an era of booming scientific discovery. From meticulously rendered flowers to surreal reptilian portraits, 160 full-color illustrations capture a profound curiosity about the natural world."—Seed Magazine
"All the essays and naturalist Attenborough's introduction are written for a general audience. The paper and print quality is superb, with an amazing level of detail visible in the color plates. Recommended for public and academic libraries."—Library Journal
"Looking at these illustrations allows us to peer inside the minds of people centuries ago for whom creatures in other lands were inaccessible exotica. An ideal gift for anyone enthralled by both art and nature's wonders."—Victor Swoboda, Montreal Gazette
"The superb reproductions recommend Amazing Rare Things, from Merian's big-nosed lantern flies investigating pomegranate blossoms to Catesby's painting of a tiny slay-legged lizard working its way up a riot of foliage."—Michael S. Gant, Metroactive
"In its elegant, quiet way, this may be the most visually compelling book I've come across this season. . . . The 160 color illustrations depict with exquisite artistry an array of exotic plants and animals brought to Europe's attention as a result of 15th- and 16th-century voyages of exploration. Renowned naturalist David Attenborough and expert colleagues contribute a series of engaging essays that illuminate the history of our urge to depict the natural world and the particular perspectives and achievements of the artists."—Barnes & Noble Review
"The Age of Discovery, the 15th through the 18th centuries, gave rise to magnificent exploits and explorations of art, science and ideas. Amazing Rare Things is a rich testament to that heady period. . . . Artworks are elegantly interspersed throughout the text and comprise a wonder of visual delights (enlivened by Attenborough's arcane, amusing commentary). . . . In today's world, imperiled as it is with threats of global warming and loss of various species, this stunningly beautiful book is a masterful tribute—and a wakeup call."—Book Page
"At first, second and third look, sheer fascination will keep you turning pages to see the painting of the next wondrous plant or animal and find out what they are. Even the more mundane subjects are so lovely that a lot of people probably are going to be tempted to cut the plates out and frame them."—Carol Edwards, Charleston Post and Courier
"This attractive volume by naturalist Attenborough et al. chronicles select dimensions of the development of natural history illustration in the 'Age of Discovery'. . . . Recommended."—Choice
"Gazing at the catalog in one's own private palace is almost as good as viewing the originals."—Caroline Ash, Science
"A feast for the eyes, reproducing magnificent illustrations in their original vibrant colors."—Charles C. Kolb, Science Books & Films
"A beautiful and informative survey of five of the most remarkable items in the Royal Collection."—David Buisseret, The Journal for the History of Discoveries
Silver medal winner for the 2007 ForeWord Magazine Book of the Year Award in the Nature category
Selected as a 2008 AAUP University Press Book for Public and Secondary School Libraries
ISBN:
9780300215724
Publication Date:
September 29, 2015
224 pages, 7 5/8 x 9 7/8
160 color illus.