Global Warming and Biological Diversity
WARNING
You are viewing an older version of the Yalebooks website. Please visit out new website with more updated information and a better user experience: https://www.yalebooks.com
Edited by Robert L. Peters and Thomas E. Lovejoy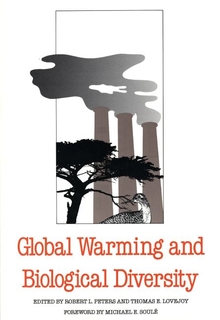 View Inside
Format:

Paper


Price:

$48.00
Also Available in:
Cloth
The biological effects of global warming should be of concern to all thinking individuals, for warming could cause profound disruption of natural ecosystems and could threaten many species with extinction. This important book—the first to discuss in detail the consequences of global warming for ecosystems—includes commentary by distinguished scientists on many aspects of this critical problem.
Experts describe responses of animals and plants to previous climate changes, interactions between various environmental components (precipitation and soil chemistry, for example), and synergisms between climate change and human activities such as deforestation. They consider many specific ecosystems, including tropical forests, the deciduous forests of eastern North America, the forests of the Pacific Northwest, Mediterranean-type ecosystems in California, arctic tundra, and arctic marine systems. Offering discussions that are both factual and speculative, the volume points the way to future investigations of the implications of global warming.
Robert L. Peters was until recently a senior fellow of the W. Alton Jones Foundation and Director of the Global Change Program for Conservation International. Thomas E. Lovejoy, assistant secretary for external affairs of the Smithsonian Institution, is currently president of the American Institute of Biological Sciences.
"Professionals from a wide range of disciplines concerned with the environmental implications of climate change—including biologists, conservationists, natural resource managers, environmental advocates, policy-makers, and government officials—will find illuminating insights in this fine volume."—Robert D. Holt
"This clearly written work is the first to lay out definitively the linkages between the two most important environmental trends of our time."—Edward O. Wilson, Baird Professor of Science, Harvard University
"The world's best scientific minds are telling us that biologic diversity is in the midst of a period of mass extinction. Global Warming and Biological Diversity is a superb overview of what that means for our future —and what a warmer world implies for that future. This book does a masterful job of demonstrating why global warming and biological diversity deserve our urgent attention."—Senator Timothy E. Wirth (D-CO)
"The editors have brought together a stellar assemblage of authors. . . . The take-home lesson from this book is that the changes likely to be wrought by global warming are not going to be very convenient, pleasing, or profitable to its human inhabitants and that the time available for altering its course is growing short. The prudent action is to follow Woodwell's advice and take immediate steps to 'restabilize the human habitat and preserve opportunities for our children to live in it.' Perhaps the first step is to buy this book and give it to your favorite politician for Christmas."—Peter F. Brussard, Science
"This book is nothing less than the history of the next hundred years of life on earth. Impressively detailed yet highly readable, it lays forth all that we know and don't know about what happens to a planet that runs a sudden sky-high fever. Please read it—the more people who do, the more chance we can avert some of these horrors."—Bill McKibben
"Because of its breadth, readability, and scientific credibility, this book will be useful for undergraduate and graduate students and their teachers. But, in addition, the book will also provide a solid basis for popular discussions of global warming and its biological consequences for the informed lay person who wishes to pursue this crucial topic."—Paul Risser, BioScience
"Well written, engaging, and not too technical for a general audience. . . . This volume comprehensively portrays the interrelatedness of these topics and merits the attention of anyone concerned with climate change and biodiversity."—Choice
"This extremely important book brings together a large body of experimental data, computer modelling and informed speculation. It is the most authoritative collection of views currently available."—P.D. Moore, Biologist
"The book integrates a rapidly escalating and diffuse field so that professionals from a wide range of disciplines can obtain a well-balanced overview of trends likely under future climate change. A valuable contribution which is also an excellent source of reference has been provided by the editors."—Peter A. Parsons, Biodiversity and Conservation

"Reading this collection of scientific studies is a must for all of us concerned with the rescue of our planet."—Kenneth R. Hotopp, Natural Areas Journal

ISBN:
9780300059304
Publication Date:
February 23, 1994
408 pages, 7 1/4 x 10