Amazon Expeditions
WARNING
You are viewing an older version of the Yalebooks website. Please visit out new website with more updated information and a better user experience: https://www.yalebooks.com
My Quest for the Ice-Age Equator
Paul Colinvaux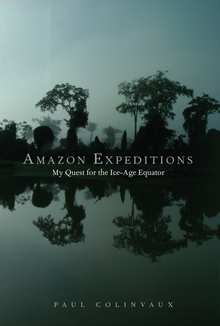 View Inside
Format:

Cloth


Price:

$69.00
A gripping tale of exploration, the pursuit of ice-age records, scientific invention and controversy, and revelations about the great Amazon forest

In this vivid memoir of a life in science, ecologist Paul Colinvaux takes his readers from the Alaskan tundra to steamy Amazon jungles, from the Galapagos Islands (before tourists had arrived) to the high Andes and the Darien Gap in Panama. He recounts an adventurous tale of exploration in the days before GPS and satellite mapping, and a tale no less exhilarating of his battle to disprove a hypothesis endorsed by most of the scientific community.
Colinvaux's grand endeavor, begun in the 1960s, was to find fossil evidence of the ice-age climate and vegetation of the entire American equator, from Pacific to Atlantic. The accomplishment of the task by the author and his colleagues involved finding unknown ancient lakes, lugging drilling equipment through uncharted Amazon jungle, operating hand drills from rubber boats in water 40 meters deep, and inventing a pollen analysis for a land with 80,000 species of plants. Colinvaux's years of arduous travel and research ultimately disproved a hotly defended hypothesis explaining bird distribution peculiarities in the Amazon forest. The story of how he arrived at a new understanding of the Amazon is at once an adventurous saga, an account of science as it is conducted in the field, and a cautionary tale about the temptation to treat a  favored hypothesis with a reverence that subverts unbiased research.
Paul Colinvaux is senior research scientist, Marine Biological Laboratory, Woods Hole, and professor emeritus, The Ohio State University. He has published extensively on ecological topics and hosted the twenty-part PBS series, What Ecology Really Says. He lives in Woods Hole, MA.
"Colinvaux captures very well both the excitement and frustration that comes from long-term scientific endeavor."—Susanna Hecht, University of California, Los Angeles
"Amazon Expeditions combines an autobiographical account of a distinguished ecologist's career with a charting of the course of an important debate about the relationship between biodiversity and climate change in Amazonia."—Stephen Nugent, Goldsmiths College, University of London
"Amazon Expeditions is a tour-de-force, presenting the development of an interpretation of major importance for both theory and conservation. I find the evidence compelling."—Emily Southgate, Rutgers University
"There is a touch of Tolkien in Paul Colinvaux's engaging, masterly, story of his research career. A paradigm is destroyed and hypotheses are killed, ruthlessly or ruefully, as he seeks evidence of tropical climates in the Ice Age."—Peter Grant, Princeton University
"An absorbing tale of scientific detection…a saga of muddy boots, microscopes and geology revealing the secret of Amazonia's ice-age climate…a revealing combined portrait of field and laboratory science at work."—Thomas E. Lovejoy, author of Climate Change and Biodiversity
"A crucially important book involving the relationship between biodiversity and climate change."—Booklist
"Feisty and often inspiring. . . . You don't need to share [Colinvaux's] obsession to understand both the difficulty of this enterprise and the care and passion with which he carried it out. And best of all, thanks to this welcome book, you don't need to break a sweat to accompany him on his journeys."—Natural History
"This is an excellent book about a scientific career, the joys and challenges of field research, and the way science works. It is excellent reading for practicing and prospective researchers."—Wildlife Activist
"Colinvaux, an ecologist at the forefront of pollen research for the past 40 years, has turned his path breaking career into a scientific detective story, from his days as a graduate student drilling glaciers in the Alaskan tundra, to his explorations of lake beds in the steamy Amazon forest. . . . An exciting account of field work under challenging and sometimes dangerous circumstances, this is a rewarding read for anyone with an interest in environmental and biological history."—Publishers Weekly

"An engaging account of the grind of doing ecological research in the tropics and an illimunating analysis of the intellectual struggle between competing ideas about tropical diversity."—Margaret Pizer, Conservation Magazine
"This book provides a fascinating insight into the practice of science. . . . Valuable for all public and scientific libraries. . . . Highly recommended."—Choice
"The author skillfully weaves in grueling experiences and hardships in the field with the excitement of obtaining good samples. . . . He makes a strong case that the Amazon essentially remained unchanged throughout the Pleistocene."—William E. Duellman, Quarterly Review of Biology
"The story is part picaresque and part polemic, at once a tale of adventure and a firsthand account of the deconstruction of a 'beautiful' theory. . . .Recounting these experiences with wry humor, ample ego, and his signature enthusiasm, Colinvaux is at his best. . . . Edifying and compelling reading. . . . Colvinaux has given us a most entertaining behind-the-scenes account of his challenging quest and worthy accomplishments."—Paul Barker, American Scientist
"An interesting book that aims at a wide readership, particularly...anyone interested in tales of explorations and the scientific search of the ice-age Amazon climatic history."--Sonia L. Fontana, Georgaphical Journal
ISBN:
9780300115444
Publication Date:
March 3, 2008
384 pages, 6 1/8 x 9 1/4
40 b/w illus.