Fatal Flaws
WARNING
You are viewing an older version of the Yalebooks website. Please visit out new website with more updated information and a better user experience: https://www.yalebooks.com
How a Misfolded Protein Baffled Scientists and Changed the Way We Look at the Brain
Jay Ingram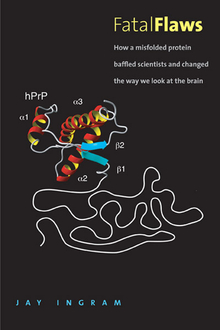 View Inside
Format:

Cloth


Price:

$64.00
The story of the revolutionary science that is unraveling the mysteries of mad cow and other fatal brain diseases

Discovered and identified as the cause of mad cow disease only three decades ago, the prion is a protein molecule that, when misshapen in the brain, becomes fatal. Novel and controversial, prions have provoked a scientific revolution. They challenge the very foundations of biology: A disease-causing entity with no genetic material at all? A molecule capable of infecting, multiplying, and killing? This book recounts the birth of prion science and the imaginative detective work scientists have undertaken as they struggle to find the answers to devastating brain diseases from mad cow and Creutzfeldt-Jakob disease to Parkinson's, Alzheimer's, Lou Gehrig's, and others.
As in each of his best-selling books, Jay Ingram here makes complex scientific concepts accessible and shows how little-known events may have profound significance. He describes the development of prion science as a rough-and-tumble affair, with rivals, eccentrics, interfering governments, and brilliantly creative people all playing salient roles. Weaving biology, medicine, human tragedy, discovery, and bitter scientific competition into his account, he reveals the stunning potential of prion science, whose discoveries may unlock the answers to some of humankind's most destructive diseases.
Jay Ingram is an award-winning science author, writer, and broadcaster. He was co-host and producer of Discovery Channel Canada's Daily Planet from 1995 to 2011, and he is the author of eleven previous books. He lives in Alberta, Canada. 
"Fatal Flaws provides a fascinating insight into the twists and turns of this new science, highlighting the controversies that surrounded its emergence and the ways it turned the world of research into the causes of neurodegenerative disease inside out."—Lara Marks, author of Sexual Chemistry: A History of the Contraceptive Pill
"No sterile account of white coated scientists, Ingram tells a 'who-dunnit' about one of the most fascinating and improbable tales of medical discovery that involves huge egos, petty quarrels, exotic terrain, governmental cover-ups and ritualized cannibalism."—Jonathan A. Edlow, MD, author of The Deadly Dinner Party and Other Medical Detective Stories
"Jay Ingram's engrossing book is unbeatable for a balanced understanding of how mad cow disease might relate to other brain ailments. It's clear and concerned but never needlessly alarming."—John Rennie, former editor of Scientific American
"Written in the form of a detective story, this engrossing account details the discovery of a novel disease agent that was identified as the cause of mad cow disease three decades ago… written in an informal, engaging style while also making complex scientific more accessible to the reader."—John Adams, Nursing Standards
Won the Canadian Science Writers' Association Outstanding Canadian Science Book Award for general audience books published in 2012.
ISBN:
9780300189896
Publication Date:
March 19, 2013
296 pages, 5 1/2 x 8 1/4
7 b/w illus.

---
Sales Restrictions: World excluding Canada