The Cherokee Diaspora
WARNING
You are viewing an older version of the Yalebooks website. Please visit out new website with more updated information and a better user experience: https://www.yalebooks.com
An Indigenous History of Migration, Resettlement, and Identity
Gregory D. Smithers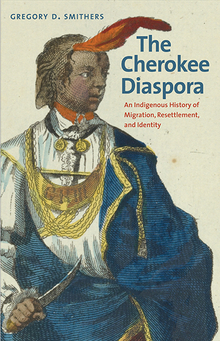 View Inside
Format:

Cloth


Price:

$40.00
Also Available in:
Paper
The Cherokee are one of the largest Native American tribes in the United States, with more than three hundred thousand people across the country claiming tribal membership and nearly one million people internationally professing to have at least one Cherokee Indian ancestor. In this revealing history of Cherokee migration and resettlement, Gregory Smithers uncovers the origins of the Cherokee diaspora and explores how communities and individuals have negotiated their Cherokee identities, even when geographically removed from the Cherokee Nation headquartered in Tahlequah, Oklahoma. Beginning in the eighteenth century, the author transports the reader back in time to tell the poignant story of the Cherokee people migrating throughout North America, including their forced exile along the infamous Trail of Tears (1838–39). Smithers tells a remarkable story of courage, cultural innovation, and resilience, exploring the importance of migration and removal, land and tradition, culture and language in defining what it has meant to be Cherokee for a widely scattered people.
Gregory D. Smithers is Professor of history at Virginia Commonwealth University and author of numerous books and articles about Native American and African American history.
"Showing us the way, Smithers superbly demonstrates the complexity inside the Cherokee Nation moving fire to rebuild in a new homeland.  This is a valuable ethnohistorical contribution to diasporic studies."—Donald L. Fixico, author of Call for Change: The Medicine Way of American Indian History, Ethos and Reality
"Cherokee Diaspora asks probing questions about Cherokee identity in the settler-colonizer world. Gregory Smithers's lucid analysis heralds a renewed appreciation of a mobile Indigenous people who proudly negotiated the epicenter of modernity."—Ann McGrath, author of Illicit Love: Interracial Sex and Marriage in the United States and Australia
"Gregory D. Smithers places Diaspora at the center of the last two-hundred plus years of Cherokee history—and he does so in startling fashion. Smithers' unique contribution shows how multiple migrations defined for Cherokees not only their past but their present and future as a people of multiple communities. Diaspora and migration shaped Cherokee history not only in the era of the Trail of Tears, but during the era of the American Civil War, and through subsequent decades even into the twenty-first century. This is a groundbreaking study of the Cherokee and of migration."—Alan Gallay, Texas Christian University
"Essential reading for anyone interested in the Cherokee, as it deftly documents how they determine who is a blood relative and why that matters, both in the past and today."—Library Journal, starred review
"Smithers' account of the Cherokee is a welcome addition to the literature of American history. He brings an uncommon depth to the story of a part of southern American culture that is often either ignored, or glossed over."—Roanoke Times
"Smithers explores the creation and re-creation of a Cherokee national identity from the 18th century to World War II."—True West
"Gregory D. Smithers provides a welcome, valuable description and analysis of a very complex set of historical facts, cultural mores, political realities, and individual decisions that shaped the 'Cherokee Diaspora.'"—Marcia Haag, American Indian Culture and Research Journal
"In Diaspora, Smithers identifies the foundation for a new synthesis of the history of one of North America's most thoroughly studied indigenous peoples."—Andrew Denson, Western Historical Quarterly
"Smithers offers a comprehensive tribal history from the Cherokee diaspora's Revolutionary-era origins through the early twentieth century."—Jonathan Hancock, North Carolina Historical Review
"Smithers draws upon an array of scholarship and extensive archival research to explore the interconnected concepts of migration, memory, and identity."—Tyler Boulware, Journal of Interdisciplinary History
"Smithers has tried something new, seeking to set the history of Native North America on a different footing that engages with broader inquiry into transnational themes of identity, memory, and history."—James Taylor Carson, Southern Spaces
"Smithers does a tremendous service to both Cherokee historiography and historical memory. No future work will be able to ignore his interpretation. By demonstrating how the oft-separate ?elds of Indigenous, diaspora, and migration studies can bene?t from being in conversation with one another, Smithers o?ers a fruitful roadmap that future scholars would be wise to utilize."—John R. Gram, Journal of Native American and Indigenous Studies
Finalist in the 2016 Oklahoma Book Award competition in the non-fiction category
Selected as a Best of the West 2016 title in True West magazine
Received an Award of Excellence from the East Tennessee Historical Society
Winner of the 2016 Historical Book Award given by the North Carolina Society of Historians
Winner of the 2017 Independent Publisher Book Awards, in the non-fiction Multicultural Book category
ISBN:
9780300169607
Publication Date:
September 29, 2015
368 pages, 6-1/8 x 9-1/4
17 b/w illus.