Gypsy
WARNING
You are viewing an older version of the Yalebooks website. Please visit out new website with more updated information and a better user experience: https://www.yalebooks.com
Rachel Shteir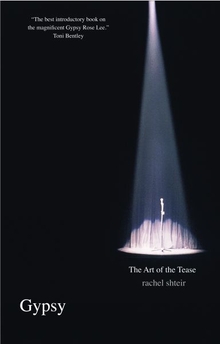 View Inside
Format:

Paper


Price:

$30.00
Also Available in:
Cloth
A revealing portrait of Gypsy Rose Lee, the "Striptease Intellectual" of 1930s burlesque
 
A true icon of America at a turning point in its history, Gypsy Rose Lee was the first—and the only—stripper to become a household name, write novels, and win the adulation of intellectuals, bankers, socialites, and ordinary Americans. Her outrageous blend of funny-smart sex symbol with the aura of high culture—she boasted that she liked to read Great Books and listen to classical music while taking off her clothes on-stage—inspired a musical, memoirs, a portrait by Max Ernst, and a species of rose. Gypsy is the first book about Gypsy Rose Lee's life, fame, and place in America not written by a family member, and it reveals her deep impact on the social and cultural transformations taking shape during her life.
 
Rachel Shteir, author of the prize-winning Striptease, gives us Gypsy's story from her arrival in New York in 1931 to her sojourns in Hollywood, her friendships and rivalries with writers and artists, the Sondheim musical, family memoirs that retold her history in divergent ways, and a television biopic currently in the making. With verve, audacity, and native guile, Gypsy Rose Lee moved striptease from the margins of American life to Broadway, Hollywood, and Main Street. Gypsy tells how she did it, and why.
Rachel Shteir is associate professor, The Theatre School, DePaul University, and author of Striptease: The Untold History of the Girlie Show. She lives in Chicago.
"Shteir tries to show us more of Gypsy than the censors would allow—if not of her body, then of her mind and spirit…In Shteir's hands, Gypsy becomes a working-class heroine, a feminist role model, a pioneer of contemporary sexuality, even an American icon."—Adam Kirsch, BarnesandNobleReview.com
"That [Gypsy's] star rose during the economically catastrophic '30s was no accident: Her demure flirtation—as sly a construct as her breakaway gowns—was not only sexy but wickedly funny, a tonic for the worst of times."--Cathleen
Medwick, O, The Oprah Magazine
"It is simply impossible…not fall in love with Gypsy's tenacity, wit and confounding, beguiling, oh-so-American mix of self-mythology and self-awareness."—Lily Burana, Washington Post
"The best introductory book on the magnificent Gypsy Rose Lee, a woman whose name has come to connote the importance of the sexual gimmick and the eroticism of the undelivered promise."—Toni Bentley, author of Sisters and Salome and The Surrender: An Erotic Memoir
"The best kind of cultural biography and the most serious history to date of the burlesque and striptease tradition."—Francine du Plessix Gray
"Rachel Shteir is one of the fresh thinkers about things American that have usually been dismissed as vulgar and are too often responded to in kind. Hers is the gift for finding the humanity that always lies inside the encasements of the facts and the statistics. Consequently, the combination of subtlety, warmth, scholarship, and low-keyed wit make her work especially exceptional in a time like ours. It is perfect for the new era we entered in the last presidential election."—Stanley Crouch
"Shteir situates Gypsy Rose Lee's various career metamorphoses in terms of parallel American social and cultural transformations, from the Great Depression through the first decade of the Sexual Revolution. The story of Gypsy's multiple careers as a performer, stripper, Hollywood actor, activist, artist, writer and intellectual, provides a still pertinent and important commentary on America's 'Main Street' view of sexuality and sexual display in general (at once hidden and covered, revered and disdained)."—Katherine Liepe-Levinson, author of Strip Show
ISBN:
9780300164480
Publication Date:
February 23, 2010
240 pages, 5 3/16 x 8 1/6
9 b/w illus.