Hakluyt's Promise
WARNING
You are viewing an older version of the Yalebooks website. Please visit out new website with more updated information and a better user experience: https://www.yalebooks.com
An Elizabethan's Obsession for an English America
Peter C. Mancall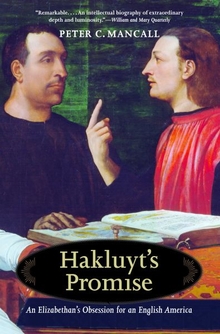 View Inside
Format:

Paper


Price:

$44.00
Also Available in:
Cloth
The most comprehensive portrait yet of Richard Hakluyt, indefatigable promoter of English colonization in America

Richard Hakluyt the younger, a contemporary of William Shakespeare, advocated the creation of English colonies in the New World at a time when the advantages of this idea were far from self-evident. This book describes in detail the life and times of Hakluyt, a trained minister who became an editor of travel accounts.  Hakluyt's Promise demonstrates his prominent role in the establishment of English America as well as his interests in English opportunities in the East Indies. The volume presents nearly 50 illustrations—many unpublished since the sixteenth century—and offers a fresh view of Hakluyt's milieu and the central concerns of the Elizabethan age.
Though he never traveled farther than Paris, young Hakluyt spent much of the 1580s recording information about the western hemisphere and became an international authority on overseas exploration. The book traces his rise to prominence as a source of information and inspiration for England's policy makers, including the queen, and his advocacy for colonies in Roanoke and Jamestown. Hakluyt's thought was shaped by debates that stretched across Europe, and his interests ranged just as widely, encompassing such topics as peaceful coexistence with Native Americans, the New World as a Protestant Holy Land, and in, his later life, trade with the Spice Islands.
Peter C. Mancall is professor of history, University of Southern California, and director of the USC–Huntington Early Modern Studies Institute. He lives in Los Angeles.
"The time is right for a new study of Hakluyt, and this lively and readable book fills the gap."—Glyn Williams, author of Voyages of Delusion: The Quest for the Northwest Passage

 


"Peter Mancall follows Richard Hakluyt through the crooked streets and paneled private rooms of late Renaissance London and Paris—and shows for the first time how this scholar and writer, who rarely left the south of England, became his country's most eloquent impresario of travel, trade and colonization."—Anthony Grafton, Princeton University
"The most approachable and digestible account of intellectual and cultural life in the age of Shakespeare that I have read. This is an engaging, thoughtful, and important book. Mancall uses all of the tools of the cultural and social historian to recreate Hakluyt's life and his world. He provides an account of the origins of the Atlantic World and the British Empire that will challenge current paradigms."—Steven Pincus, Yale University
"This is an outstanding piece of literary contextualization.  The author relates Hakluyt's career to his own publications—and those of European contemporaries—on ventures into the unknown."—Nicholas Canny, National University of Ireland, Galway.
"No Elizabethan promoted England's imperial ambitions more vigorously than Richard Hakluyt, an elusive man who lives on mostly through his published works. Peter Mancall brings Hakluyt to life in this beautifully illustrated, elegantly written, and innovative biography that is moving, entertaining, and informative."—Alison Games, Georgetown University
"Mancall has captured the life of the elusive Hakluyt and put him firmly in place at the heart of Elizabethan maritime enterprise. A splendid achievement."—Robert C. Ritchie, The Huntington Library
"More than a meticulous biography of the great Elizabethan geographer and promoter of colonization, Hakluyt's Promise is a fine study in intellectual history and of the intersection of learning, mythology, and creative enterprise."—Bernard Bailyn, Harvard University
"With the quadra centennial of the founding of Jamestown looming, Peter Mancall provides an imaginative and indispensable study of Richard Haykluyt without whose writings the colonization of America might have played out differently. Haykluyt's Promise is essential reading for anyone who wants to understand the intellectual origins of English America."—Louis P. Masur, Trinity College
"A sixteenth-century publicist, Richard Hakluyt arranged nature's wonders and mysteries into ordered systems meant to inspire overseas colonies in North America. In that spirit, Peter Mancall now weaves a latter-day wonder: a lively and insightful biography that recovers Hakluyt's complex personality and enduring importance. With thorough research and a keen wit, Mancall illuminates Hakluyt as the ultimate man of the Renaissance, an age that combined magic and science, art and reason."—Alan Taylor, University of California, Davis
"One of my top books of the year. . . . A well-written, meticulously-researched account of the life of the man who rates as the single more important figure in creating the 'spirit of colonization' in England during the latter years of Elizabeth I's reign. . . . Mancall has created a brilliant narrative which deserves wide attention."—PhiloBiblos
"...what Mancall's accumulated erudition succeeds in showing us is the sheer difficulty of persuading the recalcitrant English, worn down by the bloody and expensive wars of conquest in Ireland, into larger imperial ambitions."---Fintan O'Toole, The Guardian
"Beautifully written and illustrated... Mancall's pacy narrative traces Hakluyt's career from Oxford academic to the man who inspired Elizabethan policy makers to take up the queen's rights in North America."---BBC History Magazine
"Hakluyt's texts are full of his quirky writing saturated by his jingoism and typical Tudor prejudice, informed by a truly exceptional imagination that, in some way grasped the global future without travelling beyond Paris.  Peter Mancall has taken those texts and, against considerable odds, crafted an innovative, rewarding book." - Jonathan Wright, History Today
'Mancall uses Hakluyt's scholarly turn of mind to his advantage.  He becomes Hakluyt's student, reading the titles that Hakluyt read.  What might have been narrow work thus becomes an impressive intellectual history of how Elizabethans attempted to explain a new world.'  - T.H. Breen, Times Literary Supplement
"In this remarkable achievement, Peter Mancall has drawn on cultural, social, intellectual, and political history to produce an intellectual biography of extraordinary depth and luminosity."—Andrew Fitzmaurice, William and Mary Quarterly
"An engaging, well-researched, and thoughtful portrait of Richard Hakluyt the Younger. . . . In Hakluyt's Promise this giant of the Elizabethan Age has a biography worthy of his extraordinary life."—Lindley S. Butler, Nautical Research Journal
"A thorough, highly readable account of one of the most elusive players in the early history of English America. Hakluyt's Promise is certain to be the Elizabethan geographer's definitive biography for years to come."—Eliga H. Gould, The Journal of American History
"Intellectual, cultural, and scientific history are elegantly and admirably woven together throughout the book."—Ken MacMillan, Project Muse
ISBN:
9780300164220
Publication Date:
April 6, 2010
400 pages, 6 1/8 x 9 1/4
44 b/w illus. & 1 map