The Religion and Science Debate
WARNING
You are viewing an older version of the Yalebooks website. Please visit out new website with more updated information and a better user experience: https://www.yalebooks.com
Edited by Harold W. Attridge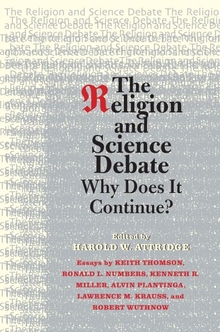 View Inside
Format:

Paper


Price:

$26.00
Also Available in:
Cloth
Six acclaimed scholars—including a biologist, a sociologist, a historian, a philosopher, and a physicist—examine the evolution debate.

Eighty-one years after America witnessed the Scopes trial over the teaching of evolution in public schools, the debate between science and religion continues. In this book scholars from a variety of disciplines—sociology, history, science, and theology—provide new insights into the contemporary dialogue as well as some perspective suggestions for delineating the responsibilities of both the scientific and religious spheres.
Why does the tension between science and religion continue? How have those tensions changed during the past one hundred years? How have those tensions impacted the public debate about so-called "intelligent design" as a scientific alternative to evolution? With wit and wisdom the authors address the conflict from its philosophical roots to its manifestations within American culture. In doing so, they take an important step toward creating a society that reconciles scientific inquiry with the human spirit. This book, which marks the one hundredth anniversary of The Terry Lecture Series, offers a unique perspective for anyone interested in the debate between science and religion in America.
Harold W. Attridge is the Dean and Lillian Claus Professor of New Testament at the Yale Divinity School. Keith Thomson is professor emeritus of natural history, University of Oxford, and senior research fellow, American Philosophical Society. Ronald L. Numbers is Hilldale and William Coleman Professor of History of Science and Medicine, University of Wisconsin-Madison. Kenneth R. Miller is Professor of Biology, Brown University. Lawrence M. Krauss is Foundation Professor in the School of Earth and Space Exploration and Physics Department, and Inaugural Director of the Origins Initiative at Arizona State University. Alvin Plantinga is John A. O'Brien Professor of Philosophy, University of Notre Dame. Robert Wuthnow is Gerhard R. Andlinger Professor of Sociology and Director of the Center for the Study of Religion, Princeton University.
"This is an unusually well-integrated roundtable on a very timely subject."—Owen Gingerich, Harvard-Smithsonian Center for Astrophysics, author of God's Universe
"The intellectual bankruptcy of the 'intelligent design' movement is well skewered, but the philosopher Alvin Plantinga gives Dawkins a clobbering, too. Many books are said to be thought-provoking; this truly is."—Andrew Billen, New Statesman (Best Books of 2009)
"[The] book is a useful primer on this debate, giving historical and philosophical perspective as well as scientific evidence. It provides yet another small step toward a future when science education focuses on science, and miracles are not invoked as explanations."—David A Rintoul, Reports of the National Center for Science Education
"All of the contributors adopt a moderate stance—in opposition to extremists from Dawkins to creationists—and the first three lectures (with notes) provide a solid introduction to the topic. . . . Highly recommended."—C. D. Kay, Choice
"These essays stimulate thinking about matters of origin and are worth our time to read and ponder."—Mark Mattes, Currents in Theology and Mission
"An accessible volume that provides a window into various points of view within specific disciplines on the relationship of religion and science, this book is an intriguing and easy read, likely to prove useful as a starting point for discussion within university and seminary classrooms."—J. Jeanine Thweatt-Bates, Restoration Quarterly
"This is an excellent guide… All the essays add a new perspective in their own way, and give complementary but different insights into a complex state of affairs."—Nicola Hoggard Creegan, Stimulus

"All the essays add a new perspective in their own way, and give complementary but different insights into a complex state of affairs. Certainly, we live in a society in which there is no common story of origins, and no commonly accepted understanding of truth. We must all be skilled in multiphrenia to survive and this is an excellent guide along the way." —Nicola Hoggard Creegan,Stimulus
ISBN:
9780300152999
Publication Date:
September 1, 2009
240 pages, 5 1/2 x 8 1/4
4 b/w illus.