Life in the Treetops
WARNING
You are viewing an older version of the Yalebooks website. Please visit out new website with more updated information and a better user experience: https://www.yalebooks.com
Adventures of a Woman in Field Biology
Margaret Lowman; Foreword by Robert D. Ballard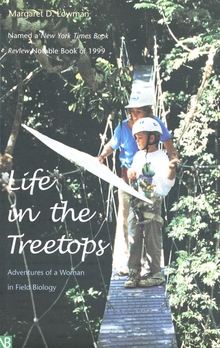 View Inside
Format:

Paper


Price:

$13.95
Also Available in:
Cloth
e-book
Forest canopies have been characterized as one of the last biotic frontiers on Earth: tree crowns have been difficult to study scientifically because access to them has been so challenging. During the past two decades, however, methods for canopy access have greatly improved. In this book a pioneer canopy scientist describes the mysteries of the treetops—their inhabitants, flowers and fruits, growth and mortality, patterns of diversity, and plant and animal interactions. Margaret Lowman writes about different canopy access techniques in conjunction with the scientific hypotheses she was addressing while using each one. She also portrays the life of a field biologist from a woman's perspective: what it was like to juggle a demanding career with marriage, housewifery, motherhood, and single parenthood.
 
The chapters are organized chronologically, starting with Lowman's early days with ropes in Australia and progressing to the use of a cherry picker to access the canopies of eucalypt trees while she was pregnant, research by hot-air balloon in Africa, and building treetop walkways in the temperate forests of Massachusetts and in the tropical rain forests of Belize. The book also includes a lovely array of line drawings and halftones.
Margaret D. Lowman is director of research and conservation at the Marie Selby Botanical Gardens, where she also holds the Jessie B. Cox Chair in Tropical Botany. Robert Ballard is discoverer of the Titanic and director of The Jason Project.


"The study of forest canopies using techniques that range from climbing ropes to hot air balloons and giant cranes are the subject of this interesting book, a wonderful mix of ecological research and a woman scientist's life story, balancing marriage and children with teaching college and research tips."—Elvita Landau, Public Library Association



"Meg Lowman's spirit, energy, love of her children and love of botany come through loud and clear in this inspiring autobiography. How do women scientists balance commitments to family and career? Meg's book will give courage to an upcoming generation of women scientists but it will also help them realize that life's choices are not always easy—we just do the best we can do."—Lynne Cherry



"Life in the Treetops blends science, conservation and parenting with emphatic intensity. Dr. Lowman engaged this reader, making me feel that I was with her while she worked in the rain forest canopy and lived in the Australian outback while juggling the raising of two children and involving them in her research."—Nathan Erwin, Smithsonian Institute



"Lowman weaves back and forth between wonderful descriptions of her beginnings, adventures, and findings in canopy research and her personal life as wife, mother, daughter. She presents a vision of being a scientist that is compelling and attractive."—Paula M. Rayman, Radcliffe Public Policy Institute


"There is something thrilling about a rainforest even for someone like myself who has grown up in it. The enormous diversity of plant and animal life adds a dimension that is unknown in other plant communities. It keeps its secrets well hidden and one can understand why Meg Lowman as a young biologist was captivated by it. (It is also natural that the luxuriant rainforests of Lamington National Park in Australia would have a special appeal to her. She made a valuable contribution as a leader at O'Reillys Rainforests Weeks where her talent for enthusing participants, her knowledge and charm lightened some rather heavy botanical sessions.) Even so she was not satisfied to have her feet planted on the ground and gaze wistfully up into the treetops, she made the effort to get there. Meg experienced the excitement of pioneering rainforest canopy research in Australia, of being up with the birds, observing first hand the complex ecology of life in the canopy. I believe it says something of her indomitable spirit — to go one step further, to overcome the hills of life and to share her knowledge and experiences with us as only Meg can."—Peter O'Reilly



"Life in the Treetops is exciting reading for anyone with an interest in rain forest ecology. If you have ever climbed a tree and marveled at the view from the top, you would find Loman's story fascinating. Women in science, and young women contemplating a career in science, would find Loman's story interesting and inspiring."—Suzanne Kempke, American Biology Teacher



"This first-hand account is sure to inspire young women interested in science and will be intriguing for anyone interested in the mysteries of tropical biology and the tree crown."—Biology



"How Lowman succeeded in a male-dominated field makes for inspired reading."—Nancy Brent, Booklist



"With unusual candor, [Lowman] offers the reader the story of her life as a research scientist and as a woman. . . . Lowman manages to fill the pages with a rich story. She writes with clarity and sensitivity , but also manages to convey the excitement of her life in science. . . . This is a marvelous little book: it tells us much about the science of canopy biology, about the life of science, and about one especially heroic individual."—Vassiliki Betty Smocovitis, Journal of the History of Biology



"An exuberant celebration of biology in the wild, far from labs, classrooms, and offices. . . . Young women interested in careers in science will especially benefit from Lowman's encouragement, but general readers will enjoy her book as well."—Kirkus Reviews



"This wonderful book by rain forest canopy biologist Lowman and her sons . . . is a marvelous follow-up to hre excellent Life in the Treetops. . . . Lowman continues to inspire with her stories of work and family. . . . Recommended for public, high school and academic libraries."—Library Journal
"In this engaging mix of science and autobiography, botanist Lowman recalls her pioneering research in the forest canopies of Australia, Africa, Belize, and the United States. . . . A wonderful look at the rigors of fieldwork—from a woman's perspective."—Library Journal (Chosen as one of Library Journal's Best Books of 1999)


"Lowman presents a wonderful mix of ecological research and life story. Her pioneering research in the forest canopies of Australia, Africa, Belize, and the United States is fascinating and gives the reader a real feel for the importance of canopy research in particular and ecological research in general. . . . Recommended for public and academic libraries and also of interest to teens contemplating science careers."—Library Journal (Starred Review)


"[This book] is interwoven with wonderful stories of life teeming in rain forest tree tops. [Lowman's] struggle for self-realization and fulfillment is told with directness and humor, and while its twin tale of the emerging science of canopy biology . . . is compelling for anyone with and interest in natural history."—Georgia Tasker, Miami Herald



"When searching for new frontiers, humanity has put on pressure suits to explore outer space and used artificial lungs to dive into the deep sea. But the tall tropical canopy has been there all along visible if only we looked up, and yet one of the least-known places on earth. Lowman was one of the first to work out how to get up there and study the canopy. . . . She'll change the way you look at your local rainforest . . . [and] shares a few tales that only a woman in the field could tell. . . . [Lowman's] efforts to incorporate a well-rounded perspective on her experiences as a woman in science are as pioneering as her research."—Rebecca Shapely, New Scientist



"An accomplished scientist—and working mother—recalls her trials and triumphs study tree canopies and other ecosystems in Australia, Central America, and New England."—New York Times Book Review



"In Life in the Treetops, Margaret D. Lowman . . . gives a funny, unassuming and deeply idiosyncratic chronicle of her trials and triumphs as a field biologist of tree canopies and other ecosystems. . . . With her wonderfully plain-spoken approach, based on nature appreciation, scientific observation and unpompous explanation, Lowman engages the envirophiles among us who grew up watching friendly-nerd science programs like '3-2-1 Contact' and who still yearn to brush dust off a stegosaurus bone or personally resuscitate a patch of rainforest or merely see an IMAX film on the rainforest before we die. Her book admirably shows that a woman who is unwilling to accept impossibility can not only rock the cradle. If she can write her own script, she can carry her cradle into the treetops of the rainforest – and rock the tree."—Liesl Schillinger, New York Times Book Review


"A funny, unassuming chronicle of the trials and achievements of a woman (and mother) engaged in studying tree canopies and inventing techniques to do it."—New York Times Book Review (A NYTBR Notable Book of 1999)



"Readers will empathize with Lowman's struggles to balance family and career, but it is her fascinating research and amusing adventures in the jungle that will keep them turning pages."—Publishers Weekly


"[Lowman's] story is part science, part autobiography. She tells of studying leaf growth dynamics in Australia, canopy herbivory in Cameroon, canopy vines in Panama and plant-insect relations in Belize. And she tells of her struggle to balance her career and her tasks as a wife and mother."—Scientific American


"[Lowman's] work in the field, her consequent sharply honed ecological and feminist consciousness, are the focus of this memoir, her first book for a nonscientific audience. . . . This is a valuable book that, characteristic of Lowman and her pioneering spirit, attempts a lot."—Valerie Jablow, Women's Review of Books



"Lowman's book is utterly unlike any other scientific memoir I've ever read. . . . [This book] probably be required reading, not just for any young woman who wants to be a scientist, but for anyone interested in pursuing such a career."—David Smillie, Discovery Channel Online Guide


Named one of the Best Books of 1999 by Library Journal


Named a Notable Book of 1999 by the New York Times Book Review
Winner of the 2000 Eugene Odum Award for Excellence sponsored by the Ecological Society of America Education Award
Selected as a 2000 Book for The Teen Age List by the New York Public Library
Winner of the 2000 Kilby Laureate Award given by the Kilby International Awards Foundation
ISBN:
9780300084641
Publication Date:
August 11, 2000
240 pages, 5 x 7 3/4
29 b/w illus.