The Myth of American Diplomacy
WARNING
You are viewing an older version of the Yalebooks website. Please visit out new website with more updated information and a better user experience: https://www.yalebooks.com
National Identity and U.S. Foreign Policy
Walter Hixson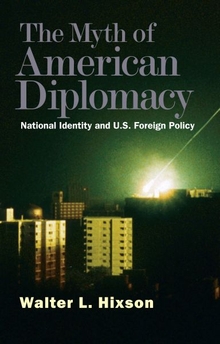 View Inside
Format:

Paper


Price:

$44.00
Also Available in:
Cloth
A provocative new view of the history of U.S. foreign policy, how it reflects our national identity, and why it so regularly involves the use of military force

In this major reconceptualization of the history of U.S. foreign policy, Walter Hixson engages with the entire sweep of that history, from its Puritan beginnings to the twenty-first century's war on terror. He contends that a mythical national identity, which includes the notion of American moral superiority and the duty to protect all of humanity, has had remarkable continuity through the centuries, repeatedly propelling America into war against an endless series of external enemies. As this myth has supported violence, violence in turn has supported the myth.
The Myth of American Diplomacy shows the deep connections between American foreign policy and the domestic culture from which it springs. Hixson investigates the national narratives that help to explain ethnic cleansing of Indians, nineteenth-century imperial thrusts in Mexico and the Philippines, the two World Wars, the Cold War, the Iraq War, and today's war on terror. He examines the discourses within America that have continuously inspired what he calls our "pathologically violent foreign policy." The presumption that, as an exceptionally virtuous nation, the United States possesses a special right to exert power only encourages violence, Hixson concludes, and he suggests some fruitful ways to redirect foreign policy toward a more just and peaceful world.
Walter L. Hixson is professor of history at the University of Akron. He has published numerous books and articles on the history of U.S. foreign policy, including the prize-winning book George F. Kennan: Cold War Iconoclast. He lives in Fairlawn, OH.
"Hixson offers a provocative and comprehensive interpretation of the history of U.S. foreign affairs. It is about time that a radically different perspective on the Myth of America was presented."—Akira Iriye, Harvard University
"Hixson wants the country to understand the extent to which its nationalism depends on war and violence for sustenance. His may be the first thoroughly 'culturalist' reading of the entire history of American foreign policy."—Andrew M. Johnston,Carleton University, Ottawa
"Reminiscent of William A. Williams's The Tragedy of American Diplomacy, but with all the tools of current scholarship, The Myth of American Diplomacy makes a sweeping case that Americans' sense of their national destiny, more than threats from others, account for their long record of war, conquest, and expansion. It's an important rebuttal to other scholars and a timely warning to other Americans."—Michael Sherry, Northwestern University
"Emphasizing cultural construction and hegemony, Walter Hixson presents a spirited and provocative new interpretive history of U.S. diplomacy."—Emily S. Rosenberg, author of Financial Missionaries to the World: The Politics and Culture of Dollar Diplomacy, 1900-1930
"The Myth of American Diplomacy is a much-needed, highly innovative, and deeply enthralling synthesis of the cultural turn in diplomatic history. It is destined to become a standard, indispensable work for historians of American foreign relations."—Andrew Preston, CambridgeUniversity
"Hixson's message may be one we are better off hearing now, before it is too late."—Timothy Renick, Christian Century
"Hixson deserves immense credit for crafting a timely and provocative book that commands the careful attention of scholars and general readers alike." —Mark Atwood Lawrence, The International History Review
Selected by Choice magazine as an Outstanding Academic Title from 2008.
ISBN:
9780300151312
Publication Date:
March 17, 2009
392 pages, 5 13/16 x 8 15/16
9 b/w illus.