The Crimean Nexus
WARNING
You are viewing an older version of the Yalebooks website. Please visit out new website with more updated information and a better user experience: https://www.yalebooks.com
Putin's War and the Clash of Civilizations
Constantine Pleshakov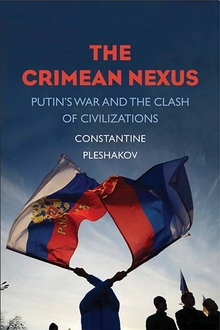 View Inside
Format:

Hardcover


Price:

$28.00
How the West sleepwalked into another Cold War

A native of Yalta, Constantine Pleshakov is intimately familiar with Crimea's ethnic tensions and complex political history. Now, he offers a much-needed look at one of the most urgent flash points in current international relations: the first occupation and annexation of one European nation's territory by another since World War II.

Pleshakov illustrates how the proxy war unfolding in Ukraine is a clash of incompatible world views. To the U.S. and Europe, Ukraine is a country struggling for self-determination in the face of Russia's imperial nostalgia. To Russia, Ukraine is a "sister nation," where NATO expansionism threatens its own borders. In Crimea itself, the native Tatars are Muslims who are vehemently opposed to Russian rule. Engagingly written and bracingly nonpartisan, Pleshakov's book explains the missteps made on all sides to provide a clear, even-handed account of a major international crisis.
A former foreign policy analyst at the Institute of U.S. and Canada Studies in Moscow, Constantine Pleshakov emigrated to America in 1998. In 2012, The Princeton Review named him one of the 300 best college professors in the U.S. He lives in Amherst, MA.
"A splendid book…beautifully written, thoroughly researched, and analytically piercing. Pleshakov has written a book that should be read by everyone who is paying attention to the chaos into which that region has descended."—Martin J. Sherwin, George Mason University and Pulitzer Prize-winning author (with Kai Bird) of American Prometheus: The Triumph and Tragedy of J. Robert Oppenheimer
"This is contemporary history as it ought to be told, with rich insight, wit, and stylish prose." -- John Curtis Perry, Henry Willard Denison Professor of History
The Fletcher School of Law & Diplomacy, Tufts University
 "What is Crimea? How did this lovely peninsula become not only the apple of discord between Russia and Ukraine, but the potential spark for new European war? Like its subject, this gem of a book is a nexus—combining penetrating political history, colorful cultural reflections, shrewd geopolitical analysis, and slashing criticism of both Putin and Western leaders—all beautifully written by a Russian-émigré historian/novelist who is himself a third-generation Crimean."—William Taubman, author of the Pulitzer-Prize winning Khrushchev: The Man and His Era
"Constantine Pleshakov's The Crimean Nexus is a brilliant, insightful exposition of Crimean and Ukrainian history, relations with Russia, and the background of current international confrontation over Ukraine. It is essential reading for anyone who wishes to understand the current crisis in U.S.-Russian relations."—Jack  F. Matlock, Jr., former U.S. Ambassador to the USSR and author of Autopsy on an Empire, Reagan and Gorbachev: How the Cold War Ended, and Superpower Illusions
"This is a succinct and savvy account of the Crimean crisis, why it bodes badly for all concerned, and written in a style that reminds me of Joseph Brodsky."—Joseph J. Ellis, author of Founding Brothers:  The Revolutionary Generation
"As much about western policies as it is about the Crimea. The Crimean Nexus is excellent and informative. It covers all the angles of the Crimean conflict and it is a pleasure to read."—Henry Plater-Zyberk, International Affairs
"The Crimean Nexus is an elegantly written and critically insightful chronicle of the Crimean crisis. Pleshakov succeeds in bringing to bear a wide variety of diverse sources and documents to a succinct volume that is a pleasure to read. . . . [This book] should be required reading for anyone seeking insight into the Crimean crisis and the future of Ukraine."—Thomas J. Garza, Slavic and East European Journal
ISBN:
9780300214888
Publication Date:
January 10, 2017
216 pages, 5-1/2 x 8-1/4