Emerald City
WARNING
You are viewing an older version of the Yalebooks website. Please visit out new website with more updated information and a better user experience: https://www.yalebooks.com
An Environmental History of Seattle
Matthew Klingle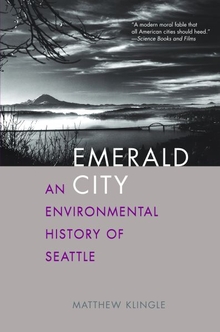 View Inside
Format:

Paper


Price:

$26.00
Also Available in:
Cloth
An exploration of the environmental history of Seattle and what it tells us about making cities that are both scenic and just for all

At the foot of the snow-capped Cascade Mountains on the forested shores of Puget Sound, Seattle is set in a location of spectacular natural beauty. Boosters of the city have long capitalized on this splendor, recently likening it to the fairytale capital of L. Frank Baum's The Wizard of Oz, the Emerald City. But just as Dorothy, Toto, and their traveling companions discover a darker reality upon entering the green gates of the imaginary Emerald City, those who look more closely at Seattle's landscape will find that it reveals a history marked by environmental degradation and urban inequality. This book explores the role of nature in the development of the city of Seattle from the earliest days of its settlement to the present. Combining environmental history, urban history, and human geography, Matthew Klingle shows how attempts to reshape nature in and around Seattle have often ended not only in ecological disaster but also social inequality. The price of Seattle's centuries of growth and progress has been paid by its wildlife, including the famous Pacific salmon, and its poorest residents. Klingle proposes a bold new way of understanding the interdependence between nature and culture, and he argues for what he calls an "ethic of place." Using Seattle as a compelling case study, he offers important insights for every city seeking to live in harmony with its natural landscape.
Matthew Klingle is associate professor of history and environmental studies, Bowdoin College.
"Emerald City has been eagerly awaited by historians of cities, the environment, and the North American West. Klingle addresses many of the traditional topics of urban history and reframes them as environmental questions."—Carl Abbott, Portland State University
"This book shifts the debate, mapping out new terrain that other historians will spend years exploring. Emerald City is one of the most thoughtful books published in recent years."—Jeremi Suri, University of Wisconsin, Madison

"Seattle is not only among the loveliest of cities, it's also, as Matthew Klingle demonstrates here, one of the most interesting. Not everything in this history will please the boosters, but those who love the great city of the Northwest will find here a new sense of both the city's roots and its possibilities."—Bill McKibben, author of Deep Economy
"Matthew Klingle's Emerald City tells the story of how the entangled histories of nature and politics in Seattle shaped that city. It is a cautionary tale of private greed and public miscalculation, of good intentions gone awry and some things that came out right. Emerald City is the kind of history that every city needs, and all can learn from it. The story is particular to Seattle, but similar dramas can be read in the landscape of every American city. Required reading for everyone concerned with the future of Seattle, I recommend it for those engaged with city building anywhere."—Anne Whiston Spirn, author of The Granite Garden
"People and salmon can both prosper if we humans pay attention to the impact of our aspirations on the fish. Matt Klingle's exhaustive history of Seattle and its salmon reminds us, painfully at times, of the consequences to nature of our mindless pursuit of human well being."—William D. Ruckelshaus, Chairman, The Puget Sound Partnership and former Administrator, Environmental Protection Agency
"Matthew Klingle is among the new generation of urban environmental historians who truly understand the need to turn aside the superficial and unnecessary gulf between culture and nature to better understand urban development. The perspective of Seattle as a latter day 'Emerald City' from L. Frank Baum's The Wonderful Wizard of Oz is masterful imagery and a pertinent departure point for reconsidering how cities evolve over time." —Martin V. Melosi, author of The Sanitary City
"A triumph. . . . Klingle knows Seattle backward and forward; he also knows American cities in general, so this is not a strictly local story. . . . A marvelous book and one, moreover, that should be essential reading for concerned Seattleites and environmental historians alike."—Richard Walker, Annals of the Association of American Geographers
"This new book's insights are both cosmopolitan and timely. Matthew Klingle has made a hugely important contribution to the field of environmental history. . . . Emerald City offers us tools for thinking about cities through the lens of time. This book taught me to see in some new ways, which is not something I feel about many of the books that cross my desk these days. If you care about building bright green cities in the 21st Century, if you're looking for a pair of fresh eyes with which to see old problems, you should read this book."—Alex Steffen, WorldChanging.com
"A fascinating revisionist look at the settling and shaping of this city. Seattle may be acclaimed as a model of enviro-awareness but Klingle points out many dispiriting chinks in its greenie armor."—John Marshall, Seattle Post-Intelligencer
"Klingle takes a fascinating look at the forces—from axes and steam shovels to railroads, racism and upper class ideals—that literally reshaped the land and ecosystems that Seattle occupies. . . . An illuminating and infuriating book that's a must read for anyone who wants to understand how modern Seattle came to be, and how the literal shape of the city is a complicated reflection of our politics and prejudices."—Knute Berger, Crosscut
"An incisive review of how far a major metropolis can stray from its environmental roots and still be able to pull back from the abyss and recover its sense of place. It is a modern moral fable that all American cities should heed. I recommend it to all devotees of nature and history who are motivated to consider the lessons of the past to improve the conditions of the present."—Gordon C. Tucker, Science Books & Films
"Emerald City successfully weaves urban history and environmental history into a narrative that shows how much we are a part of nature and nature is a part of us."—John Putnam, Project Muse
"[In] this brilliantly told post-environmentalist environmental history of the "Emerald City," Matthew Klingle rejects simplistic storylines as well as nostalgia for paradise lost. . . . There are no easy heroes and villains in Klingle's complex and stylishly written history. . . . Emerald City is perfectly suited for the age of Obama. It is ambitious, inclusive, fluid, and not bound by false dichotomies."—David Arnold, Western Historical Quarterly
"Excellent work. . . . Outstanding stud[y] in urban environmental history." —Joel A. Tarr, Journal of Social History
"Matthew Klingle's Emerald City is a courageously polarizing book. It fearlessly charges across the imaginary line dividing activism from analysis. Without humility, it takes on luminaries of philosophy and history in the service of articulating a twenty-first-century ethic of environmental and social justice." — James Longhurst, University of Wisconsin
Winner of the 2009 Ray Allen Billington Prize, presented by the Organization of American Historians.
ISBN:
9780300143195
Publication Date:
January 6, 2009
400 pages, 6 1/8 x 9 1/4
46 illus.