West from Appomattox
WARNING
You are viewing an older version of the Yalebooks website. Please visit out new website with more updated information and a better user experience: https://www.yalebooks.com
The Reconstruction of America after the Civil War
Heather Cox Richardson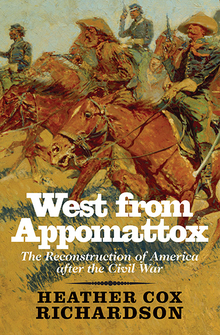 View Inside
Format:

Paper


Price:

$25.00
Also Available in:
Cloth
From the author of the popular "Letters from an American" newsletter:  a sweeping story of how Northerners, Southerners, and Westerners together created modern America in the years from Abraham Lincoln to Theodore Roosevelt

A Wall Street Journal Bestseller
 
The story of Reconstruction is not simply about the rebuilding of the South after the Civil War. Instead, the late nineteenth century defined modern America, as Southerners, Northerners, and Westerners gradually hammered out a national identity that united three regions into a country that could become a world power. Ultimately, the story of Reconstruction is about how a middle class formed in America and how its members defined what the nation would stand for, both at home and abroad, for the next century and beyond.

A sweeping history of the United States from the era of Abraham Lincoln to the presidency of Theodore Roosevelt, this engaging book stretches the boundaries of our understanding of Reconstruction. Historian Heather Cox Richardson—whose daily "Letters From an American" Substack newsletter has attracted a wide following—ties the North and West into the post–Civil War story that usually focuses narrowly on the South, encompassing the significant people and events of this profoundly important era.

By weaving together the experiences of real individuals—from a plantation mistress, a Native American warrior, and a labor organizer to Andrew Carnegie, Julia Ward Howe, Booker T. Washington, and Sitting Bull—who lived during the decades following the Civil War and who left records in their own words, Richardson tells a story about the creation of modern America.
Heather Cox Richardson is professor of history at Boston College and the author of The Death of Reconstruction: Race, Labor, and Politics in the Post–Civil War North. 
Click here for an extended question & answer discussion with the author.
"Richardson tells a different story about the United States as a whole during a reconceptualized period of 'Reconstruction' after the Civil War."—Sheldon Hackney, University of Pennsylvania
"Highly original, deeply researched, and important, West from Appomattox has the added advantage of being extremely well written:  Heather Cox Richardson's prose is clear, accessible, and compelling."—Eric Arnesen, University of Illinois at Chicago
"With a marvelous sense of scope, narrative lucidity, and thorough research, Heather Richardson makes the convincing case that Americans still live in the world that Reconstruction built—or left partly unbuilt. A skilled historian of political economy, Richardson has here written a new and important synthesis of late-nineteenth-century American society enmeshed in a great struggle to determine just what kind of country the Civil War had wrought. This book is deeply informed and a good read; it spurs our effort to help Americans realize that their reading must not stop with Appomattox."—David W. Blight, Yale University, author of Race and Reunion: The Civil War in American Memory
"A truly fresh reconsideration—and a smart and wonderfully written one—of Reconstruction. Richardson pulls back to a genuinely national perspective, and in doing so gives us a strikingly original view of this vitally important time in the national story."—Elliott West, University of Arkansas, Fayetteville
"A substantial achievement. . . . [Richardson] expertly redraws a map of post-Civil War America that only grows more complex a century-and-a-half later."—Elizabeth Young, Chicago Tribune
"The 50 years following the American Civil War often come to us as a blur of disconnected images, . . . a hiatus between the drama of the Civil War and World War I. . . . But in her ambitious West from Appomattox, Heather Cox Richardson argues that these years, far from being uneventful or insignificant, saw nothing less than the reconstruction of America, a recasting of the relationship between the government and the people. . . . Richardson's perspective is engaging and reveals much that is fresh."—Edward L. Ayers, Washington Post Book World
"This well-written and perceptive history considers Reconstruction as a national—rather than strictly Southern—phenomenon that united the North, South, and West, and created the creed of middle-class individualism that would define the 20th century."—Atlantic Monthly
"In this superb book, Richardson, a leading economic and social historian of the Civil War era, revises our understanding of Reconstruction. Richardson focuses closely on the last three decades of the 19th century, moving over time seamlessly between the South, North and West. Her concern is the changing concept of the relationships of the government to its citizens."—John David Smith, Charlotte Observer
"An enormously impressive book. Engagingly written, based on research notable both for its depth and breadth, and arguing a bold, sweeping, and intelligent thesis; it is a remarkable achievement. . . . A landmark contribution to our understanding of the making of the modern United States."—Keith Cassidy, Canadian Journal of History
"Vibrant, fast-moving. . . . A provocative and succinct narrative."—David A. Lincove, The Historian
"This is political history writ large, complete with a cast of characters that reflects the diversity of the American population...Historians of Reconstruction and the Gilded Age cannot afford to it ognore this book or fail to wrestle with the artgument."--Brooks D, Simpson, The Journal of American History.
Included in the Washington Post Book World's Holiday Guide (2007)
Selected as a 2008 AAUP University Press Book for Public and Secondary School Libraries.
ISBN:
9780300136302
Publication Date:
May 1, 2008
416 pages, 6 1/8 x 9 1/4
23 b/w illus. + 2 maps