Heart Care for Life
WARNING
You are viewing an older version of the Yalebooks website. Please visit out new website with more updated information and a better user experience: https://www.yalebooks.com
Developing the Program That Works Best for You
Barry L. Zaret, M.D., and Genell J. Subak-Sharpe, M.S.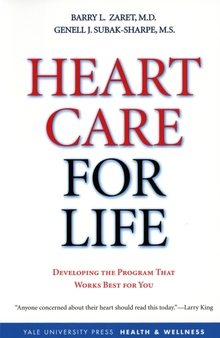 View Inside
Format:

Paper


Price:

$29.00
Also Available in:
Cloth
More than 70 million Americans have some form of heart disease. For each of them, obtaining accurate information about the disease and the many options for dealing with it can be both empowering and life saving. In this book, cardiologist Dr. Barry L. Zaret and Genell Subak-Sharpe offer up-to-date facts about the best treatments available and an innovative approach that shows how treatment programs can be tailored to meet the needs of each unique patient.

There are no short-term fixes and no one-size-fitsall programs, explain Zaret and Subak-Sharpe. Although certain characteristics are common to each form of heart disease and its treatments,these constants must be tempered against individual variables. The authors outline the constants for the full range of cardiovascular conditions, from angina and heart attacks to high blood pressure and cardiac arrhythmias. They then guide readers through the process of assessing personal variables to develop an individual treatment and life-style program.

Written in a warmly reassuring style, this indispensable guide to heart care offers realistic hope and specific directions for designing a lifelong heart care program. Filled with practical advice, instructional case histories, a philosophy for controlling your health, self-tests to assess risk, and questions to ask your doctor, it looks toward an even better future for those with heart disease.
Barry L. Zaret, M.D. is Robert W. Berliner Professor of Medicine and professor of radiology, Yale University School of Medicine. Dr. Zaret served as chief of the section of cardiology at Yale from 1978 - 2004 and has been a pioneer in developing the field of noninvasive diagnosis in cardiovascular disease, with an emphasis on nuclear cardiology. Genell Subaksharpe, M.S., is president of G. S. Sharpe Communications, Inc. and has produced or collaborated on more than forty books in health and medicine.
"This book has multigenerational appeal …. Heart Care for Life is thorough enough to empower readers to take charge of their cardiovascular health."
"This book could be a lifesaver for a large number of people."—Edwin F. Beschler, heart attack survivor   

"Dr. Zaret's ability to take his years of experience and provide the reader an easy to understand book on the prevention and treatment of heart disease is invaluable. Anyone concerned about their heart should read this today."—Larry King, CNN Talk Show Host, Founder of the Larry King Cardiac Foundation and best selling author of Taking on Heart Disease


"If you need good, serious information about your heart, Heart Care for Life is a good option. You can read it cover-to-cover or use it as a reference to help guide medical decisions."—Mary Beth Regan, Baltimore Sun
 


"This book has multigenerational appeal. Those young enough to think heart disease is a danger looming decades away can put to use the advice on striving toward or maintaining optimal cardiovascular operations—lose weight, quit smoking, exercise, and eat better. . . . The authors' scope is certainly broad. As to its depth, Heart Care for Life is thorough enough to empower readers to take charge of their cardiovascular health."—Pam Lilley, Cleveland Plain Dealer


"This book is designed to catalog the best-available treatments and how those treatments can be tailored to the needs of each patient. The authors discuss the complete range of cardiovascular conditions in a warm, down-to-earth style. There is a great deal of practical advice, based on case histories. . . . This book also makes an excellent reference manual to have around the house."—Dennis Lythgoe, Deseret Morning News
 

"The authors review risk factors for heart disease, including age, race, ethnic background, obesity, diabetes, and high cholesterol. They recommend various lifestyle changes for the prevention of heart disease, including regular exercise, dieting, stress reduction, and smoking cessation. Heart patients can find detailed descriptions here of the medical treatments they're likely to undergo for their particular conditions."—Science News
"A measure of hope is also interjected into this book based on the recent strides in cardiovascular care. . . . The authors go to great lengths to make the vocabulary and style of this book suitable for a lay audience. . . . Timely, useful information along with a handy glossary and extensive index places this book at the top of the list of a valuable consumer health resources. This book should be in every consumer health library and cardiovascular physician's office."—Beverlee Warren, Baylor University Medical Center Proceedings
Winner of a 2007 American Medical Writers Association Book Award Honorable Mention
ISBN:
9780300122596
Publication Date:
February 28, 2007
304 pages, 6 1/8 x 9 1/4
14 b/w illus.