Functional Anatomy of the Newborn
WARNING
You are viewing an older version of the Yalebooks website. Please visit out new website with more updated information and a better user experience: https://www.yalebooks.com
Edmund S. Crelin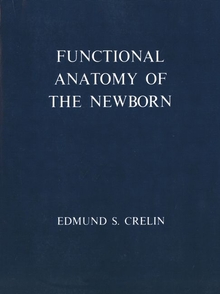 View Inside
Format:

Paper


Price:

$30.00
The need for accurate information about the anatomy of the newborn infant led to the publication in 1968 of Dr. Crelin's large and detailed atlas, the first of its kind.  The present volume is a synopsis of that atlas.  Professionals and paraprofessionals who deal with the newborn will find it a highly useful and convenient reference.
Since the newborn infant is not a miniature adult, those parts of the infant's functional anatomy that differ most from the adult receive the greatest emphasis.  Each structure is discussed in a separate section that includes, where pertinent, the time during prenatal development or after birth that the structure first appears and/or functions.  Clinically important information such as pulse rate, blood pressure, blood cell counts, body temperature, and breathing rate is also included.  The three full-page plates of the whole body have general clinical application since they make it possible to relate internal body parts to the surface of the body of the newborn infant.
This concise volume will be of great value to obstetricians, pediatricians, surgeons, anesthesiologists, radiologists, pathologists, family physicians, and nurses.  The work is unique and represents Dr. Crelin's twenty years of experience in teaching anatomy and as a consultant to the Newborn Special Care Unit of the Yale-New Haven Medical Center.

"Despite its brevity, the book offers reliable information to all those engaged in neonatal medicine, in particular to paediatricians, obstetricians, surgeon and radiologists, but practitioners and social workers are also likely to benefit from its study."—Recensiones
"This is a small and useful volume for medical and paramedical personnel who have to deal with the newborn. It is generally not realised that the newborn infant is not a miniature adult. Therefore, herein, those parts of the infant's functional anatomy that differ most from the adult receive the greatest emphasis. Each structure is discussed in a separate section and clinically important information such as pulse rate, blood pressure, blood cell counts, body temperature and breathing rate is also provided. Thus, this is a small guide for evaluation of newborn infants with birth  defects containing a large number of facts gathered from different sources and would be found very valuable by all users."—Medical Book News (India)
"In 1968, Dr. Crelin, Professor of Anatomy at the Yale University School of Medicine, produced a detailed atlas on the anatomy of the newborn .The present volume is a synopsis of that atlas. It is refreshing to read a book documenting such factual information with emphasis throughout that the newborn infant is not a miniature adult. It is a complex book, containing an incredible amount of information. . . . The clinician interested in the newborn will find a wealth of information of direct relevance to his work. . . . This is an excellent book, strongly recommended. It certainly should find a place in every newborn nursery and will be of value to the medical student, resident medical officer and registrar and particularly to the practicing paediatrician."—Modern Medicine
ISBN:
9780300016338
Publication Date:
March 1, 1973
96 pages, 7 x 10