Life Time
WARNING
You are viewing an older version of the Yalebooks website. Please visit out new website with more updated information and a better user experience: https://www.yalebooks.com
Your Body Clock and Its Essential Roles in Good Health and Sleep
Russell Foster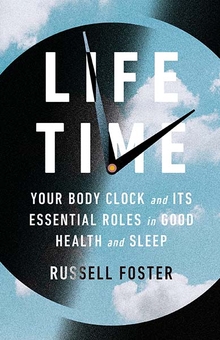 View Inside
Format:

Hardcover


Price:

$30.00
A guide to using the science of the body clock to promote better sleep, better health, and better thinking
 
"Full of surprising and useful facts. . . . Unlike many science books with similar subtitles, it really might 'revolutionise' your life."—James McConnachie, The Times (London)
 
"A comprehensive manifesto for living in harmony with our body clocks, penned by someone who has devoted his career to studying them."—Financial Times
 
Biological clocks are embedded in every aspect of human biology, guiding us toward the prime times of day to sleep, eat, think, and work. Award-winning scientist Russell Foster brings decades of study to this journey through the circadian rhythms that dominate our days and nights. He shows how the realities of 24/7 life—including night-shift work, overbooked calendars, and caring for newborns—disrupt the body clock, taking a toll on sleep and on mental and physical health.
 
By dismantling long-standing myths and citing cutting-edge science, Foster empowers readers to get back into rhythm and live healthier, sharper lives: scheduling meals to prevent obesity and diabetes; timing medications to increase their effectiveness; getting better sleep through exposure to natural light; and much more. "If you want to embrace life," Foster writes, "then embracing biological time will help you do this."
Russell Foster is professor of circadian neuroscience, director of the Sleep and Circadian Neuroscience Institute (SCNi), and head of the Nuffield Laboratory of Ophthalmology at the University of Oxford. An acclaimed scientist, Foster has been elected to the Royal Society.
"Astonishing. . . . What gives the book special force is the author's prominence on the front lines of circadian neuroscience and sleep medicine, not to mention the breadth and depth of the research, which he is as excited to share as if he were recounting a gripping mystery. . . . If at times the book's subject matter is complex, particularly for anyone whose last exposure to biology was in high school, the clarity of Mr. Foster's spirited prose is welcome, as are his wry humor and contagious sense of wonder."— A. Roger Ekirch, Wall Street Journal
"Respecting our natural bodily rhythms really, really matters. . . . This is an exemplary popular science book in many ways. It is readable. Full of surprising and useful facts. Rigorously evidence-based (there are no fewer than 921 references, all safely corralled at the back). Unlike many science books with similar subtitles, it really might 'revolutionise' your life."—James McConnachie, The Times
"A comprehensive manifesto for living in harmony with our body clocks, penned by someone who has devoted his career to studying them."?Financial Times
"Life Time should certainly be mandatory reading for night-shift workers, but its messages are so universal that it would be hard not to gain some sleep smarts from its pages, whoever you are."—Alex Wilkins, New Scientist
"Almost all of us would benefit from this revelatory guide by a world-leading expert on circadian neuroscience."—The Bookseller, Editor's Choice
"Russell Foster takes the reader on a vivid and knowledgeable quest to understand sleep and biological rhythms that is part scientific treatise, part self-help guide, and part plea for societal and personal lifestyle changes that better prioritize these biological functions."—Manon Torres and Achim Kramer, Science
"A superlative guide to some of the most intriguing questions of human existence."—Bill Bryson, bestselling author of A Short History of Nearly Everything
"This book has the answers to everything you've ever wondered about your natural rhythms, from sleep to eating to exercise. Excellent, engaging and evidence-based, it's a brilliant guide to an aspect of our health we don't think about enough."—Claudia Hammond, author of The Art of Rest
"Strongly recommended. You will sleep more deeply, be awake more fully, and live much more harmoniously with Russell Foster's help."—Anthony Seldon, author of The Impossible Office?: The History of the British Prime Minister
"Life Time not only communicates but also translates the science of body clocks and sleep: using the insights and advice in this book, readers may improve health, happiness and wellbeing in our 24/7 society."—Thomas C. Erren, MD, University of Cologne
ISBN:
9780300266917
Publication Date:
August 30, 2022
480 pages, 5 1/2 x 8 1/2
10 b/w illus.