Insider Trading
WARNING
You are viewing an older version of the Yalebooks website. Please visit out new website with more updated information and a better user experience: https://www.yalebooks.com
How Mortuaries, Medicine and Money Have Built a Global Market in Human Cadaver Parts
Naomi Pfeffer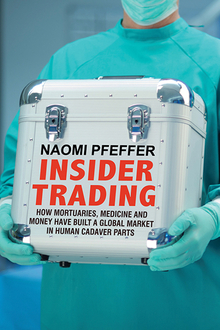 View Inside
Format:

Hardcover


Price:

$30.00
The cadaver industry in Britain and the United States, its processes and profits

Except for organ transplantation little is known about the variety of stuff extracted from corpses and repurposed for medicine. A single body might be disassembled to provide hundreds of products for the millions of medical treatments performed each year. Cadaver skin can be used in wound dressings, corneas used to restore sight. Parts may even be used for aesthetic enhancement, such as liquefied skin injections to smooth wrinkles.
 
This book is a history of the nameless corpses from which cadaver stuff is extracted and the entities involved in removing, processing, and distributing it. Pfeffer goes behind the mortuary door to reveal the technical, imaginative, and sometimes underhanded practices that have facilitated the global industry of transforming human fragments into branded convenience products. The dead have no need of cash, but money changes hands at every link of the supply chain. This book refocuses attention away from individual altruism and onto professional and corporate ethics.
Naomi Pfeffer is author of The Stork and the Syringe: A Political History of Reproductive Medicine and an associate of University College London. She lives in London.
'Naomi Pfeffer's Insider Trading provides a compelling insight into the organisations, practices and forms of exchange that transformed "cadaver stuff" into crucial raw materials for modern medicine.'—Duncan Wilson, author of The Making of British Bioethics
'Looking beyond the ethical and conceptual reflection on transplant medicine, Naomi Pfeffer's absorbing history raises the curtain on tissue economies at large. It is a monument to ingenuity, tracking convergence and divergence between the US and the UK across the last century. This is a story of pioneering inventiveness, of motives, misunderstandings and mistakes, of catastrophic consequences and missed opportunities – human endeavour as usual. And, through its insistent documentation, this powerful book raises questions we could not have asked before about what we do to, with and for the body.' 
       -- Marilyn Strathern, Emeritus Professor of Social Anthropology, University of Cambridge. 
"In this pacy, detailed chronicle, Naomi Pfeffer reveals how hundreds of products are traded in US and UK markets, from skin for dressing leg ulcers (plastic-packed like American cheese) to the ground bone mixed into fixative for prosthetic limbs."—Nature
"You may think you are a human being, but in fact you are a warehouse in waiting. . . Pfeffer has done an admirable job of exposing the unheralded stuff that our bodies can provide, and the huge profits that can be generated from bones, membrane, skin, eyes, veins and brain matter."
—Rose George, Literary Review
 
ISBN:
9780300118551
Publication Date:
September 12, 2017
376 pages, 6 1/8 x 9 1/4
20 figs.