Facing Death
WARNING
You are viewing an older version of the Yalebooks website. Please visit out new website with more updated information and a better user experience: https://www.yalebooks.com
Where Culture, Religion, and Medicine Meet
Edited by Howard Spiro, Lee Palmer Wandel, and Mary G. McCrea Curnen; Foreword by Daniel Callahan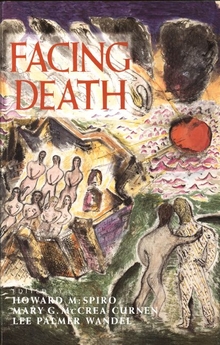 View Inside
Format:

Paper


Price:

$24.00
Also Available in:
Cloth
We have learned a great deal in recent years about keeping death at bay through medical technology. We are less well informed, however, about how to face death and how to understand or articulate the emotional and spiritual needs of the dying. This profound and eloquent book brings together medical experts and distinguished authorities in the humanities to reflect on medical, cultural, and religious responses to death. The book helps both medical personnel and patients to view death less as an adversary and more as a defining part of life.

In the first half of the book, physicians and the founder of Connecticut Hospice discuss the current clinical setting for dying, with attempts to find the balance between alleviating suffering and providing life support, the problem of finding a peaceful death, and the differences the AIDS epidemic has made in our attitudes toward dying. In the second half of the book, theologians, historians of religion, anthropologists, literary scholars, and pastors describe Christian, Judaic, Islamic, Hindu, and Chinese perceptions of death and rituals of mourning. An epilogue considers the resonances between medicine and the humanities, as well as the essential differences in their approaches to death.


Prepared under the auspices of The Program for Humanities in Medicine, Yale University School of Med
Howard Spiro, M.D., professor of medicine at Yale University School of Medicine, and Mary G. McCrea Curnen, M.D., Dr.P.H., clinical professor of epidemiology and pediatrics at Yale University School of Medicine, are director and associate director of The Program for Humanities in Medicine. Lee Palmer Wandel is associate professor of history and religious studies at Yale University.

"It is time for our culture to wake up and face death. Technology does not eliminate death. Herein lies information and revelation. Read and learn that death is a great teacher—about life."—Bernie Siegel, M.D.
"This outstanding collection of conference papers offers rich, thoughtful, often highly personal reflections on the conflict between technologically adept, life-saving medicine and the desire for a meaningful death. . . . This exceptional book defines the 20th century's changing attitudes toward ars moriendi—the way of dying. Highly recommended."—Library Journal
"I like this book. . . . I found the text stimulating and I enjoyed some of the accounts of using literature and arts to help doctors and nurses develop a better sense of empathy."—Edith Hillan, Nursing Times
"The reader will be provoked to think about many of the elements surrounding terminal care and possibly be introduced for the first time to the background of the hospice concept. . . . Caregivers are devoted to maintaining the dignity of the dying and in reading this book there is an opportunity to find words of wisdom, encouragement, and challenge."—Burton C. Einspruch, Journal of American Medical Association (JAMA)
"Seventeen papers that define empathy, illustrate how it may be acquired, suggest how it can be taught, and show how it may affect practice. The papers range in quality from clear, useful, detailed statements to more personal documents. . . . They merit an audience among medical educators in academic centers and residency training programs."—Annals of Internal Medicine
"Eloquent. . . . We must learn how to attend the dying, how to simply be with the patient rather than finding distraction in technological tinkering. Facing Death is a beautiful collection of thought-provoking essays by doctors and theologians."—Abi Berger, British Medical Journal
"A volume that should be recommended to all health-care providers because it addresses an essential, although often neglected, dimension of our education."—Ronald O. Valdiserri, The Lancet
"A collection of essays infused with a deeply humanitarian spirit and crammed with essential fact and incisive observation."—Juliet Wittman, Washington Post Book World
"What distinguishes this book from the many others that take us to task more or less directly for our denial of death are the scholarly, reflective, and mainly remarkably wise contributions of many of its contributors. . . . For the clinician, this is a most valuable document at whatever level of direct patient care, teaching, or research he or she may be working."—Stuart W. Twemlow, Bulletin of the Menninger Clinic
"Facing Death is an interesting 'read.' It will make readers aware of a whole body of non-technical writings and questions about death."—Charlotte a. Chagoya, Humane Health Care International
"The book offers something to almost everyone concerned with issues surrounding death and dying."—Constance E. Putnam, Journal of Social History Carnegie-Mellon University

"Facing Death opens a door to the once-in-a-lifetime event of death, and how we might prepare for it. . . . The task of integrating medical, psychological, theological, and pastoral wisdom should prove one of the enduring challenges of this book, which I highly recommend to schools of medicine and theology and to pastoral-care programs."—Beverly Musgrave, Journal of Religion and Health

"It is hard to imagine a richer collection of thought directed toward a universal phenomenon. The result is a tapestry of wisdom, altogether admirable and illuminating."—Richard Selzer
Winner of the 1997 Will Solimene Award for Excellence in Medical Communication given by the American Medical Writers Association
Winner of the1997 Ralph A. Deterling Pyramid of Distinction Award given by the American Medical Writers Association
ISBN:
9780300076677
Publication Date:
October 11, 1998
Publishing Partner:
Prepared under the auspices of The Program for Humanities in Medicine, Yale University School of Med
256 pages, 6 1/8 x 9 1/4