The Yale Guide to Careers in Medicine and the Health Professions
WARNING
You are viewing an older version of the Yalebooks website. Please visit out new website with more updated information and a better user experience: https://www.yalebooks.com
Pathways to Medicine in the 21st Century
Edited by Robert Donaldson, Kathleen Lundgren, and Howard Spiro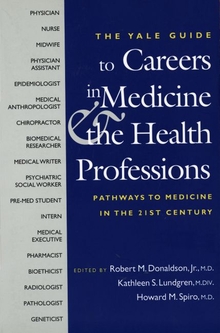 View Inside
Format:

Paper


Price:

$47.00
Also Available in:
Cloth
Can I become a doctor? Should I? How can I find out? What is it like to be in medical school? What other careers in the health field might be right for me? What are the satisfactions and pitfalls of a career in medicine?

For anyone pondering a career in medicine or a related health profession, this book is an invaluable guide. It contains the firsthand advice of men and women working in the health field today. These diverse professionals describe how and why they made their career choices and what the journey has been like. They tell their stories with candor and humor, sharing their personal circumstances, experiences, uncertainties, and triumphs.

More than seventy medical and health professionals, including physicians, biomedical researchers, nurses, chiropractors, medical sociologists, and others, contribute to the volume. They represent many individual viewpoints and speak from different stages of their careers. The distilled wisdom of this group conveys more comprehensively and openly than ever before what it means to choose a career in medicine.
Robert M. Donaldson, Jr., M.D., is David Paige Smith Professor of Medicine Emeritus, Yale University School of Medicine. Kathleen S. Lundgren, M.Div., is editorial fellow, Institution for Social and Policy Studies, Yale University. Howard Spiro, M.D., is Professor of Medicine Emeritus, Yale University School of Medicine.

"A most valuable collection of essays. They addressed most of the questions I am asked routinely by pre-meds and their parents. I wouldn't hesitate to recommend it to my advisees."—Anthony E. Hilger, Health Professions Adviser, University of North Carolina

"Students will love these first person accounts of how practitioners found their particular niche in the broad realm of medicine. . . . A great tool for premed advisors as well."—Cynthia Parker, Colby College
"A comprehensive, positive, but wholly realistic overview of the medical profession, and a very good guide for anyone coming to the decision to pursue a medical career."—Jane D. Cary, Director, Health Professions Advising, Princeton University

"The Yale Guide to Careers in Medicine and the Health Professions is a wonderful collection of essays. The Guide is personal enough to keep the readers captivated, drawing them into the world of health and medicine, yet informative and educational. I would recommend this book to anyone looking for a more intimate reflection on why one should pursue a career in health care."—Jennifer Lewis, Health Profession Advisor and Coordinator of the Women & Health Initiative, Brandeis University

"As a former physician assistant and current medical resident, I can honestly say that this book is a gold mine of forthright, insightful and beautifully articulated thoughts on entering the medical profession. I wish I'd had a copy at my side during all my points of decision-making. Truly, what more is there to say about a book that compels you to keep turning its pages after 36 sleepless hours on call?"—Jinnah A. Phillips, M.D., MMSc, University of Pittsburgh Medical Center


"The Yale Guide to Careers in Medicine and the Health Professions is the first book I have read which really puts a human face to the medical school experience. I found myself identifying with many of the personal anecdotes and enjoyed reading the experiences of real people facing both medical school and a career as a physician."—John M. Yost, Bowdoin College, Class of 2002, Pre-Medicine Fulbright Scholar, Madison, Wisconsin
"A unique book. It is a 'how to get into medical school' book with specific recommendations. It is also a broader career guidance tool, which makes it a more useful, interesting, and wiser book than the many books written with the rather limited 'how to' focus alone."—Judy M. Jensvold, Senior Associate Director, Health Careers Program, Cornell University

"A valuable resource for high school students considering health careers. In particular, the personal, anecdotal approach provides a picture which students can easily relate to, given the 'real life' approach of the essays."—Maureen Kelliher
"The wisdom, practical advice, and comprehensive experiences of the contributors make this book beneficial for any person seeking academic or career guidance. College and career counselors will find it very useful."—Mike Murphy, Headmaster, Pace Academy

"[This] collection of more than 70 first-person accounts of what life is really like in, and training for, a variety of medical professions. . . . Highly recommended."—Choice

ISBN:
9780300100297
Publication Date:
April 10, 2003
496 pages, 6 x 9