Restless Nights
WARNING
You are viewing an older version of the Yalebooks website. Please visit out new website with more updated information and a better user experience: https://www.yalebooks.com
Understanding Snoring and Sleep Apnea
Peretz Lavie; Translated from the Hebrew by Anthony Berris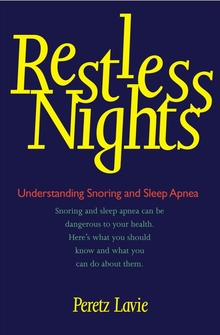 View Inside
Format:

Cloth


Price:

$61.00
Also Available in:
e-book
An authority in sleep research tells us everything we need to know about sleep apnea—its history, symptoms, risks, and treatment. An engaging book that is a "must read" for every snorer.

People with severe sleep apnea may struggle for breath all through the night, not breathing for as long as ninety seconds at a time during their sleep. This syndrome, which affects at least four percent of men and two percent of women, can cause daytime fatigue, traffic and work accidents, deteriorating cognitive abilities, and cardiovascular problems. Yet until now there has been no accessible discussion of the history, physiology, and risk factors of sleep apnea. In this book Peretz Lavie, an expert in sleep research, tells the complete story of sleep apnea for the first time.
Peretz Lavie is Andre Ballard Professor of Biological Psychiatry, Faculty of Medicine, Technion-Israel Institute of Technology. He was one of the founders and is currently a board member of Sleep HealthCenters, which is affiliated with the Brigham & Women's and Beth Israel hospitals in Boston.
"[An] authoritative, highly readable, and personal narrative of the history of sleep research. . . . It is clear that much of the exhilarating insight of Restless Nights is fundamental not only to sleep medicine but to all of medicine. All readers who are interested in the optimal practice of medicine in the 21st century would be well advised to take notice."—Robert C. Basner, New England Journal of Medicine
"In this engaging and historically rich book, we discover the prevalence of sleep apnea, its ability to disrupt our everyday lives, and its key role as a major risk factor for hypertension, heart disease, and other degenerative conditions. The book also provides a comprehensive roadmap to overcoming this pervasive problem."—Ray Kurzweil, author of The Age of Spiritual Machines and recipient of the National Medal of Technology
"This book is not only readable but entertaining. Professor Lavie traces the medical advances associated with breathing, enlivening his historical account with interviews of many pioneers in the field as well as with his own personal experiences with human subjects."—Christian Guilleminault, M.D., Stanford University
"Lavie has reconstructed the story of the discoveries leading to the identification of obstructive sleep apnea syndrome and the importance of snoring as a risk factor better than any other account to date. This book is an original and important contribution to the history of twentieth century medicine."—Elio Lugaresi, Istituto di Clinica Neurological, Universita di Bologna, Italy
"From page one, [Restless Nights] is clearly one of those rare books that manages to make medical and scientific discoveries as thrilling as the latest who-dunnit. . . . The book is written in a flowing prose style, and unlike medical books, is not full of terminology that only a lexicographer would know. In this respect, the linguistic editor has done a praiseworthy job. Above all, Restless Nights is the perfect book to take to bed with you."—Yoel Donchin, Haaretz
"Beginning with the very first page, it is clearly apparent that this is a special book, offering a unique historical perspective on both sleep-disordered breathing and the field of sleep medicine. . . . Although ostensibly aimed at the lay population, I cannot imagine that even experienced sleep medicine clinicians and sleep researchers will not benefit immensely by reading this delightful and fact-filled book written by one who has unparalleled historical and future perspectives on sleep-disordered breathing in specific, and the field of Sleep Medicine in general."—Mark W. Mahowald, M.D., SLEEP
"Restless Nights is an entertaining and informative walk through the history of sleep science and is written in an anecdotal style, avoiding too much scientific jargon. . . . This book is a fascinating read that won't help anyone fall asleep."—Tania Hershman, New Scientist
ISBN:
9780300085440
Publication Date:
July 11, 2003
288 pages, 6 1/8 x 9 1/4
13 b/w illus.