Tomorrow's Hospital
WARNING
You are viewing an older version of the Yalebooks website. Please visit out new website with more updated information and a better user experience: https://www.yalebooks.com
A Look to the Twenty-first Century
Eli Ginzberg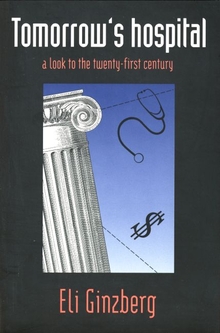 View Inside
Format:

Paper


Price:

$21.00
Also Available in:
Cloth
Hospital costs and the fees for physicians who treat patients admitted for inpatient care currently account for about half of the annual health care spending in the United States (around one trillion dollars). This situation will soon change, however, as market forces necessitate the downsizing, merging, and closing of acute-care hospitals.

In this authoritative book, the dean of health care analysts discusses the future of the American hospital. Eli Ginzberg reviews the institutional structure, function, and operations of hospitals in the United States and explains the factors in the marketplace that are transforming the hospital sector. He assesses the different approaches that hospitals and their physician staffs have developed in order to become part of an integrated health network and provide a more efficient and effective system of health care delivery. And he explores such trends as the growth of managed-care plans; the development of alternative, lower-cost treatment sites for patients requiring prolonged care; efforts by community hospitals to cooperate rather than compete; and the management of each individual's health care services by a primary physician who will provide essential services at a competitive price.
Eli Ginzberg is director of Columbia University's Eisenhower Center for the Conservation of Human Resources. He has been a consultant to nine presidents and chaired the National Commission for Employment Policy for six presidents. He is the author of numerous books as well as articles on health affairs in the New England Journal of Medicine, the Journal of the American Medical Association, and many other journals.
"For any American interested in understanding the nature of the health care crisis into which we are plunging headlong, this book should be required reading."—Mitchell T. Rabkin, M.D., president, Beth Israel Hospital, Boston
"This well-written book provides a general overview of the past (beginning with the post-World War II years) and a forecast of the future of acute care hospitals. Ginzberg manages to compress much information into a slender volume."—Health Affairs
"Ginzberg has codified the conventional wisdom regarding all the problems—organizational, structural, financial, and managerial—currently besetting our hospitals. He has provided a concise description, both broad and specific, of the roots of these problems. He also spreads the responsibility among the external environment and the changes occurring there and the hospitals themselves."—Bernard S. Bloom, JAMA (Journal of the American Medical Association)
"Ginzberg . . . assesses ways hospitals become part of an integrated health network, and discusses trends such as the growth of managed-care plans, alternative treatment sites for prolonged care, and community hospital cooperation."—Reference & Research Book News
"Economists interested in a relatively quick walk through the world of hospitals, with a strong eye toward the future, should find it useful and interesting."—Laurence C. Baker, Journal of Economic Literature
"An interesting summary of a voluminous and complex body of research and analysis that might well be a guidebook to further reading for those unfamiliar with the issues addressed."—Robert A. McLean, Business Library Review
"Eli Ginzberg combines provocative analysis and a vision of the future with the hard experience of six decades of work. Tomorrow's Hospitals applies Ginzberg's unique skill to the dramatic changes facing the central institution of modern American healthcare."—James R. Tallon, Jr., president, United Hospital Fund of New York
Received Honorable Mention for the American Medical Writers Association Book Award in the Allied Health category

ISBN:
9780300072709
Publication Date:
January 21, 1998
176 pages, 5 x 8