George III
WARNING
You are viewing an older version of the Yalebooks website. Please visit out new website with more updated information and a better user experience: https://www.yalebooks.com
Jeremy Black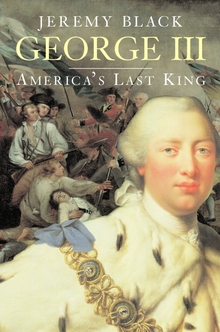 View Inside
Format:

Cloth


Price:

$40.00
Also Available in:
Paper
Out of Print
The first full new study of George III in thirty years

The sixty-year reign of George III (1760–1820) witnessed and participated in some of the most critical events of modern world history: the ending of the Seven Years' War with France, the American War of Independence, the French Revolutionary Wars, the campaign against Napoleon Bonaparte and battle of Waterloo in 1815, and Union with Ireland in 1801. Despite the pathos of the last years of the mad, blind, and neglected monarch, it is a life full of importance and interest.

Jeremy Black's biography deals comprehensively with the politics, the wars, and the domestic issues, and harnesses the richest range of unpublished sources in Britain, Germany, and the United States. But, using George III's own prolific correspondence, it also interrogates the man himself, his strong religious faith, and his powerful sense of moral duty to his family and to his nation. Black considers the king's scientific, cultural, and intellectual interests as no other biographer has done, and explores how he was viewed by his contemporaries. Identifying George as the last British ruler of the Thirteen Colonies, Black reveals his strong personal engagement in the struggle for America and argues that George himself, his intentions and policies, were key to the conflict.
Jeremy Black is professor of history at Exeter University. He is author of five previous books published by Yale University Press, including most recently The British Seaborne Empire.


"Black has produced a magisterial new treatment of George's life, exploring his long and eventful reign. Drawing on original research as well as synthesizing recent historiography, Black positions the king relative to his predecessors; places him in context with contemporary European rulers; considers the political development and constitutional implications of his reign; recovers the role of the Hanoverian possessions; and takes seriously the king's moral, religious, and cultural influences. . . . Recommended for all college and research libraries."—Library Journal (starred review)
"Jeremy Black's richly researched and thought provoking biography steers a judicious course between praise and criticism, examining George's life in the round, and, of special importance, placing him firmly in his wider British European and American context."---BBC History Magazine
"Black is one of those prolific British scholars who write engagingly brisk books at great speed and rarely disappoint. If you have a history buff on your Christmas list, consider this book."—John Wilson, Christianity Today
"Jeremy Black serves us well with a literate and carefully crafted portrait of the well-intentioned man who was our last sovereign ruler."—James Srodes, Washington Times
"Jeremy Black reassesses the king's life and reign with the first scholarly biography in a generation. Drawing on decades of archival research, he seeks not to praise or blame his subject but to offer a clearer understanding of him. . . . The result is a nuanced account of a much vilified man. . . . Mr. Black makes a strong case that George III was a good man rather than the tyrant of legend."—William Anthony Hay, Wall Street Journal
"This meticulous, impressively researched study concludes that George should be remembered not as a tyrant, but as a reasonably competent King who, at several vital moments, failed to be a wise ruler."---Jane Robins, The Daily Telegraph
"[A] thought-provoking new biography."—Flora Fraser, Washington Post Book World
"Splendid."—Sean Nalty, The Virginia Quarterly Review
"Jeremy Black is something of a phenomenon; easily the most prolific historian writing in Britain today, he consistently publishes learned and worthwhile books and articles on major subjects. This one proves he is on top of his form."---Andrew Roberts, History Today
"Black's argument is firmly grounded in archival sources and the latest scholarship. Ample quotation from the king's correspondence adds to a convincing portrait. Chapters treat conventional politics but also, for example, George as father, cultural patron, and Elector. Recommended."—Choice
"Excellent. . . . It should be some time before this volume is replaced as the standard account of George III."—Barbara Brandon Schnorrenberg, New Perspectives on the Eighteenth Century
"Lively and accessible. . . . This is not only a well-written biography from the restless pen of a prolific historian; it is also perhaps the most thorough and meticulously researched biography of George III to date."—Steve Poole, American Historical Review
"Rich in detail as well as in methodological and interpretive issues, this work would stimulate productive discussion in a graduate seminar and should serve as a useful resource for scholars."—Marilyn Morris, 1650-1850; Ideas, Aesthetics, and Inquiries in the Early Modern Era
"A splended and, indeed, definitive biography — [it] has restored George's life and reign to a proportional perspective."—Journal of Modern History
"Thorough and honest. . . . Black provides a comprehensive insight into a provocative ruler for readers interested in King George, the British monarchy, and this transformative period of world history."—The University Bookman
Selected as a 2007 AAUP University Press Book for Public and Secondary School Libraries.
ISBN:
9780300117325
Publication Date:
December 15, 2006
448 pages, 234 x 156