War and the World
WARNING
You are viewing an older version of the Yalebooks website. Please visit out new website with more updated information and a better user experience: https://www.yalebooks.com
Military Power and the Fate of Continents, 1450-2000
Jeremy Black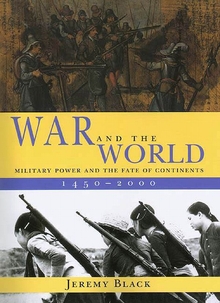 View Inside
Format:

Paper


Price:

$48.00
Also Available in:
Cloth
In this brilliant history of warfare, Jeremy Black is the first to approach the entire modern era from a comprehensive global perspective. He provides a wide-ranging account of the nature, purpose, and experience of war over the past half-millennium and argues the importance of viewing the rise of European power within a wider international context. Investigating both land and sea warfare, Black examines weaponry, tactics, strategy, and resources as well as the political, social, and cultural impact of conflict.

The book takes issue with established interpretations, not least those that emphasize technology, and challenges the view that European military and naval forces were dominant throughout the period. European mastery at sea did not always translate into equivalent success on land, says Black, and many non-European military systems—the Ottomans in their expansionist years, Babur and the Mughals in sixteenth-century India, and the Manchu in China in the following century, for example—were formidable in their own right. The author contends that in the nineteenth century, the focal period of Europe's military revolution, the international military balance shifted decisively. Black shows how military developments, combined with political, economic, and ideological shifts, influenced the nature and success of European imperialism. Linking debates on early modern history with those of more recent centuries, he offers a fundamental reexamination of the role of war in the progress of nations.
Jeremy Black is professor of history at the University of Exeter. He is the author of many books, including Maps and History: Constructing Images of the Past and European Warfare, 1660-1815, both published by Yale University Press.
A selection of the History Book Club

"Black . . . reminds us that while the weapons have become more sophisticated and horrible, national, ethnic and religious rivalries are still omnipresent in our so-called civilized world. . . Black's interpretations . . . have a sweeping, analytical quality, which can be expected in a book that covers so much time and territory with authority."—Herbert Mitgang, Chicago Tribune




"Few historians write on so many varied subjects as Jeremy Black. His work spans centuries; he moves with ease from diplomatic history to social and cultural history; he is a biographer, he has written on cartography and on the Grand Tour; and he is recognized as one of our leading military historians. In times when so many academic historians spin out a narrow specialism over an entire career and disdain to engage with a wider readership than a coterie of fellow specialists, he is not afraid to confront great issues and grand themes, confident that the historian's work and preoccupations can and should educate and influence a wider informed public and that the study of the past has a relevance for those who make decisions in the present."—Bill Purdue, Archives

"Black offers his readers an impressively learned history of warfare and its political consequences across the past 550 years, and does so on a truly global scale. . . . This is a learned, readable, and wide-ranging book. . . . The broadening of military history to embrace non-Western warfare, is, in fact, a distinguishing feature of recent historiography, and, as indicated by his abundant footnotes, Black has produced a valuable synthesis of this scholarly accomplishment."—William H. McNeill, Journal of Military History

"A remarkably coherent survey of the conduct of war across more than five centuries, with due regard not only for technological, organizational, and political factors, but also with considerable success in tracing common developments across cultures. . . . A good book for anyone looking for a single-volume treatment of the ways of war over the past few centuries."—New York Military Affairs Newsletter


"A remarkable book in a field which is flooded by new texts each year. . . . In contrast to other books that have focused on global military developments to show how societies have adapted to the ultimate challenge of war. . . . This is a history book that provides excellent background, is concise and filled with a wealth of details, and serves as an excellent reference work for the military historian."—Giles Van Nederveen, Aerospace Power Journal


"[This is a] tribute to Black's industry and scholarship. . . . I am confident [that it will] feature prominently in the working libraries of professional historians and the reading lists of their students."—Richard Holmes, Literary Review


"This is a welcome contribution to a growing literature that seeks to address military power, an essential yet often neglected component in the study of states and nations."—Choice


"In this lavishly illustrated and densely written synthesis, Black, a professor of history at the University of Exeter, England, successfully argues for war to be discussed within the context of world history. . . . This volume is essential for military historians and could be perused profitably by the general reader."—Virginia Quarterly Review


"With this [book], Jeremy Black provides an account of how war has been waged over the past five and a half centuries in the European and non-European worlds. He has written what is in effect a global history of armed conflict."—David B. Ralston, American Historical Review



"War and the World is an extraordinary ambitious work."—Lewis R. Fischer, Northern Mariner


"[A] useful and thoughtful interpretation. . . . Black provides many valuable and suggestive hints concerning future interpretations."—Hubert C. Johnson, Canadian Journal of History


"A truly comprehensive work. . . . There is much to recommend in this book. It is truly a world history. . . . Black has produced an astonishingly wide-ranging work that is more important than his own modest claim to 'only a contribution.' It deserves to be read by all those interested in placing military history in a global context."—S. P. MacKenzie, Historian

ISBN:
9780300082852
Publication Date:
March 11, 2000
346 pages, 7 x 10