Empires of the Atlantic World
WARNING
You are viewing an older version of the Yalebooks website. Please visit out new website with more updated information and a better user experience: https://www.yalebooks.com
Britain and Spain in America 1492-1830
J. H. Elliott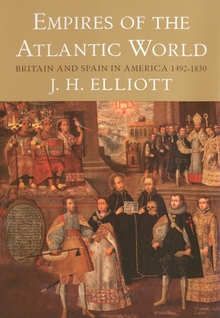 View Inside
Format:

Cloth


Price:

$45.00
Also Available in:
Paper
Paper
e-book
Out of Print
This epic history compares the empires built by Spain and Britain in the Americas, from Columbus's arrival in the New World to the end of Spanish colonial rule in the early nineteenth century. J. H. Elliott, one of the most distinguished and versatile historians working today, offers us history on a grand scale, contrasting the worlds built by Britain and by Spain on the ruins of the civilizations they encountered and destroyed in North and South America.
Elliott identifies and explains both the similarities and differences in the two empires' processes of colonization, the character of their colonial societies, their distinctive styles of imperial government, and the independence movements mounted against them. Based on wide reading in the history of the two great Atlantic civilizations, the book sets the Spanish and British colonial empires in the context of their own times and offers us insights into aspects of this dual history that still influence the Americas.


J. H. Elliott is Regius Professor Emeritus of Modern History, University of Oxford. His previous books include The Count-Duke of Olivares, A Palace for a King (with Jonathan Brown), and Spain and Its World, 1500—1700, all published by Yale University Press. Among the many honors he has received are the Wolfson Prize for History, the Prince of Asturias Prize for the Social Sciences, and the Balzan Prize for History.


Sir John Elliott Observes...
 
A long period of residence in a foreign country opens new windows on the . For seventeen years I lived and worked in Princeton, New Jersey, at the Institute for Advanced Study, before returning to my home country to take up a professorship at Oxford in 1990. During those seventeen years I was heavily engaged in researching and writing on my principal area of interest, the history of Spain and Hispanic civilization in the sixteenth and seventeenth centuries. But, living in the United States and not in Europe, I was for the first time looking at Spain from across the Atlantic, and at Iberian America within a hemispheric context. As a Briton living abroad, I was also coming to look at the past and present of my own country from a transatlantic vantage point, and to reflect on the ways in which British institutions and culture had been reshaped by their transfer to an American environment.
 
It then occurred to me that it would be an interesting exercise to compare and contrast the empires of Britain and Spain in America, and explore the similarities and the differences in the societies that emerged from the process of conquest and colonization. It has been a long but exciting voyage of exploration, which I hope will open the eyes of others, as it has opened mine, to the rich and complex history of the Atlantic .
"Others have offered comparisons between the English- and Spanish-speaking worlds, but none have been as fully nuanced or fully realized as this. A masterpiece by one of the English-speaking world's most accomplished historians."—David Weber, author of Bárbaros: Spaniards and Their Savages in the Age of Enlightenment
"Elliott's close study of the empire the English founded in North America and the one that the Spanish built to the south has given him remarkable insights and perspectives. The result is to give new dimensions to the usable past of both Americas."—Edmund S. Morgan, author of Benjamin Franklin
"In a masterful account, Oxford don Elliott explores the simultaneous development of Spanish and English colonies in the so-called New World. . . . Elliott's synthesis represents some of the finest fruits of the study of the Atlantic World."—Publishers Weekly
"[A] magisterial comparative history of empire of the Americas. . . . [A] richly textured comparative history. . . . [A] meticulously  researched and elegantly executed synthesis. . . . Mr. Elliott's achievement is to identify with brilliant clarity the similarities and differences between British and Spanish America while embroidering his analysis with memorable details."—Niall Ferguson, Wall Street Journal
"[A] monumental analysis of two New World empires . . . Elliott . . . uses the story of each colonisation to illuminate the other. He challenges our prejudices about the Spanish conquest and the patriotic myths that have grown up around the English one. There is nothing black and white about this book. . . . Elliott's writing . . . moves with a gentle rhythm of a sea swell to carry the reader along."—Christian Tyler, Financial Times Magazine
"Elliott's mastery of Spanish materials is especially impressive and allows him to show how Spanish America 'was large enough to provide the setting for a variety of holy experiments'. . . . It is refreshing to read, towards the end of this brilliant, compelling book, that in the British colonies 'a distinctively, American identity' was not so much the cause of revolution as the result."—Tom D'Evelyn, Christian Science Monitor
"A handsome and fascinating study of the two colonisations, so different in their scope, duration and outcome. The contrasts in administration, treatment of the natives and economic viability are intriguing."—Christian Tyler, Financial Times Magazine
"So skilled . . . that it continually generates fresh insights forged out of familiar materials. . . . This is an indispensable and richly rewarding contribution to both the art of comparative history and the story of early America."—Richard R. Johnson, The Journal of American History
"Elliott has been writing about 'the old conundrum of the decline of Spain' with increasing skepticism since 1961, and his new Empires of the Atlantic World is in many ways the culmination of a lifetime's exploration of the riddle."—Matthew Restall, William and Mary Quarterly
"My favorite recent book of American history is, perhaps surprisingly, by an English scholar of the history of Spain. A model of comparative history, Empires succeeds in placing the formative years of the area that became the United States in a consistently illuminating hemispheric perspective."—Eric Foner, New York Times Book Review
"An essential addition to scholarship on the broader impact of imperialism in the Atlantic World."—K. David Milobar, History News Network
"A magisterial comparison of the Spanish and British empires in the Americas. . . . This story only hints at the scope and richness of Elliott's masterful comparative history."—Richard J. Ross, Law and History Review
"Insightful and illuminating. . . . Rich and delightful. . . . Complete with wonderful illustrations that are well integrated into the discussion."—Ian K. Steele, American Historical Review
"Evocative. . . . From his very first chapter, Elliott does wonderful work in breaking down oversimplified characterizations of the Spanish empire as one of 'conquest' and Britain's one of 'commerce.' . . . Elliott is to be applauded and thanked, not only for his perseverance in writing this much-needed comparative review, but also for the verve and vision with which he infuses his smooth and insightful narrative."—Kristen Block, Itinerario
"J.H. Elliott's comparative study of English and Spanish colonization in the Americas is a sweeping synthesis that contributes significantly to our understanding of how European empires rose and fell from the sixteenth century to the early nineteenth."—Aaron Spencer Fogleman, New West Indian Guide
"A remarkable tour de force, in thematic and chronological coverage broad, seamlessly shifting between two colonial cultures and their metropoles. Elliott crafts a political, institutional, and cultural narrative spiced with usually well-founded, penetrating insight. . . . Empires of the Atlantic is an outstanding contribution to the historian's craft."—Stanley J. Stein, Hispanic American Historical Review
"[A] profound study of pan-American empires."—Linda Colley, New York Review of Books
"A masterwork of synthesis. . . . Elliott brings a lifetime of research to bear on a reading of the two empires."—Robert Appelbaum, The Historian
"Unfailingly careful and completely convincing. This will be a classic; all that is needed now is time."—Leonard R.N. Ashley, Bibliotheque d'Humanisme et Renaissance
"Richly illustrated and based on a thorough and thoughtful reading in the vast literatures of British and Spanish America, [Elliott's] masterful synthesis is unlikely to be equaled—let alone surpassed—any time soon."—Carla Rahn Phillips, Eighteenth-Century Studies
"Sir John Elliott, the undisputed dean of Hispanic New World and Golden Age historians, brings his formidable knowledge to bear on this important topic. His access to documentation and his nuanced reading, subtle marshaling of the facts, and elegant prose come together in a book destined to be the standard reference in the field."—Virginia Quarterly Review
"Our current debate about immigration isn't only about clamping down on the U.S.-Mexican border. It's also about what it means to be an American after 9/11 and about how the nation is revamping the concept of citizenship. And it's an opportunity to reassess yet again, the relationship between the United States and its neighbors to the south, a chance to reflect on the role of Hispanic culture in the English-speaking world. For those eager to understand the historical context behind these issues, I know of no more comprehensive, readable source than J.H. Elliott's Empires of the Atlantic World. . . . A feast of insights."—Ilan Stavans, Washington Post Book World
"This is an extraordinarily balanced and learned survey, always lucid, always patient with the facts and with the reader. . . . Elliott is primarily a historian of
Spain, and this has given him a rare capacity to resist the narcissistic tone of so many North American histories of the 13 colonies and the new republic . . . Masterly . . ."—Malcolm Deas, Spectator
"This book amazes. Covering the span of the imperial experience in the Americas, its combination of erudition and depth of insight is rarely matched. . . . The book will prove to be a magnum opus—thorough, thought-provoking, definitive."—William J. McCarthy, Nautical Research Journal
Selected as an Outstanding Academic Title for 2007 by Choice Magazine
Selected as a 2007 "Outstanding" book by AAUP University Press Books for Public and Secondary School Libraries
Shortlisted for the 2006 Hessel-Tiltman History Prize, awarded by the English PEN Club
Winner of the 2007 Francis Parkman Prize awarded by the Society of American Historians for the best book in American history
ISBN:
9780300114317
Publication Date:
April 15, 2006
560 pages, 6-3/4 x 9-5/8
40/50in 2 plate sections half colour