The Letters of Abigaill Levy Franks, 1733–1748
WARNING
You are viewing an older version of the Yalebooks website. Please visit out new website with more updated information and a better user experience: https://www.yalebooks.com
Edited and with an introduction by Edith B. Gelles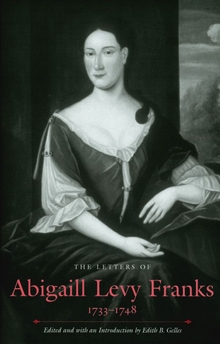 View Inside
Format:

Cloth


Price:

$65.00
Also Available in:
e-book
Abigaill Franks' letters are among the earliest extant by a woman in colonial New York City. They are also the earliest known letters by a Jewish woman in British America and probably the Western colonies. Thirty-five letters survive, all written to her son Naphtali between 1733 and 1748. These letters represent a rare resource for the study of family life during the colonial period as well as of the life of a lively and articulate woman.
In this fascinating book, Edith B. Gelles carefully edits all of Abigaill Franks' letters to make them accessible to modern readers. Gelles' substantial introduction provides a portrait of New York City at the time, describes typical colonial family life, and discusses the Jewish immigrant experience in New York. Abigaill's spontaneously written letters tell of one Jewish family's assimilation in eighteenth-century America; it is a story that resonates with other stories of assimilation that permeate the pages of American history.
Edith B. Gelles is senior scholar, Institute for Research on Women and Gender, Stanford University. She is the author of Portia: The World of Abigail Adams and Abigail Adams: A Writing Life.
"Gelles' introduction to this new edition of Frank's letters is beautifully written and admirably perceptive. She not only captures Abigaill's personality, but also the historical moment in which this correspondence blossomed."—Carol Berkin, author of Revolutionary Mothers: Women in the Struggle for America's Independence 
"Written over the course of more than a decade, these letters provide unique, often heart-breaking insights into the life of a Jewish woman living at the very edge of the transatlantic European world. Little other correspondence by a pre-Revolutionary woman is this extensive—or this dramatic."—Jon Butler, Yale University
"Abigaill Franks' letters are essential to the study of American Jewish history and the best single collection of Colonial era correspondence from a Jewish family that we possess."—Jonathan D. Sarna, author of American Judaism: A History
"One of our best students of Abigail Adams has found another Abigaill, this one a Jewish New Yorker with equally tart tongue whose letters open a new window into urban life in the colonial era."—Joseph J. Ellis, author of Founding Brothers: The Revolutionary Generation
"The letters of Abigaill Franks, like those of her near-contemporary Abigail Adams, comment astutely on the politics and society of her day. This earliest-known correspondence from a Jewish American woman also provides a unique perspective on the religious and family life of a literate gentlewoman in mid-eighteenth-century New York. Dr. Gelles' superb Introduction sets everything in a rich context."—Patricia U. Bonomi, New York University
"These letters will never lose their ability to charm and to educate."—David B. Mattern, Virginia Quarterly Review
ISBN:
9780300103458
Publication Date:
November 29, 2004
186 pages, 5.5 x 8.25