Cloak and Dollar
WARNING
You are viewing an older version of the Yalebooks website. Please visit out new website with more updated information and a better user experience: https://www.yalebooks.com
A History of American Secret Intelligence
Rhodri Jeffreys-Jones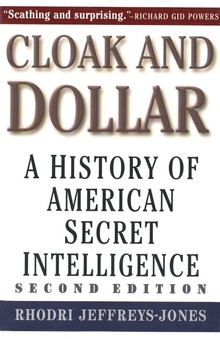 View Inside
Format:

Paper


Price:

$37.00
Also Available in:
Cloth
Rhodri Jeffreys-Jones, a leading expert on the history of American espionage, here offers a lively and sweeping history of American secret intelligence from the founding of the nation through the present day. Jeffreys-Jones chronicles the extraordinary expansion of American secret intelligence from the 1790s, when George Washington set aside a discretionary fund for covert operations, to the beginning of the twenty-first century, when United States intelligence expenditure exceeds Russia's total defense budget.

How did the American intelligence system evolve into such an enormous and costly bureaucracy? Jeffreys-Jones argues that hyperbolic claims and the impulse toward self-promotion have beset American intelligence organizations almost from the outset. Allan Pinkerton, whose nineteenth-century detective agency was the forerunner of modern intelligence bureaus, invented assassination plots and fomented anti-radical fears in order to demonstrate his own usefulness. Subsequent spymasters likewise invented or exaggerated a succession of menaces ranging from white slavery to Soviet espionage to digital encryption in order to build their intelligence agencies and, later, to defend their ever-expanding budgets. While American intelligence agencies have achieved some notable successes, Jeffreys-Jones argues, the intelligence community as a whole has suffered from a dangerous distortion of mission. By exaggerating threats such as Communist infiltration and Chinese espionage at the expense of other, more intractable problems—such as the narcotics trade and the danger of terrorist attack—intelligence agencies have misdirected resources and undermined their own objectivity.

Since the end of the Cold War, the aims of American secret intelligence have been unclear. Recent events have raised serious questions about effectiveness of foreign intelligence, and yet the CIA and other intelligence agencies are poised for even greater expansion under the current administration. Offering a lucid assessment of the origins and evolution of American secret intelligence, Jeffreys-Jones asks us to think also about the future direction of our intelligence agencies.

Rhodri Jeffreys-Jones is professor of American history at the University of Edinburgh. He is the author of numerous books, including The CIA and American Democracy and Peace Now! American Society and the Ending of the Vietnam War, both published by Yale University Press.


"This book exposes the good, the bad, and the inconsequential espionage activities that U.S. intelligence agencies have engaged in since George Washington. During the Cold War American early secret intelligence successes led to a 'confidence man' mentality that subsequently wasted tax payers' money, produced mercenary traitors, subverted stated U.S. foreign policy values, and often provided false or misleading information to government officials. Yet, instead of being downsized in the post-Cold War era, the United States continues to reward intelligence failure by con artists. Jeffreys-Jones is the first expert on the American intelligence community to explain why."—Joan Hoff, Ohio University

"A uniquely personal, scathing and surprising interpretation of American spy agencies from one of the leading international authorities on intelligence operations."—Richard Gid Powers, author of Not Without Honor: The History of American Anticommunism and Secrecy and Power: The Life of J. Edgar Hoover

"Rhodri Jeffreys-Jones is a leading authority on American espionage. He has a remarkable range, and this is his crowning achievement."—Robin W. Winks



"This book . . . deserves your attention for its fascinating history of American intelligence."—Cryptologia

"This erudite investigation is finely balanced—Jeffreys-Jones gives the agencies credit where it is due—but clear-eyed about the shortcomings."—Scotland on Sunday


"One of the virtues of this readable, astringent and stimulating survey of American intelligence history is Rhodri Jeffreys-Jones's ability to place his subject in long-term perspective. Unlike most of those who write about the CIA, he is almost as much at home in the era of George Washington as in that of George W. Bush, and has interesting things to say about both."—Christopher Andrew, Sunday Telegraph

"Jeffreys-Jones's newest book offers some badly needed historical perspective to current debates about the uses and non-uses of secret intelligence in the United States. . . . Sobering and insightful . . . the revelations in recent weeks of the existence of advance intelligence prior too the September 2001 attacks should make his book required reading."—Elisabeth H. Piedmont-Marton, Texas Observer

"A wide-ranging, lively, and provocative polemic on the growth of American secret intelligence from George Washington to George W. Bush."—David Alexander Walker, The Register of the Kentucky Historical Society

"Jeffreys-Jones's account . . . is a meticulously documented piece of scholarship, based on new archival research. It is unique in the scope of its inquiry. His is the only published account, for example, of the history of U-1, the elite and superefficient World War I era spy agency."—Claire Berlinski, The Weekly Standard

ISBN:
9780300101591
Publication Date:
October 11, 2003
384 pages, 5 1/2 x 8 1/4