"Anna Karenina" in Our Time
WARNING
You are viewing an older version of the Yalebooks website. Please visit out new website with more updated information and a better user experience: https://www.yalebooks.com
Gary Saul Morson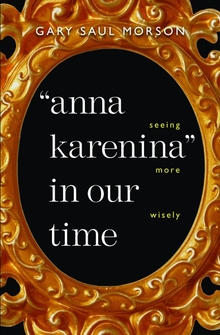 View Inside
Format:

Cloth


Price:

$40.00
In this invigorating new assessment of Anna Karenina, Gary Saul Morson overturns traditional interpretations of the classic novel and shows why readers have misunderstood Tolstoy's characters and intentions. Morson argues that Tolstoy's ideas are far more radical than has been thought: his masterpiece challenges deeply held conceptions of romantic love, the process of social reform, modernization, and the nature of good and evil. By investigating the ethical, philosophical, and social issues with which Tolstoy grappled, Morson finds in Anna Karenina powerful connections with the concerns of today. He proposes that Tolstoy's effort to see the world more wisely can deeply inform our own search for wisdom in the present day.
The book offers brilliant analyses of Anna, Karenin, Dolly, Levin, and other characters, with a particularly subtle portrait of Anna's extremism and self-deception. Morson probes Tolstoy's important insights (evil is often the result of negligence; goodness derives from small, everyday deeds) and completes the volume with an irresistible, original list of One Hundred and Sixty-Three Tolstoyan Conclusions.
Gary Saul Morson is Frances Hooper Professor of Arts and Humanities and professor of Slavic languages, Northwestern University. Morson teaches Anna Karenina in a course enrolling 500 students—the largest Slavic Language class offered in America. Among his previous books is the award-winning Narrative and Freedom: The Shadows of Time, published by Yale University Press.
"Morson is a splendid reader of texts, and his readings in
Anna Karenina
not only strengthen his arguments but reveal subtleties that have been 'hidden in plain sight' for well over a century."—Robert Belknap,
Columbia University
"Gary Saul Morson, long one of our best guides to Tolstoy and Dostoevsky, makes a vigorous and bracing argument in this book for why fiction urgently matters in our moral lives."—Robert Alter, author of Imagined Cities: Urban Experience and the Language of the Novel
"Highly readable and passionately argued, Morson's book makes a bold, important argument and makes it with eloquence and lucid reasoning."—Robin Miller, Edytha Macy Gross Professor of Humanities and Professor of Russian and Comparative Literature,
Brandeis University
"This remarkable book amounts to a thoroughgoing challenge to the entire tenor and purport of Anglophone academic criticism from the 1970s until now."—
Frederick Crews, Professor Emeritus of English, University of California at Berkeley
"In a series of ground-breaking works that together constitute one of the most important critical projects today, Gary Saul Morson has fashioned that rarest of things: an unmistakable voice and original theoretical horizon. Now, in Anna Karenina in Our Time, he brings together many of his central concerns in an altogether singular and demanding reading of Tolstoy's great novel. Whether one shares all of Morson's conclusions or not is irrelevant: what matters is the richness of the debate they open for us. We will never read Anna Karenina the same way again."—Michael André Bernstein, University of California, Berkeley
"The author meticulously steps through the narrative of Anna Karenina, focusing on the characters of Anna, Dolly, and Levin and situates the novel not only within a larger literary context but also in ethical, historical, literary, philosophical, scientific, and theological contexts. That he achieves an impressive intertextuality without alienating his declared audience—'the educated layperson'—is noteworthy. . . . Highly recommended."—Choice
"In clear, lucid prose, [Morson] guides the readers through the novel, pointing out passages or characters they might have overlooked or misread, highlighting the intricacies of Tolstoy's narration, and, as a whole, living up to the promise of his title. . . . A significant and vital new piece of Tolstoy criticism. . . . Morson has managed to produce the seemingly impossible: a work that is highly accessible and appealing to the lay reader, while at the same time contributing significantly to scholarly discourse."—Sara Kate Heukerott
"Morson has managed to produce the seemingly impossible: a work that is highly accessible and appealing to the lay reader, while at the same time contributing significantly to scholarly discourse."—Sara Kate Heukerott
"'Anna Karenina' in Our Time joins a select number of must-read books devoted to Anna Karenina in English and Russian."—Donna Orwin, Slavic and East European Journal
"Gary Saul Morson has written a rich, rewarding, and original book. As you read it, you feel the force of an author who has studied and taught Lev Tolstoi's work for decades, who has elaborated and revised his views countless times, and who now speaks with the seasoned voice of a philosopher–about one of the most philosophical novelists the world has produced. This work is a real pleasure to read."—Steven Cassedy, Slavic Review
Selected as a Favorite Book of 2007 by Books & Culture (Mr. Wilson's Bookshelf)
ISBN:
9780300100709
Publication Date:
December 5, 2007
288 pages, 6 1/8 x 9 1/4