The Words of Others
WARNING
You are viewing an older version of the Yalebooks website. Please visit out new website with more updated information and a better user experience: https://www.yalebooks.com
From Quotations to Culture
Gary Saul Morson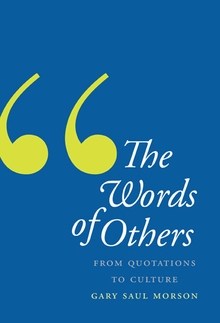 View Inside
Format:

Cloth


Price:

$75.00
Also Available in:
e-book
In this lively gambol through the history of quotations and quotation books, Gary Saul Morson traces our enduring fascination with the words of others. Ranging from the remote past to the present, he explores the formation, development, and significance of quotations, while exploring the "verbal museums" in which they have been collected and displayed--commonplace books, treasuries, and anthologies. In his trademark clear, witty, and provocative style, Morson invites readers to share his delight in the shortest literary genre.
The author defines what makes a quote quotable, as well as the (unexpected) differences between quotation and misquotation. He describes how quotations form, transform, and may eventually become idioms. How much of language itself is the residue of former quotations? Weaving in hundreds of intriguing quotations, common and unusual, Morson explores how the words of others constitute essential elements in the formation of a culture and of the self within that culture. In so doing, he provides a demonstration of that very process, captured in the pages of this extraordinary new book.
Gary Saul Morson is Frances Hooper Professor of the Arts and Humanities, Professor of Slavic Languages, Northwestern University. He is an award-winning author of eight previous books. He lives in Evanston, IL.
"The Words of Others is an original and illuminating investigation of how literature and culture use quotations. Gary Saul Morson writes with lucidity and lively wit, making cogent distinctions among different kinds of quotations and arguing persuasively for the quotation as a miniature literary genre. This is one of those rare literary studies that both delights and instructs."—Robert Alter, author of The Art of Biblical Narrative
"Morson loves literature for the way that, at its best, it can elevate and educate our consciousness. His study of metaquotation supplies an exemplary overview of the whole phenomenon."—Frederick Crews, author of Follies of the Wise: Dissenting Essays
"The Words of Others is a tour de force. Morson inspired me to view the subject of quotations in an entirely fresh light."--Fred Shapiro, editor of The Yale Book of Quotations
"No one to my knowledge has thought so thoroughly and interestingly about quotations as has Gary Saul Morson. This cannot be demonstrated because 'Nothing ever becomes real till it is experienced–even a proverb is no proverb to you till your life has illustrated it.' Take Keats at his word and let the words of Gary Morson illustrate for you the soundness of my opinion."—Arthur Krystal, author of Except When I Write: Reflections of a Recovering Critic
"…..the pleasure in the book comes from its essayistic rambles around the subject, the witty illustrations, and the enjoyment that the author clearly takes in what he's doing…..I was well enough disposed before I came to page 137. On that page I discovered that Morson had gone to some length to exculpate me from an alleged misquotation (as if I would). What an excellent book this is, I concluded. If Professor Morson wants a quote for the back cover of the paperback, I'm his man."—John Sutherland, Literary Review
"Morson's gift in this book is to turn the unapparent into apparent through – again – a detailed and thoughtful process of discussion and explanation…..It all adds up to an enlightening and exciting course in the what, why and how of quotation, and the book achieves the rare result of altering the way one looks at what is right in front of one's nose."—Douglas Cowie, Times Higher Education
"[a] thought-provoking work . . . this volume belongs in every library."—E.L. Battistella, Choice
"Gary Saul Morson has written a subtle, engaging and occasionally provocative study of quotations and the ways in which they are displayed and preserved."— Henry Hitchings, Times Literary Supplement
"The Words of Others proves to be a very interesting and useful volume to folklorists and other researchers exploring speech, identity, authorship, and authority. . . . This is a book that will be useful in broadening and deepening theoretical arguments, and the abstract discussion of quotation that Morson presents will fit easily into many different conversations."—Michael A. Lange, Journal of Folklore Research
ISBN:
9780300167474
Publication Date:
June 28, 2011
352 pages, 5 1/2 x 8 1/4