Post-Polio Syndrome
WARNING
You are viewing an older version of the Yalebooks website. Please visit out new website with more updated information and a better user experience: https://www.yalebooks.com
A Guide for Polio Survivors and Their Families
Julie K. Silver; Foreword by Lauro S. Halstead, M.D.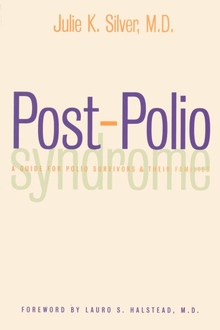 View Inside
Format:

Paper


Price:

$24.00
Also Available in:
Cloth
The effects of polio that occur decades after the disease has run its course—weakness, fatigue, pain, intolerance to cold, difficulty with breathing and swallowing—are often more devastating than the original disease. This book on the diagnosis and management of polio-related health problems is an essential resource for polio survivors and their families and health care providers.

Dr. Julie K. Silver, who has both personal and professional experience with post-polio syndrome, begins the book by defining and describing PPS and providing a historical overview of its diagnosis and treatment. Chapters that follow discuss finding good medical care, dealing with symptoms, maintaining proper nutrition and weight, preventing osteoporosis and falls, and sustaining mobility. Dr. Silver reviews the latest in braces, shoes, assistive devices, and wheelchairs and scooters. She also explores issues involving managing pain, surgery, complementary and alternative medicine, safe and comfortable living environments, insurance and disability, and sex and intimacy.
Julie K. Silver, M.D., is medical director of the Spaulding-Framingham Outpatient Center and director of the Spaulding Polio Center. Lauro Halstead is director of the Post-Polio Syndrome Program, National Rehabilitation Hospital, Washington, D.C.

"A fine and useful book. For the last several years I have been struggling with my own case of post-polio syndrome, and I know of no other book as comprehensive and authoritative on the subject."—Hugh Gallagher, author of Black Bird Fly Away: Disabled in an able Bodied World.
"[This book] belongs to that small select group that is stylish, informative, and a pleasure to read….[Its pages] are crammed with up-to-date information and useful anecdotes all designed to help prevent or minimize further disability and improve the quality of . . . lives."—Lauro Halstead, from the Foreward

"Congratulations to Dr. Julie Silver! Those of us who have had polio, even if we are now symptom-free, are glad to see her address the quandary of post-polio syndrome. Dr. Silver's care, persistence, and reaching out to optimize recovery are heartwarming."—Tenely E. Albright, M.D. Surgeon, Harvard Medical School, Whitehead Institute of Biomedical Research and 1956 Olympic Gold Medalist, Women's Figure Skating
"Invaluable not just to polio survivors and their families, but to all those in the medical and ancillary professions who are inclined to dismiss polio as an obsolete disease."—Tony Gould, author of A Summer Plague

"The book is superb."—Don O'Connor, Polio Survivors Support Group of Western New York Newsletter
"There are, unfortunately, millions of people who would benefit from reading this excellent book: I hope that many of them will have the opportunity. . . . It is hard to think of any aspect of post-polio syndrome that this book does not cover in a clear and sometimes even entertaining manner."—Sir Arthur C. Clarke, Times Higher Education Supplement

"A valuable contribution to the literature and should be a significant benefit to post-polio survivors and indeed should be read by their therapists and carers."—Transactions (Journal of Royal Society of Tropical Medicine and Hygiene)

"Post-Polio Syndrome is a book written for every person who had polio--and their relatives and friends. The book contains nearly everything anyone ever needed or wanted to know about Post-Polio Syndrome."—Phil Thorpe, Westerly, R. I. Sun
"There is much still to discover about post-polio syndrome. This book is a beginning to help a lot of people deal with the repercussions of this chronic illness and validate their possible new symptoms. It is a wonderful guide for today's survivors."—Francis Ford Coppola, Filmmaker
Recognized with a 2002 Will Solimene Award for Excellence in Medical Communication given by the New England Chapter of the American Medical Writers Association
ISBN:
9780300088083
Publication Date:
September 10, 2002
304 pages, 5 1/2 x 8 1/4
17 b/w illus.