Life in the Ancient Near East, 3100-332 B.C.E.
WARNING
You are viewing an older version of the Yalebooks website. Please visit out new website with more updated information and a better user experience: https://www.yalebooks.com
Daniel C. Snell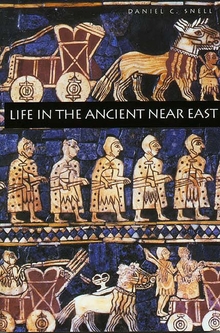 View Inside
Format:

Paper


Price:

$26.00
Also Available in:
Cloth
In this sweeping overview of life in the ancient Near East, Daniel Snell surveys the history of the region from the invention of writing five thousand years ago to Alexander the Great's conquest in 332 B.C.E. The book is the first comprehensive history of the social and economic conditions affecting ordinary people and of the relations between governments and peoples in ancient Egypt, Jordan, Israel, Iran, Iraq, Lebanon, Syria, and Turkey. To set Near East developments in a broader context, the author also provides brief contrasting views of India, China, Greece, and Etruscan Italy.

Snell organizes his book chronologically in time spans of about five hundred years and considers broad continuities. Drawing on the latest scholarship in many fields and in many languages, he sets forth a detailed picture of what is known about the demography, social groups, family, women, labor, land and animal management, crafts, trade, money, and government of the ancient Near East. For general readers with an interest in historical events that have influenced the development of Europe and the Middle East, for specialists seeking a broader understanding of early periods of Middle Eastern history, and for anyone with an interest in the Bible, this book offers a fascinating tour of life in ancient Western Asia.
Daniel C. Snell is professor of history at the University of Oklahoma. He is the author of Ledgers and Prices: Early Mesopotamian Merchant Accounts and coauthor of Economic Texts from Sumer, both published by Yale University Press.
"I found Life in the Ancient Near East rewarding to read. Snell writes clearly and interestingly, and he has packed the 158 pages of actual text with facts and insights that will inform college and seminary students and stimulate their professors who use it as a text. It can quite easily be incorporated into a semester or quarter of study, and having an overall perspective of the economic and social patterns in the ancient Near East will enrich students' awareness of everyday life in Biblical times for the common people, rather than simply focusing on politics and the elite, as so many historians do."—Keith N. Schoville, Journal of the Evangelical Theological Society
"This delightful book, which also contains a very useful and detailed forty-page bibliography, is a perfect supplemental text for a course in ancient West Asian history."—Mark W. Chavalas, Journal of Near Eastern Studies
"Life in the Ancient Near East is a first: a comprehensive history of the economic and social practices of the Near East from prehistory to the fourth-century B.C. conquest of the region by Alexander the Great. . . . A gold mine of information about ancient socioeconomic conditions. . . . Snell's book, consistently thorough and systematic, is of invaluable use for information about our ancient Near East predecessors. Now no one interested in ancient economies can claim that the material is inaccessible."—Marc Van De Mieroop, Odyssey
"There is no comparable book in English on this subject. Snell writes well and clearly, and his book will enliven discussion of social and economic history of the ancient Near East."—Marvin A. Powell, Northern Illinois University

"With this book, Snell fills a significant gap in the literature of the ancient Near East. . . . This invaluable synthesis of a difficult subject will be welcomed by all teachers of ancient and world history."—Choice
"An excellent synthesis of the social life of individuals in the ancient Near East in the era before the Greco-Macedonian conquest of Alexander the Great. The work fills a needed gap, for there are no purely social histories of this area that are not subordinate to political history."—Mark W. Chavalas, History
"Snell writes for the general reader but backs up his account with 69 pages of notes and a 41 page Bibliography, so there is something for scholars as well."—The Expository Times
"Though a scholarly piece of research, it is also a book which can excite the interest of anyone with a fascination for ancient societies and economies. . . . The readability of the book is due to the writer's excellent presentational skills. . . . This is a worthy book, covering ground rarely considered before. I would strongly recommend it to the student of biblical studies. Yet it is also of value to the general reader who can quickly learn something of a period of history of which we know little."—Vernon Marshall, Faith & Freedom
"There is an informative appendix on theories of ancient economies and societies, as well as copious notes, a bibliography and index, making this book a unique source of information on a major aspect of Near-Eastern history."—Book Chronicle
"This well-organized and well-written book should provoke interest in the study of the economic and social history of the ancient near East."—Ronald H. Sack, Journal of the American Oriental Society
"Unquestionably this [book] offers a resource not previously available, with a fresh and useful focus."—Daniel E. Fleming, Journal of Biblical Literature
"Daniel C. Snell has provided an informed and highly readable introduction to the societies and economics of Middle Eastern antiquity."—Clifford E. Minor, The Historian
ISBN:
9780300076660
Publication Date:
September 10, 1998
296 pages, 6 1/8 x 9 1/4
16 b/w illus.