The Iranian Mojahedin
WARNING
You are viewing an older version of the Yalebooks website. Please visit out new website with more updated information and a better user experience: https://www.yalebooks.com
Ervand Abrahamian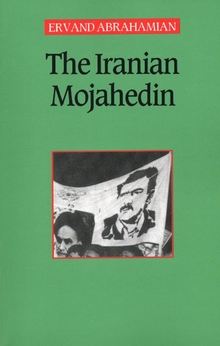 View Inside
Format:

Paper


Price:

$32.00
The Mojahedin, a radical political group in Iran, were prominent in the movement against the Shah and played an important role in bringing the Ayatollah Khomeini to power.  Yet they have borne the brunt of his reign of terror and now constitute the main opposition to his Islamic Republic.  In this book a leading authority on Iranian political parties offers the first history of this little-known underground group.
Drawing on all available sources including interviews with past and present members of the Mojahedin, Ervand Abrahamian traces their organization from the 1960s to today.  He investigates the social backgrounds of their leaders, the main features of their ideology, and the Marxist influences on their interpretation of Islam.  He is then able to explain why they failed to gain political power despite their mass following and the fact that they were the best armed, best disciplined, and one of the largest groups opposing the Shah.
In an introductory section on contemporary Iran, Abrahamian analyzes the downfall of the Shah, discusses the resurgence of Islam in that country, contrasts the varieties of Islam on the present scene, and explains why the Islamic Republic, despite all expectations, has proved to be so durable.  Clearly and concisely written, the book as a whole provides a wealth of information on contemporary Iran.
"A very fine book that deals with an important subject in a very thorough and engrossing fashion." –Nikki R. Keddie, U.C.L.A.

"Drawing on a wide range of available resources, including interviews with past and present members of Mojahedin, Ervand Abrahamian traces their organization from the 1960s to today. In so doing, he offers the first history of this little-known underground group and explains why they failed to gain political power, despite their mass following and the fact that they were the best armed, best disciplined, and possibly the largest of the groups opposing the Shah."—Arab Book World
"Ervand Abrahamian's new book is a sober, and sobering, account of the history of one of the best organized and most experienced lay Islamic political movements active in the Middle East today. . . . One awaits more studies as lucid, dispassionate, and thoroughly researched as Abrahamian's"—Mangol Bayat, American Historical Review
"A superb analysis of the rise, development, and ultimate failure of an important Islamic movement in the Middle East. . . . Abrahamian has made an indisputable contribution to understanding not only the Mojahedin, but also Iranian politics and theories of the state and ideology in general. The book will be endlessly fascinating, even to those who have observed political developments closely over the past three decades in Iran. Future work on social movements in the Middle East will benefit significantly from Abrahamian's data, analysis, and far-reaching conclusions."—Misagh Parsa, Science and Society





"A timely addition to the growing literature on Iran, this is the first scholarly work dealing with one of the most important political organizations in modern Iranian history. . . . Literature on or from the Iranian Mojahedin is full of political rhetoric, ideological propaganda, and sectarian claims and disclaims. Deciphering these materials and developing a clear and comprehensive picture of this organization's ideology and history have been a monumental task well done by Abrahamian. His clarity of analysis and his comprehensive treatment of the organization wins him the admiration of social scientists dealing with Iran."—Ali-Akbar Mahdi, Contemporary Sociology
"[An] important new book. . . . Abrahamian provides a detailed, objective, and erudite analysis of the rise and fall of a political movement that succeeded, albeit briefly, in attracting a mass following. . . . A very important book. . . . It is rich in details and contains cogent analyses of the Mojahedin's relations with Ali Shariati, its guerilla war with the last shah's regime, and the Marxist schism of the 1970s. . . . One of the books that is must reading for anyone who is interested in contemporary Iran."—Eric Hooglund, Iranian Studies
"Important and useful not only because it is the first in English on its subject, but also because . . . it is objective."—Economist




"Abrahamian richly narrates the organization's genesis, its tumultuous development, its participation in the Revolution, and its final defeat and exile. . . . Abrahamian also throws considerable light on intellectual-ideological issues and debates from which the new Islamist movement emerged in post-1963 Iran. He amply demonstrates the Mojahedin's ideological eclecticism: 'a highly unorthodox' reading of Islamic texts, seasoned with heavy doses of radically-revised Shi'i symbols, and combined with a mixture of Marxism-Leninism, Fanonian Third Worldism, and Latin American guerilla tactics."—Reza Afshari, MESA Bulletin
"Concise, balanced, and a useful introduction to the topic. . . . This book is a valuable addition to the literature on the Iranian left."—Sepehr Zabih, Middle East Journal
"[Abrahamian] has painstakingly and lucidly set down the history of [the Mojahedins'] foundation, doctrines, activities and misfortunes."—Times Literary Supplement
"[The author] is an acknowledged expert on Middle Eastern affairs, and this dissection of a crucial element of contemporary Iran is essential to projecting the future of the country and the Islamic Revolution."—Library Journal
"Enormously valuable for the masses of data it brings to light and for its insights into the vagaries of life in the Iranian opposition."—Choice
"This is the most objective and comprehensive study available of the important Iranian movement."—Anthony Hyman, International Affairs
"The result is one of the best of so many books about Iran today."—A. R. H. Kellas, Asian Affairs




"Abrahamian's commentary on Ali Shariati and his relationship to the Mojahedin is a unique and impressive achievement. . . . Radical Islam is a learned, lucid and cogent piece of Iranian history. . . . The book is must reading for all experts and observers interested in the politics of the Islamic Revolution and the role of Iran's political culture."—Mansour Farhang, Middle East Report
"[This] book is important and useful not only because it is the first in English on its subject, but also because . . . it is objective. . . . [I]ts approach is thoughtful, fresh and independent, being to Islam more or less what liberation theology is to Christianity."—Economist
ISBN:
9780300052671
Publication Date:
October 28, 1992
315 pages, 5 1/2 x 8 1/2