1948
WARNING
You are viewing an older version of the Yalebooks website. Please visit out new website with more updated information and a better user experience: https://www.yalebooks.com
A History of the First Arab-Israeli War
Benny Morris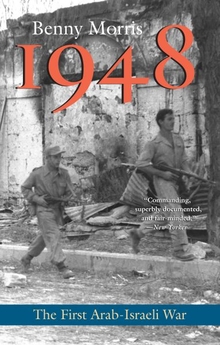 View Inside
Format:

Paper


Price:

$24.00
Also Available in:
Cloth
e-book
Benny Morris demolishes misconceptions and provides a comprehensive history of the Israeli-Arab war of 1948

This history of the foundational war in the Arab-Israeli conflict is groundbreaking, objective, and deeply revisionist. A riveting account of the military engagements, it also focuses on the war's political dimensions. Benny Morris probes the motives and aims of the protagonists on the basis of newly opened Israeli and Western documentation. The Arab side—where the archives are still closed—is illuminated with the help of intelligence and diplomatic materials.
Morris stresses the jihadi character of the two-stage Arab assault on the Jewish community in Palestine. Throughout, he examines the dialectic between the war's military and political developments and highlights the military impetus in the creation of the refugee problem, which was a by-product of the disintegration of Palestinian Arab society. The book thoroughly investigates the role of the Great Powers—Britain, the United States, and the Soviet Union—in shaping the conflict and its tentative termination in 1949. Morris looks both at high politics and general staff decision-making processes and at the nitty-gritty of combat in the successive battles that resulted in the emergence of the State of Israel and the humiliation of the Arab world, a humiliation that underlies the continued Arab antagonism toward Israel.
Benny Morris is professor of history in the Middle East Studies Department of Ben-Gurion University, Israel. He is the leading figure among Israel's "New Historians," who over the past two decades have reshaped our understanding of the Israeli-Arab conflict. His books include Righteous Victims: A History of the Zionist-Arab Conflict, 1881-2001; Israel's Border Wars, 1949-1956; and The Birth of the Palestinian Refugee Problem Revisited.
Click here for an extended question & answer discussion with the author.Confirmed as alternate for History Book Club/Military Book Club; July brochure, which announces 5/22/08. Club will print 2,000 copies
"This is the best book by far on the war of 1948."—Benjamin Kedar, Professor of History, The
Hebrew University of Jerusalem
"This is a wonderful contribution to the historiography of the Israel/Palestine War of 1948. Morris has written a fresh account, substantiated by a lot of new documentation."—Ronald W. Zweig, Professor of Israel Studies, New York University
"Morris offers a study of Israel's war of independence, effectively debunking many of the myths surrounding it. . . . He meticulously documents the expulsions and atrocities that occurred on both sides. His work demonstrates that passion, not polemic, about this controversial era leads to good history. Recommended for all libraries."—Library Journal
"Morris' . . . new book, impeccably timed to coincide with our 60th anniversary, is notable for its insistence that the religious dimension of Arab opposition to Jewish sovereignty, the rejection of Israel as an 'infidel' and 'alien' presence, was overwhelming from the earliest days of the struggle for statehood—and was underestimated by Israel's leaders from the earliest days, too."—David Horovitz, Jerusalem Post
"A richly detailed and thoroughly researched primer on the first great Mideast war, as well as on the essential reasons why the Israeli-Palestinian standoff remains so intractable. A compelling 'aha' book, 1948 brings order to complex, little-understood subjects . . . with [Morris'] vivid narrative prose and masterly analysis."—David Holahan, The Hartford Courant
"A commanding, superbly documented, and fair-minded study of the events that, in the wake of the Holocaust, gave a sovereign home to one people and dispossessed another. . . . What is so striking about Morris's work as a historian is that it does not flatter anyone's prejudices, least of all his own."—David Remnick, New Yorker
"Morris relates the story of his new book soberly and somberly, evenhandedly and exhaustively. . . . An authoritative and fair-minded account of an epochal and volatile event. He has reconstructed that event with scrupulous exactitude."—David Margolick, New York Times Book Review
"Morris's account seems admirable, because he is unafraid of upsetting both camps. . . . His commitment to the pursuit of historical truth deserves as much admiration as his dismay at Arab intransigence commands sympathy. . . . Morris's book is no mere military narrative, but a crisp, vivid introduction to the historical tragedy of Palestine."—Max Hastings, Sunday Times
"A considerable achievement, meticulously detailing and analyzing both Israel's war of Independence, on the one hand, and its mirror Palestinian face: the Catastrophe (al nakba), on the other. For those who can handle often-uncomfortable facts, this volume is a must read. . . . A courageous narrative."—Michael Bell, Toronto Globe and Mail
"Magisterial. . . . A densely researched, richly textured, nuanced book brimming with discerning analysis and telling details. . . . It will be mandatory reading for the foreseeable future."—Sheldon Kirshner, Canadian Jewish News
"Readers  can do no better that to go to a new authoritative source about the beginnings of the Israeli state, Benny Morris' 1948."—Jonathan S. Tobin, The Jewish Exponent
"When it comes to interpreting the history they shared in 1947-49, Arabs and Israelis subscribe to two radically different narratives. . . . One of the many achievements of this admirable book is to help readers understand why each narrative commands such authority and why they remain so stubbornly irreconcilable."—Andrew Bacevich, Boston Globe
"As [Israel] celebrates six decades of reborn existence on May 14 and books about it cascade into stores, the most important among them [is] Benny Morris's 1948."—Carlin Romano, The Chronicle Review
"An ambitious, detailed and engaging portrait of the war itself—from its origins to its unresolved aftermath—that further shatters myths on both sides of the Israeli-Arab divide."—Glenn Frankel, Washington Post Book World
"Morris, born in 1948, is among a group of Israeli 'new historians,' whose work has challenged the traditional, accepted line of the birth of Israel. In this well-researched book, he strives for balance."—Billy Heller, New York Post (Required Reading)
"A compelling 'aha' book, 1948 brings order to complex, little-understood subjects . . . with [Morris'] vivid narrative prose and masterly analysis."—David Holahan, The Hartford Courant
"Morris relates the story of his new book soberly and somberly, evenhandedly and exhaustively. . . . An authoritative and fair-minded account of an epochal and volatile event."—David Margolick, New York Times Book Review
"Morris's account seems admirable, because he is unafraid of upsetting both camps. . . . His commitment to the pursuit of historical truth deserves as much admiration as his dismay at Arab intransigence commands sympathy."—Max Hastings, Sunday Times
"A considerable achievement, meticulously detailing and analyzing both Israel's war of Independence, on the one hand, and its mirror Palestinian face: the Catastrophe (al nakba), on the other."—Michael Bell, Toronto Globe and Mail
"Likely to become the most definitive study of the first Arab-Israeli war. On each and every facet of the conflict—military strategy, human rights abuses, the refugee crisis, diplomacy, and propaganda—it is an extraordinary tour de force."—Shlomo Ben-Ami, Foreign Affairs
"1948 is dispassionate in its tone, meticulous in its research, patient in its pace, and comprehensive in its scope. . . . Benny Morris's history furnishes a compelling view of the origins of a conflict still very much with us. . . . This book also offers a eloquent recovery of some political truths about the Middle East that have grown lamentable obscure."—Benjamin Balint, Claremont Review of Books
"First-rate. . . . The account is a military history of the highest order, its prose taut and restrained, resulting in a gripping and dramatic narrative."—Sheldon Horowitz, Hadassah
Selected as one of the best books of 2008 by the Washington Post in the World category
"Brilliantly conceived, brilliantly written, brilliantly expressive."—Jewish Book World
"1948 is a superb attempt to provide a reasoned assessment of a very contentious period. It is well worth study by anyone seeking to understand the Middle East that this war helped create."—Col. Jonathan M. House, Military Review
"Readers interested in military strategy and tactics will appreciate the book's comprehensiveness on this score, while others will be drawn in by the sheer drama of the war, with its interweaving of military and political action, told clearly and swiftly."—Joel Streicker, Shofar
"Morris has reviewed all the revisionist literature, re-worked the shelves of the archives to make sure that nothing has been overlooked, and given us a meticulously researched day-by-day narrative of the first Arab-Israeli war."—Paul C. Merkley, Books & Culture
"Highly recommended."—Choice
"A commanding, superbly documented, and fair-minded study of the events that . . . gave a sovereign home to one people and dispossessed another. . . . What is so striking about Morris's work . . . is that it does not flatter anyone's prejudices. . . ."—David Remnick, New Yorker
"This fascinating and detailed account of the events and war surrounding Israel's establishment on May 14, 1948, ought to be a model for writing history in a fresh and inviting manner. . . . This challenging and dramatic book relies on newly available documentation from Israeli and Western sources." —Rabbi Israel Zoberman, D., CCAR Journal: The Reform Jewish Quarterly
"Morris tenders a well-documented work with more than one hundred pages of endnotes that support every major point. That fair-minded, impartial balancing of Arab and Jewish standpoints is what distinguishes Morris' work."—John W. Sutherlin, MESA
Winner of the 2008 National Jewish Book Award in the category of History, presented by the Jewish Book Council
ISBN:
9780300151121
Publication Date:
April 28, 2009
560 pages, 6 1/8 x 9 1/4
25 b/w illus. + 30 maps