Wild Solutions
WARNING
You are viewing an older version of the Yalebooks website. Please visit out new website with more updated information and a better user experience: https://www.yalebooks.com
How Biodiversity is Money in the Bank
Andrew Beattie and Paul R. Ehrlich; With illustrations by Christine Turnbull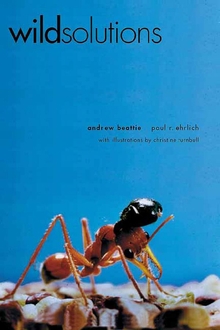 View Inside
Format:

Cloth


Price:

$25.95
Also Available in:
Paper
e-book
Out of Print
We live on an unexplored planet, ignorant of more than eighty percent of the species that share our world. In this fascinating and abundantly illustrated book, two eminent ecologists discuss the biological diversity of the Earth, showing how the natural systems that surround us play an essential role in protecting our basic life-support systems.
Andrew Beattie and Paul Ehrlich tell us about the millions of species providing ecosystem services that maintain the quality of our air and water and the fertility of the soil, dispose of domestic, industrial, and agricultural waste, and protect crops from pests. The authors also describe how biological diversity opens the way for new medicines, pharmaceuticals, construction materials and designs, and manufactured goods. They point to innovative industries that harness species for the biological repair of damaged landscapes, biological mining, biological pest control, and biomonitoring of the environment. The organisms upon which these activities are founded—although often microscopic, obscure, or bizarre—provide natural capital that is worth infinitely more than anyone has previously guessed. The authors urge us to protect the biological wealth of our Earth and keep it from being destroyed by human activity.
Andrew Beattie is director of the Commonwealth Key Centre for Biodiversity and Bioresources and Christine Turnbull is research associate, both at Macquarie University, Sidney, Australia. Paul R. Ehrlich is Bing Professor of Population Studies in the department of biological sciences at Stanford University.
"A very innovative and wonderfully illustrated book about why biodiversity and ecosystem processes are important to the planet."—Margaret Lowman, author of Life in the Treetops: Adventures of a Woman in Field Biology 

"Wild Solutions brilliantly regales the reader with the ingenuity and diversity of Nature, and with humanity's dependence on the fragile 'natural internet.' of our 'little-known planet.' It is a powerful imperative for the preservation of natural capital, so that we may continue to borrow upon it in improving our quality of life, and in maintaining our place on Earth. Must-reading for everyone."—Simon Levin, Princeton University 
"Wild Solutions reveals a living planet so rich in astonishing detail it reads like fiction. Yet in its living detail lies our much-needed signpost towards ecological sustainability."—Tim Flannery, Director of the South Australian Museum and author of The Future Eaters and Throwim Way Leg


"Wild Solutions works both for the novice and for those further down the path of ecological knowledge. . . . One hopes that the book is widely read by those in a position to influence or implement policy in farm plans, town plans and the like, for there are chasms between the purity of science and its real applications."—Australian Book Review

"A fascinating account of the wonders of the natural world with a lot of information about the uses and value of biodiversity. It is full of interesting information about a vast array of little-known organisms. . . . A useful book that will be of use to both professionals and a lay audience."—Ghillean T. Prance, Biodiversity and Conservation

"Beattie and Ehrlich answer the question of why we need so many plants and animals by describing the astonishing mesh of species involved in breaking down waste, converting sunlight into various forms of energy, creating soil, and maintaining the planet's fresh water supply and breathable atmosphere. Every organism, they explain, is a home for other species."—Booklist

"Beattie and Erhlich both bring a considerable amount of respect and renown with their ideas, and this, combined with the readability of the book and its low cost, should make this a hard-to-resist buy for any and all academic libraries."—Choice

"An engaging book clearly intended to impress upon a lay audience the practical value of biological diversity. . . . This outstanding work will be of great use and interest to a variety of readers. Anyone who teaches introductory courses in ecology, conservation, or general biology will find this an indispensable source of examples to improve and refresh their teaching about the value of biological diversity. . . . [It] would also make excellent supplementary reading for such courses. After first reading it themselves, ecologists who want to help a non-biologist . . . cultivate a deeper appreciation for the enormous value of biodiversity should point them in the direction of Wild Solutions."—Ecology

"This fascinating and readable book illustrates how, in spite of huge strides in scientific knowledge in recent years, we still know relatively little about the myriad life forms we share the planet with."—Grass Roots


"Wild Solutions argues for the conservation of natural resources from a firmly utilitarian perspective. Taking examples from a wide range of taxonomic groups, Andrew Beattie and Paul Ehrlich demonstrate how often-overlooked species are fundamental to our continuing viability. . . . An easy read, generating a momentum of energy and excitement about the potential of the natural world to solve many of the problems that face us. . . . This is an inspirational book for the general reader. . . . The destruction of biodiversity is damaging the life-support systems on which we depend, and cutting off our options for the future. By using a huge range of examples, Beattie and Ehrlich get the point across very effectively."—E.J. Milner-Gulland, Nature


"The book is refreshingly optimistic, always fascinating, and never preachy."—J. Scott Turner, Quarterly Review of Biology

"The book is a most stimulating read for all those budding science students from secondary through graduate schools. It is accompanied by interesting and attractive illustrations interspersed throughout the text. A good bibliography and a thorough index increase the value of the volume as a reference work that should be in every science-oriented and every public library."—Science Books & Films

"Biologists Beattie and Ehrlich provide intriguing explanations of the role of natural substances in medicine, pest control, and even manufacturing."—Bob Schildgen, Sierra Magazine


"The book will be of value to biology/ecology students and teachers from high school through graduate school, by professionals in the field and by all those interested in and concerned about biodiversity."—Edward J. Kormondy, The American Biology Teacher

"[This] elegant little hardback complete with engaging line art illustrations, champions ecologically responsible conservation for the maintenance of biodiversity. . . . This book is a plea for care, not in the name of wooly sentimentality but as a matter of survival and justice towards future generations."—The Australian

"Utterly fascinating, very readable."—Southeastern Naturalist
"Can we put a value on nature? In their example-packed survey of how life is self-sustaining, Beattie and Ehrlich demonstrate that for nutrient cycling, food production, waste management and medicine, and in the potential they hold for solving many of the world's problems, the vast array of animal species on Earth are so essential as to make their worth effectively incalculable." - The London Review Bookshop
Winner of the 2001 National Outdoor Book Award in the Nature and Environment Category
ISBN:
9780300076363
Publication Date:
March 11, 2001
256 pages, 5 1/2 x 8 1/4
40 b/w illus.