Life
WARNING
You are viewing an older version of the Yalebooks website. Please visit out new website with more updated information and a better user experience: https://www.yalebooks.com
A Journey through Science and Politics
Paul R. Ehrlich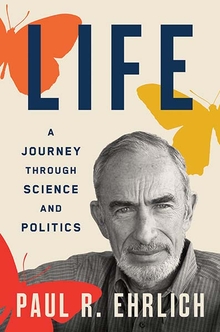 View Inside
Format:

Hardcover


Price:

$30.00
A renowned scientist and environmental advocate looks back on a life that has straddled the worlds of science and politics
 
Acclaimed as a public scientist and as a spokesperson on pressing environmental and equity issues, Paul R. Ehrlich reflects on his life, from his love affair with his wife, Anne, to his scientific research, public advocacy, and concern for global issues. Interweaving the range of his experiences—as an airplane pilot, a desegregationist, a proud parent—Ehrlich's insights are priceless on pressing issues such as biodiversity loss, overpopulation, depletion of resources, and deterioration of the environment. A lifelong advocate for women's reproductive rights, Ehrlich also helped to debunk scientific bias associating skin color and intelligence and warned some fifty years ago about a possible pandemic and the likely ecological consequences of a nuclear war.
 
This book is a vital contribution to literature focused on the human predicament, including problems of governance and democracy in the twenty-first century, and insight into the ecological and evolutionary science of our day. It is a must-read for anyone interested in understanding global change, our planet's wonders, and a scientific approach to the present existential threats to civilization.
Paul R. Ehrlich is cofounder of the field of coevolution and a pioneer in alerting the public to the problems of overpopulation, depletion of natural resources, and deterioration of the environmental systems that support humanity. His previous books include Humanity on a Tightrope: Thoughts on Empathy, Family, and Big Changes for a Viable Future, The Dominant Animal: Human Evolution and the Environment, Human Natures: Genes, Cultures, and the Human Prospect, and the bestselling The Population Bomb. He lives in Palo Alto, CA.
"Entirely entertaining. . . . Ehrlich delivers an amusing account of a science-obsessed childhood, college at the University of Pennsylvania, pursuit of a doctorate at the University of Kansas, and the surprisingly nasty politics that accompanied his climb through academia. . . . Consistently interesting stories from a famous scientist's busy life."—Kirkus Reviews
"Ehrlich's droll account of his achievements and controversies offers keen insight into the profundity of his thinking. Even Ehrlich's critics will come away with a better understanding of his views."—Publishers Weekly
"More gripping than a thrilling novel, Paul Ehrlich's autobiography beats novels by being true. Colorful and no-holds-barred, it's what you'd hope from the greatest living population biologist, who has thrived in science and policy controversies for 70 years."—Jared Diamond, Pulitzer Prize–winning author of Guns, Germs, and Steel
"Paul Ehrlich is one of the supreme citizen-scientists of our time. His eventful and exemplary life is an inspiration not only for a new generation of scientists, but for citizens everywhere."—Partha Dasgupta, author of Time and the Generations: Population Ethics for a Diminishing Planet, and Frank Ramsey Professor Emeritus of Economics, University of Cambridge
"Paul Ehrlich has stirred up plenty of controversy over the decades and remains one of the world's most provocative thinkers and truth-tellers. In this compellingly readable, rich book, a great human being takes us on the road that led to his view of life."—Carl Safina, author of Becoming Wild
"An irresistible read. Paul Ehrlich captivates us with his adventures and his love for butterflies, biology, family, and humanity, all interwoven with his irrepressible passion to defend nature—and us."—Diana Wall, Colorado State University
"Two books sat side by side on our family bookshelf while I was growing up in the early 1970s, alerting me to the growing threat to our environment. One of them was Paul Ehrlich's The Population Bomb—a prescient, early warning of our collision course with environmental sustainability. It is a delight, a half century later, to read Paul's wide-ranging, wondrous, and pleasantly amusing account of his amazing life—as a scientist, thinker, communicator, influencer, and champion for a sustainable world. Read Life and be emboldened to join the defining battle of our time—the battle to preserve a livable planet."— Michael Mann, author of The New Climate War
"In this adventure-filled book, one of the leading biologists of the last hundred years shares the stories of his fully lived life, a life in which he discovered many new details of the obscure biology of butterflies, reshaped the fields of evolutionary biology and conservation, and unapologetically sought to remake the world. It is a fascinating, funny, provocative book about a fascinating, funny, provocative man."—Rob Dunn, author of A Natural History of the Future
"A delightfully personal, informative, and entertaining memoir, recording the insights of a brilliant man—full of fun and interest!"—Peter Raven, author of Driven by Nature
ISBN:
9780300264548
Publication Date:
January 17, 2023
408 pages, 6 1/8 x 9 1/4
16 color + 42 b/w illus.