The Origins of Knowledge and Imagination
WARNING
You are viewing an older version of the Yalebooks website. Please visit out new website with more updated information and a better user experience: https://www.yalebooks.com
Jacob Bronowski; Foreword by S.E. Luria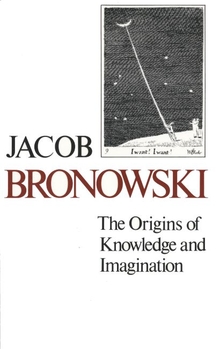 View Inside
Format:

Paper


Price:

$23.00
"A gem of enlightenment. . . . One rejoices in Bronowski's dedication to the identity of acts of creativity and of imagination, whether in Blake or Yeats or Einstein or Heisenberg."—Kirkus Reviews

"A delightful look at the inquiring mind."—Library Journal

In this eloquent volume Jacob Bronowski, mathematician and scientist, presents a succinct introduction to the state of modern thinking about the role of science in man's intellectual and moral life. Weaving together themes from ethnology, linguistics, philosophy, and physics, he confronts the questions of who we are, what we are, and how we relate to the universe around us.
"The essays constitute a well-written and brilliantly presented defense of the scientific enterprise which could be especially valuable to scientists and to teachers of science at all levels."—Science Books and Films
"In six short lectures originally delivered at Yale, the eminent scientist-philosopher-teacher, who died in 1974, completed his life task of constructing a scientific philosophy for the modern age. . . . Bronowski's humanistic credo reaffirms the mutuality of science and art, the data of the senses, and the daring of the visionary. A pithy, inspiring book."—Publishers Weekly
"According to Bronowski, our account of the world is dictated by our biology: how we perceive, imagine, symbolize, etc. He proposes to explain how we receive and translate the world so that we achieve knowledge. . . . A delightful look at the inquiring mind. Highly recommended for the general reader."—Library Journal
"Bronowski's mission was the dignified illumination of science for the nonscientist, and I think he made his case for a faith in science very persuasive through his life work. His optimism is refreshing to consider anew in these six handsome lectures."—Book Forum
"Bronowski is a beautiful writer. And if truth is beauty than Bronowski is also a truthful writer. No cliché: these essays are the Silliman lectures that Bronowski delivered at Yale in 1967, a series established to 'llustrate the presence and providence of God. . .[through] an orderly presentation of the facts of nature or history.' Bronowski's synthesis is a gem of enlightenment. . . . One rejoices in Bronowski's dedication to the identity of acts of creativity and of imagination, whether in Blake or Yeats or Einstein or Heisenberg."—Kirkus Reviews
"Woven into [Bronowski's] learned exposition is a compelling faith in the integrity of the scientific community and in ongoing scientific discovery—his credo and his legacy."—Booklist
"One should not deny oneself the treat of studying this easily readable book, a posthumous classic by the Polish-Jewish author of the Ascent of Man. It is natural philosophy and science grounding human knowledge and praising human imagination. Bravo Bronowski!"—Donald Goergen, The Critic
"Bronowski's book is a soaring, mid-expanding experience—a good book for the beginning of another school year. It's essentially a series of six lectures that he gave at Yale in 1967 that focused on the development of the cognitive and linguistic abilities of human beings—knowledge and imagination being identified as essential components of both. . . . That his ideas are as fascinating today as a decade ago, that his death does not diminish the power of the human mind to speak eloquently on the subject of this book—and on the focus of our profession."—Instructor
"This volume, replete with logic and innovative thought, will therefore stand as a simple legacy to a man and a great mind."—Harris Pastides, The Yale Journal of Biology and Medicine
"So well-written (the man has obviously learned much from his role as educator) and full of warmth, wit, and genuine love of science that is makes for a good read regardless of one's scientific background."—San Francisco Review of Books
ISBN:
9780300024098
Publication Date:
September 10, 1979
160 pages, 5.5 x 8.25