A Good and Dignified Life
WARNING
You are viewing an older version of the Yalebooks website. Please visit out new website with more updated information and a better user experience: https://www.yalebooks.com
The Political Advice of Hannah Arendt and Rosa Luxemburg
Joke J. Hermsen; Translated from the Dutch by Brendan Monaghan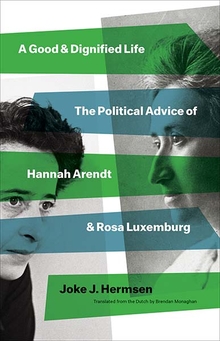 View Inside
Format:

Hardcover


Price:

$20.00
A timely and provocative essay about the parallel lives of Rosa Luxemburg and Hannah Arendt and their mission for a more humane society
 
"[A] short but moving book . . .  Even better, the volume's advice is not only pragmatically political—necessary during a time of threats to democracy and mounting failures to deal with the climate crisis—but modestly uplifting."—Bill Marx, Arts Fuse
 
"An intimate and timely meditation on dark times, Hermsen's illuminating essay offers readers a way to think with Hannah Arendt and Rosa Luxemburg about how to build a more humane world in common."—Samantha Rose Hill, author of Hannah Arendt
 
Rosa Luxemburg (1871–1919) and Hannah Arendt (1906–1975) were critical Jewish mavericks who both suffered under violent political regimes and sought to reform systems of power. Although temporally separated by the Second World War and the rise of totalitarianism, they held in common strikingly similar convictions about freedom, human dignity, capitalism, democracy, and political commitment.

In this powerful book, Joke J. Hermsen explores the lives and works of these two remarkable thinkers and the essential hope that emboldened them in the political struggle. Luxemburg and Arendt were spurred on by a restless love for the world and an unwavering belief in the possibility of new beginnings; for them, hope was an absolute prerequisite of resistance and a counterpoint to melancholy—a defense against despair that kept them attuned to what could be.

Exploring the intertwined nature of philosophy and the active pursuit of justice, this is an urgent, courageous reminder to remain alert to the glimmers of hope in dark times.
Joke J. Hermsen (b. 1961) is a Dutch writer and philosopher, who studied in Paris and Amsterdam. Brendan Monaghan (b. 1979) grew up in Botswana. After a spell at Amnesty International, he became a translator.
"[A] short but moving book . . . a stirring essay on what Luxemburg and philosopher Hannah Arendt have to say that would be of use to us now, in these dark times . . . Even better, the volume's advice is not only pragmatically political—necessary during a time of threats to democracy and mounting failures to deal with the climate crisis—but modestly uplifting. No matter how terribly she was treated, 'Red Rosa' refused to lapse into depression, exhaustion, or defeatism."—Bill Marx, Arts Fuse
"An intimate and timely meditation on dark times, Hermsen's illuminating essay offers readers a way to think with Hannah Arendt and Rosa Luxemburg about how to build a more humane world in common."—Samantha Rose Hill, author of Hannah Arendt
"In this profoundly beautiful book, Joke J. Hermsen offers a poignant analysis of Hannah Arendt and Rosa Luxemburg as they model thinking undeterred by fear. Advocating for love and collective responsibility for the world as a shared object of attention, Hermsen illuminates the ways that these two Jewish women geniuses enacted freedom in the only way we can—with others."—Jane Anna Gordon, co-editor (with Drucilla Cornell) of Creolizing Rosa Luxemburg
"In A Good and Dignified Life, the noted Dutch writer Joke J. Hermsen provides us with a tour d'horizon of our current social and political ills through the lens of two clear-eyed partisans of hope: Rosa Luxemburg and Hannah Arendt. Focusing on public freedom, the self-organization of ordinary citizens, and the need to combat the ever-increasing hegemony of the economic over the political sphere of life, this unique work surveys the current scene—and the seemingly dim future prospects that confront us—with a renewed appreciation of the promise of politics and of 'acting together, acting in concert.'"—Dana Villa, University of Notre Dame
Praise for Joke J. Hermsen

"Despite the weight of the subject, Joke Hermsen succeeds in continuing to captivate her readers."—Yves Joris, Tzum

"Hermsen writes in long, full sentences, which are pregnant with meaning and at the same time remain flexible. You glide through the language, you sink into it wonderfully."—Fleur Speet, De Morgen

"Engagingly and with great vitality, Hermsen charts the richness of our inner lives."—NRC Handelsblad
 
ISBN:
9780300259254
Publication Date:
June 28, 2022
160 pages, 5 x 7 3/4