Faith, Science and Understanding
WARNING
You are viewing an older version of the Yalebooks website. Please visit out new website with more updated information and a better user experience: https://www.yalebooks.com
John Polkinghorne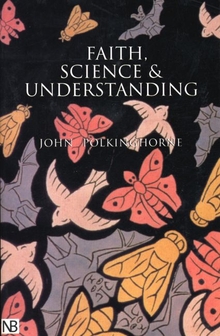 View Inside
Format:

Paper


Price:

$24.00
Also Available in:
Cloth
In this captivating book, one of the most highly regarded scientist-theologians of our time explores aspects of the interaction of science and theology. John Polkinghorne defends the place of theology in the university (it is part of the human search for truth) and discusses the role of revelation in religion (it is a record of experience and not the communication of unchallengeable propositions). Throughout his thought-provoking conversation, Polkinghorne speaks with an honesty and openness that derives from his many years of experience in scientific research.

A central concern of Polkinghorne's collection of writings is to reconcile what science can say about the processes of the universe with theology's belief in a God active within creation. The author examines two related concepts in depth. The first is the divine self-limitation involved in creation that leads to an important reappraisal of the traditional claim that God does not act as a cause among causes. The other is the nature of time and God's involvement with it, an issue that Polkinghorne shows can link metascience and theological understandings. In the final section of the book, the author reviews three centuries of the science and theology debate and assesses the work of major contemporary contributors to the discussion: Wolfhart Pannenberg, Thomas Torrance, and Paul Davies. He also considers why the science-theology discussion has for several centuries been a particular preoccupation of the English.

John Polkinghorne, K.B.E., F.R.S., is past president and now fellow of Queens' College, Cambridge, and Canon Theologian of Liverpool, England. He is also the author of Belief in God in an Age of Science, published by Yale University Press and selected by Publishers Weekly as one of the Best Books of 1998.

"An engaging discussion of an important, little understood disciplinary intersection as well as a congenial point of entry into Polkinghorne's influential work."—Booklist

"A gentle discourse, very thoughtful and very English, on the relationship between physics and theology. . . . Worthwhile and intelligent: Polkinghorne has the courage and the ambition to stroll onto a field where most would fear to tread."—Kirkus Reviews
"A welcome addition to university or seminary libraries."—Library Journal

"Polkinghorne is respected in the field of theology and science not only because of his credentials as a physicist and priest, but also because he is lucid writer who never uses interdisciplinary concepts as a smokescreen for sloppy thinking. . . . Polkinghorne impresses with a rare combination of theological sensitivity and technical grasp of the scientific and metascientific issues involved."—Publishers Weekly

"Fascinating and engaging treatment in the interplay between physics and theology."—Steven Norman, University Press Books for Public and Secondary School Libraries

"For those seeking a very accessible discussion of current issues in theology and science, albeit primarily physics, I highly recommend this book as well as Polkinghorne's other books. He is the C. S. Lewis of our time in the science-theology dialogue."—Eugene E. Selk, Theological Studies



"Irrespective one's religious belief or non-belief, this book provides intellectual stimulation of a high order."—Henry H. Bauer, Journal of Scientific Exploration


"An engaging examination of the science—and—religion dialogue written by a seminal figure in the field, John Polkinghorne gives his thoughts on reconciling the processes of the universe with the ideas behind theology. Polkinghorne writes with a gentle sensibility that allows even casual readers to appreciate the depth of his knowledge about the subject."—Research News and Opportunities in Science and Theology




"I can't imagine anyone more qualified to write about science and theology than John Polkinghorne. This is a lively account of his intellectual and theological journey."—Thomas Appelquist, Yale University
Selected as an "Outstanding" title in the 2000 AAUP University Press Books for Public and Secondary School Libraries
ISBN:
9780300091281
Publication Date:
August 11, 2001
224 pages, 5 x 7 3/4