Mankind Evolving
WARNING
You are viewing an older version of the Yalebooks website. Please visit out new website with more updated information and a better user experience: https://www.yalebooks.com
The Evolution of the Human Species
Theodosius Dobzhansky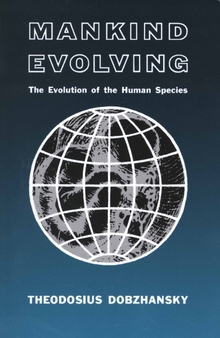 View Inside
Format:

Paper


Price:

$16.00
The Silliman Lectures at Yale University have been responsible for many books which have greatly influenced the progress of scientific work in the twentieth century.  One of the foremost scientists of our time, Theodosius Dobzhansky, recipient of the Elliot and Kimbler prizes, and Da Costa Professor of Zoology at Columbia University, delivered the Silliman Lectures given in honor of the Centennial of Charles Darwin's On the Origin of Species.  Based upon these lectures, Mr. Dobzhansky's latest book, Mankind Evolving, now takes its place beside his other great works.
With a profound knowledge of the biological theory of evolution and modern genetics, Mr. Dobzhansky explores the possibilities of understanding mankind as a product of evolution and as an evolving whole.  Human evolution, contends Mr. Dobzhansky, cannot be understood as a purely biological process, nor can it be adequately described as a history of culture; rather, it is the interaction between the two components of evolution—the biological, or organic, and the cultural, or superorganic.  The interdependence of these two components is brought out most clearly if we consider that they both serve the same function—the adaptation to and control of man's environment.
Drawing upon evidence from human biology, and the study of fossil ancestors of now-living mankind, Mr. Dobzhansky explains how the biological process led to the inception and advancement of culture as an instrument of adaptation.  In producing the genetic basis of culture, biological evolution has transcended itself: it has produced the superorganic.  The superorganic, Mr. Dobzhansky points out, has not annulled the organic; and human welfare, both in individuals and in societies, is predicated upon the health of the genetic endowment of human population.  Man has not only evolved but is evolving, and Mr. Dobzhansky expounds the thesis that the genetic basis of culture should be improved, or at the very least should not be allowed to deteriorate.  Mankind Evolving is of vital importance not only for scientists but for all who are concerned with the health of future generations. 
Winner of the Anisfield-Wolf Award and the Pierre Lecomte Du Nuoy Prize. "The most interesting . . . the most judicious scientific treatise that has ever been written on the nature of man . . . displays tremendous erudition over an even broader range of knowledge than is found in its author's previous works. . . . No one who is concerned with his own nature and that of mankind—and this included poets, philosophers, and theologians—can afford to miss this book."—George Gaylord Simpson.
"The most judicious scientific treatise that has ever been written on the nature of man. The book is clearly and interestingly written; it is carefully documented; and it displays tremendous erudition. . . . No one who is concerned with his own nature and that of mankind . . . can afford to miss this book."—George Gaylord Simpson, Science
"Dobzhansky's personal genes and environment quality him almost uniquely to write this book: he is a clear and lively writer whose background in, and own contribution to, genetics give him mastery of this essential approach to mankind's origin and variety."—W. W. Howells, American Scientist
"This thesis is delightfully handled and well buttressed with references from the social as well as the biological sciences. There is nothing either narrow or shallow about this book. Dobzhansky has been working in the neighborhood of this general problem for a  good many years, and the way that he does it is of considerable interest to sociology."—Bulkeley Smith, Jr., American Sociological Review
"His book Genetics and the Origin of Species was epoch-making, and the present work is no less important." - Gavin de Beer, Scientific American
Winner of the Anisfield-Wolf Award
Winner of the Pierre Lecomte du Nouy Prize
ISBN:
9780300000702
Publication Date:
March 11, 1962
400 pages, 5 1/8 x 8