Liberty in the Things of God
WARNING
You are viewing an older version of the Yalebooks website. Please visit out new website with more updated information and a better user experience: https://www.yalebooks.com
The Christian Origins of Religious Freedom
Robert Louis Wilken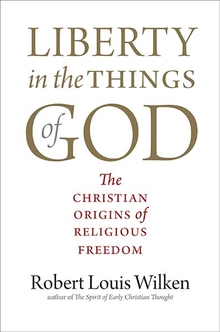 View Inside
Format:

Paper


Price:

$16.00
Also Available in:
Hardcover
From one of the leading historians of Christianity comes this sweeping reassessment of religious freedom, from the church fathers to John Locke

"Robert Louis Wilken's new masterpiece."—George Weigel, First Things
 
In the ancient world Christian apologists wrote in defense of their right to practice their faith in the cities of the Roman Empire. They argued that religious faith is an inward disposition of the mind and heart and cannot be coerced by external force, laying a foundation on which later generations would build.
 
Chronicling the history of the struggle for religious freedom from the early Christian movement through the seventeenth century, Robert Louis Wilken shows that the origins of religious freedom and liberty of conscience are religious, not political, in origin. They took form before the Enlightenment through the labors of men and women of faith who believed there could be no justice in society without liberty in the things of God. This provocative book, drawing on writings from the early Church as well as the sixteenth and seventeenth centuries, reminds us of how "the meditations of the past were fitted to affairs of a later day."
Robert Louis Wilken is William R. Kenan Professor Emeritus of the History of Christianity at the University of Virginia. His many books include The First Thousand Years, The Spirit of Early Christian Thought, and The Christians as the Romans Saw Them.
"Wilken argues convincingly that the concept of religious freedom originated with Christian thinkers, challenging one of the most revered paradigms in Western intellectual history. In the process, he also injects a corrective twist into current debates about secularist hegemony."—Carlos Eire, author of Reformations
"A remarkable work of daring and vision, moving from early Christianity to the eighteenth century with confidence and authority, from a distinguished historian of Christian history with a sharp eye for key intellectual developments."—Bruce Gordon, Yale University
"A superb book of ecumenical and contemporary significance."—Timothy George, Beeson Divinity School of Samford University
"In this original and erudite work, leading Patristic scholar Robert Wilken proves that the ancient Christian teachings of Tertullian and Lactantius on freedom of conscience and religious exercise remained axiomatic for Western champions of religious freedom—Catholic, Protestant, and Enlightenment Liberal alike."—John Witte, Jr., Emory University
"Robert Wilken adds perceptive treatment of Reformation and post-Reformation Europe to his well-earned mastery of early and medieval Christian history. His argument is nuanced, discriminating, and convincing."—Mark A. Noll, co-editor, Protestantism after 500 Years
"Wilken retrieves the forgotten Christian sources that contributed their part to the argument for religious liberty. These sources span the centuries, from the Roman persecutions to the Reformation, the ensuing wars of religion, and their aftermath. There is new information here for anyone who studies religious liberty."—Douglas Laycock, University of Virginia Law School
 
"A vibrant picture of where leading ideas about religious freedom came from and how they emerged."—Robert P. George, Princeton University
"Cogent . . . [Wilken] contends that the principle of religious freedom—that is, that religious believers may worship as they wish—arose chiefly from Christian sources, not secular or skeptical ones."—Barton Swaim, Wall Street Journal
"Wilken's book has the virtue of advancing and abundantly supporting a thesis that is both important and true . . . An achievement to admire."—Steven D. Smith, Public Discourse
"Wilken provides a wealth of evidence drawn both from major events and seminal texts to show that the unfolding of Christian faith and the development in the West of the idea of individual freedom have been intimately intertwined."—Peter Berkowitz, RealClear Politics 
"A historical story well worth Robert Louis Wilken's telling of it"—George P. Wood, Influence magazine
"Superb . . . persuasive . . . with admirable nuance . . . commendable."—Paul Crookston, Washington Free Beacon
"Liberty in the Things of God adroitly balances sophisticated scholarly analysis with accessible prose and a compelling narrative."—Casey Chalk, American Conservative 
"Robert Louis Wilken's new masterpiece"—George Weigel, First Things
"Wilken's book effectively puts paid to the notion that 'freedom of conscience' was purely a product of Enlightenment secularism. And it is worth reading for that reason alone."—John Ehrett, Englewood Review of Books
"[A] well-informed book . . . Wilken lays out [the book's] narrative not only with thoroughness, subtlety, and nuance, but also with a sober sense of the complexity of the story he is unfolding."—Francis Oakley, Commonweal
"Wilken ably proves his argument for the Christian roots of religious liberty against its secular critics."—Nathaniel Peters, Law & Liberty
"Wilken is one of the greatest historians of Christianity living today, and in this short book . . . he convincingly demonstrates why we should not understand the rise of religious freedom simply as a defeat of Christian ideas."—Mark L. Movsesian, University Bookman
"Wilken, one of the foremost authorities on the history of Christianity in the United States . . . offer[s] perspective and insight to an ongoing debate that is too often dominated by passion and emotion."—Timothy Walch, Catholic Philly
"Masterful"—Andrew E. Harrod, Mercatornet
"A brief work of superb scholarship."—Barton Swaim, Wall Street Journal ("Best Political Books of 2019")
"[Wilken] applies his prodigious skills to the intellectual history of the Reformation, delivering creative insight in a bold argument."—Andrew Gilmour, The Living Church
"Liberty puts forward an excellent introductory account of how certain modern notions of freedom of conscience and freedom of religious expression have roots in Christian history."—Paul Rodriguez, Reading Religion
"[Wilken's] contribution to the religious freedom conversation is undeniable. Readers of this book interested in the development of religious freedom will have their apertures widened by fifteen hundred years."—Josiah Aden, Ethika Politika
"Robert Louis Wilken adds his formidable voice to this debate . . . [a] short and accessible book . . . Wilken helpfully foregrounds neglected but historically significant theological arguments."—John Inazu, Marginalia Review of Books
"Magisterial. . . . [a] superb new work."—Gerard V. Bradley, Journal of Church and State
Listed on Choice's Outstanding Academic Titles List for 2019
ISBN:
9780300258509
Publication Date:
February 23, 2021
248 pages, 6 1/8 x 9 1/4