Creation Stories
WARNING
You are viewing an older version of the Yalebooks website. Please visit out new website with more updated information and a better user experience: https://www.yalebooks.com
Landscapes and the Human Imagination
Anthony Aveni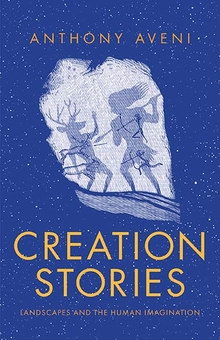 View Inside
Format:

Hardcover


Price:

$26.00
An accessible exploration of how diverse cultures have explained humanity's origins through narratives about the natural environment

Drawing from a vast array of creation myths—Babylonian, Greek, Aztec, Maya, Inca, Chinese, Hindu, Navajo, Polynesian, African, Norse, Inuit, and more—this concise illustrated book uncovers both the similarities and differences in our attempts to explain the universe.
 
Anthony Aveni, an award-winning author and professor of astronomy and anthropology, examines the ways various cultures around the world have attempted to explain our origins, and what roles the natural environment plays in shaping these narratives. The book also celebrates the audacity of the human imagination.
 
Whether the first humans emerged from a cave, as in the Inca myths, or from bamboo stems, as the Bantu people of Africa believed, or whether the universe is simply the result of Vishnu's cyclical inhales and exhales, each of these fascinating stories reflects a deeper understanding of the culture it arose from as well as its place in the larger human narrative.
Anthony Aveni, the Russell Colgate Distinguished University Professor Emeritus of Astronomy and Anthropology and Native American Studies at Colgate University, helped develop the field of archaeoastronomy and is widely considered one of the founders of Mesoamerican archaeoastronomy. He is the author of Star Stories: Constellations and People and In the Shadow of the Moon: The Science, Magic, and Mystery of Solar Eclipses.
"Anthony Aveni has produced an absolutely amazing survey that fully documents Creation stories from multiple civilizations. His achievement is staggering, the fruit of decades of research."—Simon Mitton, University of Cambridge
 
"Tony Aveni has given us a unique survey of origin stories in many ancient societies written with eloquent skill. This important book will appeal to experts and general readers alike."—Brian Fagan, author of Fishing: How the Sea Fed Civilization
"TonyAveni shares imaginative stories of violent struggles to create an orderly universe, of our landscapes' emerging, transforming and metamorphosing, in humanity's timeless search for meaning and purpose: an anthological gem!"—Ian Mursell, co-founder and director of Mexicolore
 
"Whether there was first darkness on the face of the deep, a void of nothing between fire and ice, or an optically opaque primordial chaos, Anthony Aveni takes us on a worldwide expedition illuminating the mysteries of Creation."—Dr. E.C. Krupp, Director, Griffith Observatory
 
"In this fascinating book Anthony Aveni turns his forensic gaze to the ultimate question of existence: where do we come from? Exploring creation stories from across the world, this book opens new perspectives on our relationship with time and space."—Nicholas Campion, author of Astrology and Cosmology in the World's Religions
 
"Anthony Aveni is a virtuoso teller of origin stories and the human imagination. This book educates, entertains and gives us hope."—Davíd Carrasco, Harvard Divinity School
 
ISBN:
9780300251241
Publication Date:
April 20, 2021
240 pages, 5 1/2 x 8 1/2
53 b/w illus.