In the Shadow of the Moon
WARNING
You are viewing an older version of the Yalebooks website. Please visit out new website with more updated information and a better user experience: https://www.yalebooks.com
The Science, Magic, and Mystery of Solar Eclipses
Anthony Aveni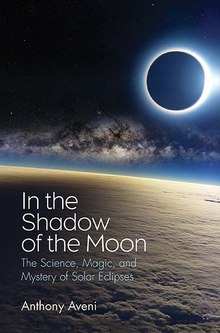 View Inside
Format:

Hardcover


Price:

$28.00
In anticipation of solar eclipses visible in 2017 and 2024, an exploration of the scientific and cultural significance of this mesmerizing cosmic display

Since the first humans looked up and saw the sun swallowed by darkness, our species has been captivated by solar eclipses. Astronomer and anthropologist Anthony Aveni explains the history and culture surrounding solar eclipses, from prehistoric Stonehenge to Babylonian creation myths, to a confirmation of Einstein's theory of general relativity, to a spectacle that left New Yorkers in the moon's shadow, to future eclipses that will capture human imaginations.
 
In one accessible and engaging read, Aveni explains the science behind the phenomenon, tracks eclipses across the ancient world, and examines the roles of solar eclipses in modern times to reveal the profound effects these cosmic events have had on human history. Colored by his own experiences—Aveni has witnessed eight total solar eclipses in his lifetime—his account of astronomy's most storied phenomenon will enthrall anyone who has looked up at the sky with wonder.
Anthony Aveni has appointments in the departments of Physics & Astronomy and Sociology & Anthropology at Colgate University. An award-winning author, he has written numerous books, including Empires of Time,Behind the Crystal Ball, and The End of Time.
"In the Shadow of the Moon tells of the epic influence that total solar eclipses have had on our cultural history, our scientific legacy, and our emotional states of mind. And Professor Anthony Aveni may be uniquely qualified to tell this story with his characteristic sense of wonder, wit, and wisdom."—Neil deGrasse Tyson, author of Astrophysics for People in a Hurry
"Aveni enlightens and enthralls. His book provides the cultural and scientific history of past eclipses--and enthusiasm to see the next ones."--Jay Pasachoff, Chair, International Astronomical Union's Working Group on Eclipses

"Everything you need to enjoy a solar eclipse—and even predict one, just like the Babylonians did! Aveni's entertaining explorations show the very different impacts eclipses have had on past and present cultures."—David DeVorkin, National Air and Space Museum, Smithsonian Institution 

"A beautifully written, engaging account of solar eclipses across the ages--and very timely in light of a new wave of eclipse mania,"—Susan Milbrath, author of Heaven and Earth in Ancient Mexico: Astronomy and Seasonal Cycles in the Codex Borgia

"Inspired by the forthcoming total solar eclipses of 2017 and 2024, astronomer and anthropologist Anthony Aveni has written a colorful, exciting, and personal story of this rare spectacular phenomenon."--Steven J. Dick, former NASA Chief Historian
"For the ancients, eclipses were trouble, the last thing they wanted to see, but now Anthony Aveni's new book explains why you don't want to miss the next one. In the Shadow of the Moon transports us into the history, lore, and impact of the sky's greatest spectacle and sheds light on the darkness of total eclipse."—Dr. E.C. Krupp, Director, Griffith Observatory

"Aveni gives general readers an authoritative overview of cultural astronomy with a narrative that draws on useful examples and broad-based research. He is uniquely qualified to write an important book on this fascinating subject."—Brian Fagan, author of The Intimate Bond
"Aveni crosses cultures and disciplines to produce a most entertaining, engaging, and informative account of the most awesome of natural celestial phenomena."--Nicholas Campion, University of Wales Trinity Saint David

"In the Shadow of the Moon is an impressive introduction to the social, cultural, and historical standing of the astronomy of solar eclipses by a uniquely qualified author."—Simon Mitton, author of Fred Hoyle: A Life in Science
"Exciting and richly informative. Aveni explores the worlds of ancient peoples and our own to show us why solar eclipses really are the greatest shows looking up from earth."--David Freidel, Washington University in St. Louis
"Aveni's accessible and welcoming work celebrates the enthusiasm of umbraphiles through the ages."—Publishers Weekly
"Authoritative and engaging."—Marcelo Gleiser, NPR's 13.7
"Anthony Aveni's panoramic look at the history and culture of solar eclipses is a recommended way to share the spirit of the occasion. . . He is a prolific writer and an engaging raconteur."—Laurence A. Marschall, Natural History magazine
"Aveni's authoritative but accessible text is the clearest statement of the way our perception of eclipses has changed over the centuries."—Stuart Clark, New Scientist
ISBN:
9780300223194
Publication Date:
April 25, 2017
328 pages, 5.5 x 8.25
32 b/w illus.