Think Tank
WARNING
You are viewing an older version of the Yalebooks website. Please visit out new website with more updated information and a better user experience: https://www.yalebooks.com
Forty Neuroscientists Explore the Biological Roots of Human Experience
Edited by David J. Linden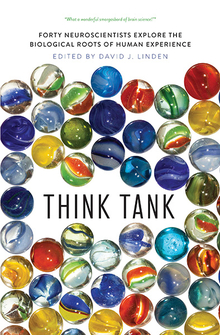 View Inside
Format:

Paper


Price:

$18.00
Also Available in:
Hardcover
A spirited collection of essays by cutting-edge neuroscientists that irreverently explores the quirky and counterintuitive aspects of brain function

"Make[s] us realize that what goes on in our minds is nothing short of magical." —Yasemin Saplakoglu, Scientific American

Neuroscientist David J. Linden approached leading brain researchers and asked each the same question: "What idea about brain function would you most like to explain to the world?" Their responses make up this one‑of‑a‑kind collection of popular science essays that seeks to expand our knowledge of the human mind and its possibilities. The contributors, whose areas of expertise include human behavior, molecular genetics, evolutionary biology, and comparative anatomy, address a host of fascinating topics ranging from personality to perception, to learning, to beauty, to love and sex. The manner in which individual experiences can dramatically change our brains' makeup is explored.

Professor Linden and his contributors open a new window onto the landscape of the human mind and into the cutting‑edge world of neuroscience with a fascinating and enlightening compilation that science enthusiasts and professionals alike will find accessible and enjoyable.
David J. Linden is professor of neuroscience at the Johns Hopkins University School of Medicine. He is the author of three books: The Accidental Mind, The Compass of Pleasure, and Touch.
"What a wonderful smorgasbord of brain science."—Stuart Firestein, author of Ignorance: How It Drives Science
"Specialists write to specialists. David Linden is well aware of this but he also understands that science gains its powers when understood by others. He challenged forty prominent neuroscientists about the broader implication of their science. The result is a fascinating story of the brain. You may not agree with all the opinions but you will walk away with a rewarding experience."—Gyorgy Buzsaki, author of Rhythms of the Brain
"Scientists who can effectively communicate science are rare, but here are forty of the best, describing with clarity and enthusiasm the latest in brain research and its impact on our lives."—Gordon M. Shepherd, co-editor of Handbook of Brain Microcircuits
"David Linden captures the excitement of forty neuroscientists concisely discussing the workings of our marvelous brains. Students, professors, and non-scientists will be drawn in, updated, and astonished by the exquisite solutions the nervous system has developed to solve an array of complex problems."—Robin Lester, The University of Alabama at Birmingham
"Where can you find clear, concise, yet powerful discussions about the brain's many ways? Right here! David Linden has pulled together a truly remarkable collection of scientists talking jargon free about the mysteries of life."–Michael Gazzaniga, author of The Consciousness Instinct: Unraveling the Mystery of How the Brain Makes the Mind
"Although these essays provide us with glimpses of the scientific underpinnings of thought, they also make us realize that what goes on in our minds is nothing short of magical." —Yasemin Saplakoglu, Scientific American
"Linden's book asks all the right questions about how the brain fits into modern science, and the modern world, and provides plenty of answers, too."—Endpoints, a science publication of Elysium Health
"Awareness is the first step to change. Knowing why we do what we do is an essential part of that awareness. This motley crew of brilliant neuroscientists helps to provide just that insight… not only in their answers, but more importantly in the questions they raise."—Beau Lotto, author of Deviate: The Science of Seeing Differently and founder of the Lab of Misfits
Think Tank was long listed for the AAAS/Subaru SB&F Prize for Excellence in Science Bk Award.
ISBN:
9780300248524
Publication Date:
November 26, 2019
312 pages, 6 1/8 x 9 1/4
9 b/w illus.