Evolution of Life Histories of Mammals
WARNING
You are viewing an older version of the Yalebooks website. Please visit out new website with more updated information and a better user experience: https://www.yalebooks.com
Edited by Mark S. Boyce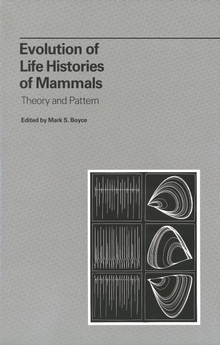 View Inside
Format:

Cloth


Price:

$70.00
Mammals range in body size from the gigantic blue whale to the tiny Etruscan shrew. Elephants and man may live for nearly one hundred years, while most shrews die before they are three months old. During the past decade, mammalogists and evolutionary biologists have begun to unravel the numerous factors that shape the enormous diversity of mammal life histories. In this volume, leading scientists provide a variety of perspectives on the newest theories in this active field of study.
The principle uniting all studies of life history evolution is adaptation by natural selection. The first chapters in the book discuss this topic, offering evolutionary interpretations of geographic variation in mammal life histories, explaining how natural selection operates in fluctuating environments, introducing evolutionary predictions of demographic mathematics, and integrating life histories with behavioral ecology. The next chapters offer functional interpretations of the importance of body size in the life history. Next, several essays explain how developments in quantitative genetics have enabled us to distinguish between genetic and environmental components of variation within and between species. With this as a basis, the chapters that follow draw from principles of natural selection, allometry, and genetics to interpret differences among species of mammals. The book concludes with speculations on various areas where research seems most urgent for the development of a comprehensive understanding of mammal life history evolution. According to the authors, the field is rich with questions, and opportunities abound for both theoretical and empirical research.
Mark S. Boyce is professor of zoology and physiology and the University of Wyoming.
"[The book] constitutes the best one-volume source of modern life history theory available . . . for mammals. . . . A stimulating book in an active field."—Mikael Fortelius, Journal of Human Evolution
"Impressive in its breadth of coverage. . . . After reading this book, life history theoreticians are likely to be overwhelmed by the long list of potential factors influencing mammal life histories at the population level. . . . I found the book to be timely, well written, and well organized. It should be a valuable reference for those working in the field of mammal life histories, and should also be of interest to anyone interested in life history evolution in general."—Randal J. Snyder, Quarterly Review of Biology
"Provides a provocative look at how natural selection shapes the life styles of mammals. Contributions by some of the most prominent biologists in the field meld empirical results with theoretical insights, and studies on single species complement broad comparisons among diverse taxa. The blend of styles is refreshing and provides a rich perspective for interpreting mammalian life history evolution."—Daniel Rubenstein, Princeton University
ISBN:
9780300040845
Publication Date:
September 10, 1988
400 pages, 6 1/8 x 9 1/4
67 b/w illus.