The Kingdom of Infinite Space
WARNING
You are viewing an older version of the Yalebooks website. Please visit out new website with more updated information and a better user experience: https://www.yalebooks.com
Raymond Tallis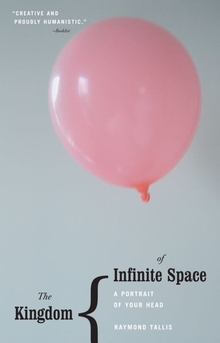 View Inside
Format:

Paper


Price:

$20.00
Also Available in:
Cloth
A joyful tour of the human head and of what we make of the astonishing processes that take place within it

In this pathbreaking book, one of Britain's most eloquent and original thinkers writes about the head, what happens in it, and how it is and is not connected to our sense of identity and consciousness. Blending science, philosophy, and humor, Raymond Tallis examines the extraordinarily complex relationship we have with our heads. His aim, as he says, "is to turn readers into astonished tourists of the piece of the world that is closest to them, so they never again take for granted the head that looks at them from the mirror." Readers will delight that this is precisely what he accomplishes.
The voyage begins with a meditation on the self-portrait of a mirror image, followed by a consideration of the head's various secretions. Tallis contemplates the air we exhale; the subtle meanings of nods, winks, and smiles; the mysteries of hearing, taste, and smell. He discusses the metaphysics of the gaze, the meaning of kissing, and the processes by which the head comes to understand the world. Along the way he offers intriguing digressions on such notions as "having" and "using" one's head, and enjoying and suffering it. Tallis concludes with his thoughts on the very thing the reader's head has been doing throughout the book: thinking.
Raymond Tallis is emeritus professor of geriatric medicine, University of Manchester, UK. As a poet, novelist, and philosopher, he has explored consciousness, language, and what is distinctive about human beings. His recent books include The Hand; I Am; The Knowing Animal; and The Enduring Significance of Parmenides: Unthinkable Thought. He lives in Cheshire, UK.
"Tallis is extremely erudite, writes very well, and mixes his medical knowledge with allusions to writers and poets. I would not have believed it possible to write a book about the head without focusing mostly on the brain, but that is exactly what he has done. And, it is remarkably engaging."—E. Fuller Torrey, M.D., author of Surviving Prostate Cancer
"This is a most unusual and an unusually enjoyable book. As the author promises it is a rich feast of digressions. Tallis attacks his varied topics with unflinching straightforwardness and honesty, leavened by considerable humor."—Adam Zeman, author of Portrait of the Brain
"British medical doctor Tallis considers the looks and actions of the human head—without discussing the brain. That would seem like performing trapeze without a net, yet Tallis pulls it off with panache. . . . Creative and proudly humanistic, Tallis' tour might induce readers to scrutinize their reflections as minutely as Tallis does his own."—Booklist
"Ray Tallis is one of the hidden treasures of British intellectual life. . . . The Kingdom of Infinite Space is a book to make you laugh, cry, yawn. It might even make you use your brain."—Kenan Malik, Sunday Telegraph
"Tallis is a literary dandy of dazzling, almost narcissistic proportions, but he is also one of the most prolific and serious essayists of our time."—John Cornwell, Literary Review


"Raymond Tallis is frequently cited as one of our foremost thinkers. . . . Suffice it to say that he is the Lennox Lewis of the intellectual world—a formidable heavyweight. . . . Underpinning everything about which he writes are two things: a high-minded philosophical inquiry into human consciousness, and a boyish wonderment at the utterly brilliant entity that is our heads."—Catherine O'Brien, The Times (London)

"The book gets the reader to think afresh about everyday experiences such as staring in the mirror, vision, breathing, speaking, hearing, face recognition, laughter, tickling, yawning, sweating, eating, spitting, smoking, vomiting, ageing, sex and death. . . . An entertaining mixture of intriguing facts and thought-provoking observations."—Andrew Robinson, New Scientist
"A wonderful treasury of stupefying facts. . . . But the book is much more than a compendium of the bizarre. . . .This is a wonderful book, full of passages to make the reader stop and stare, if only in the mirror."— Michael Simkins,
Mail on Sunday
"With playful puns and allusions, occasional Joycean fuges and personal digressions, Tallis reflects on the social, cultural and emotional meanings of every aspect of a head's appearance, secretions and actions, his elegant prose makes the mundane extraordinary."—Chris McManus, Times Higher Education
 "The mental energy is neatly gymnastic: each sequence of thoughts starts with a confident deep breadth and arms outstretched, then runs up, does a roll,  a leap, a twist and a double-somersault, and lands on its own two sturdy feet without the faintest wobble at the far diagonal corner of the mat. I've never seen anything like it. . . . A very heady, heady experience."—Lynne Truss, Sunday Times
"A witty tour of the body's most complex component, a physiological, sociological, literary and autobiographical investigation. From the politics of seeing to the mechanics of seeing, Tallis's erudition is impressive."—Ralph Benson,
Financial Times
"Reminds us of the glory of human beings."—Jane O'Grady, Guardian
"A sparkling tour of our senses and the way in which we are embodied . . . make the world seem a more interesting place and life that much more important."—Nicholas Fearn, Independent
"Reading [Tallis] for the first time gave this reviewer the sense of being exposed to a literary genius—literary because of his erudition and eloquent use of language, a genius because he demonstrates extraordinary knowledge and insights. Sprinkled with philosophical musings, the book makes for enjoyable reading about seemingly mundane topics. . . . Highly recommended."—Choice
"Anyone with an interest in what it is to be human will enjoy reading this book." —Jeffrey Foss, The Globe and Mail
A 2009 Top Seller in Philosophy as compiled by YBP Library Services
Chosen as an Outstanding Academic Title for 2009 by Choice Magazine
ISBN:
9780300158601
Publication Date:
September 29, 2009
344 pages, 6 1/8 x 9 1/4

---
Sales Restrictions: For sale in North America only