The Poetry of Pop
WARNING
You are viewing an older version of the Yalebooks website. Please visit out new website with more updated information and a better user experience: https://www.yalebooks.com
Adam Bradley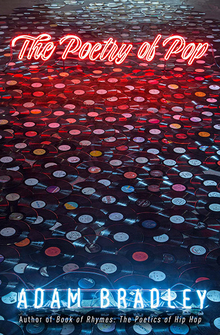 View Inside
Format:

Paper


Price:

$22.00
Also Available in:
Hardcover
From Tin Pan Alley to the Beatles to Beyoncé, "Mr. Bradley skillfully breaks down a century of standards and pop songs into their elements to reveal the interaction of craft and art in composition and performance." (The Wall Street Journal)

Encompassing a century of recorded music, this pathbreaking book reveals the poetic artistry of popular songs. Pop songs are music first. They also comprise the most widely disseminated poetic expression of our time. Adam Bradley traces the song lyric across musical genres from early twentieth-century Delta blues to mid-century rock 'n' roll to today's hits. George and Ira Gershwin's "Fascinating Rhythm." The Rolling Stones' "(I Can't Get No) Satisfaction." Rihanna's "Diamonds." These songs are united in their exacting attention to the craft of language and sound. Bradley shows that pop music is a poetry that must be heard more than read, uncovering the rhythms, rhymes, and metaphors expressed in the singing voice. At once a work of musical interpretation, cultural analysis, literary criticism, and personal storytelling, this book illustrates how words and music come together to produce compelling poetry, often where we least expect it.
Adam Bradley is professor of English and founding director of the Laboratory for Race & Popular Culture (RAP Lab) at the University of Colorado Boulder. He is the author of Book of Rhymes: The Poetics of Hip Hop and coeditor of The Anthology of Rap.
"A groundbreaking study. Its critical mélange of literary criticism, musicology, neuroscience, and songwriters is especially apt, imaginative, and noteworthy."—Anthony Bolden, University of Kansas
"I'm not sure what to call The Poetry of Pop, beyond superb."—Kevin Dettmar, American Literary History
"This book mounts a powerful defense of pop music's artistry. Bradley's book is filled with provocative claims, offered clearly, intelligently, and persuasively."—David Caplan, Ohio Wesleyan University
"Adam Bradley ingeniously unknots an argument ongoing since the first listener spun down the AM dial in search of the right song: what is the relationship between the words and notes in pop music? With accessible virtuosity, Bradley examines pop music's motifs and lyric gestures in new and wholly unexpected ways. This superb book is a must for all of us who love the language of music and are moved as much by the lyrics as by the guitar solos."—Adrian Matejka, author of The Big Smoke
"Idiosyncratic and infuriating, refusing systems and standards, this mad little book is irreplaceable for its appendices alone."—Stephin Merritt, The Magnetic Fields
"Author Adam Bradley finds the poetry in a century of popular music, from the tunes and lyrics of Bob Dylan and Rihanna to Beyoncé and the Beatles."—Parade magazine
"Bradley skillfully breaks down a century of standards and pop songs into their elements to reveal the interaction of craft and art in composition and performance."—Dominic Green, Wall Street Journal
"Adam Bradley is unafraid to blur the boundaries . . . he can be warm and insightful. He highlights differences between modern poetry and pop music by arguing that if you showed an ancient Greek or an Elizabethan Ashberry's poem 'by an Earthquake' alongside Taylor Swift's 'Blank Space,' the time travellers would identify the neatly rhyming Swift as the poet."—Victoria Segal, Sunday Times (London)
"A sort of readers' manual for pop, calmly taking the reader through the different aspects of analysing songs, and thereby appreciating them better. . . . What elevates The Poetry of Pop, though, is the continuous animating presence of Bradley's humour, intelligence and eye for detail. . . . I have never read a smarter, clearer or more compelling guide to reading poetry."—Tim Smith-Laing, Daily Telegraph
"Bradley deploys a formidable set of skills. He has an acute ear, dazzling command of seemingly the entire history of pop and a pleasingly wide range of taste, drawing on examples from Gershwin to Guns 'n' Roses to make his points. His prose has precision and clarity when discussing even the most recondite of literary terms. As with all good teachers, his passion for his subject animates his writing and makes his enthusiasm nearly communicable."—Michael Lindgren, Washington Post
"Having wrestled with the poetics of rap and hip-hop in his earlier tomes, Bradley here buckles the reader into place for a trip through the myriad effects of pop. . . . Along the way, the language of serious poetry criticism is put to engaging use . . . [and] makes for some interesting insights."—Dickon Edwards, The Wire
"I'm not sure what to call The Poetry of Pop, beyond superb. . . . [The book] is a towering achievement: it provides a structure and a wealth of rich, close readings to make us all better critics of rock and pop. All those trying to do that work owe Bradley a great debt."—Kevin Dettmar, American Literary History
ISBN:
9780300248326
Publication Date:
August 6, 2019
424 pages, 6 1/8 x 9 1/4
13 b/w illus.